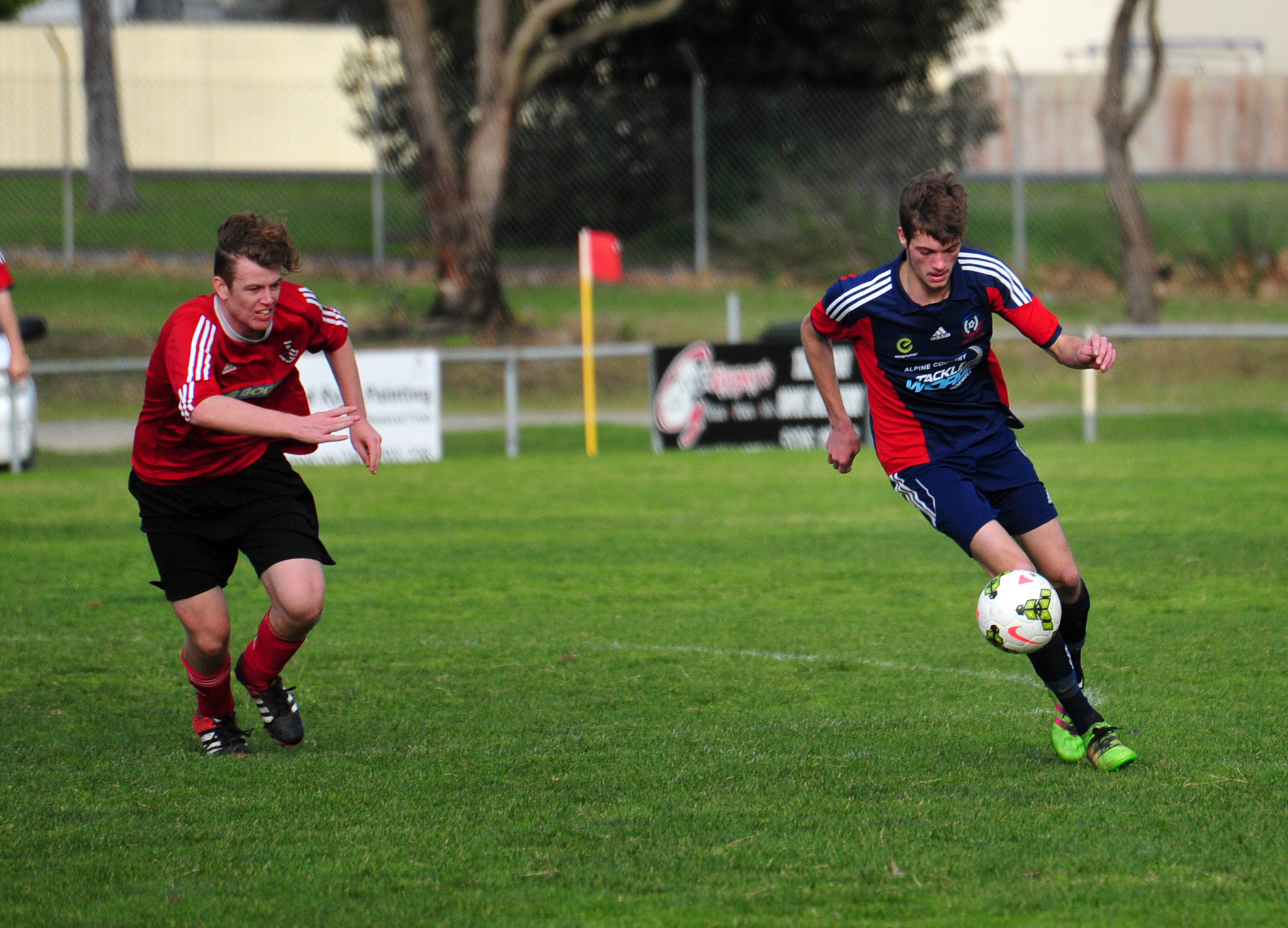 Newborough Yallourn United winger Brandon Scott was named best player for the inaugural Latrobe Valley Soccer League season at its presentation night last week.

The goal-scoring weapon netted 27 goals in 25 matches for the Combine, equal with striker teammate Mark Fairbrother, and helped the Burrage based outfit finish third in the league standings.
Scott received 30 votes to top polling ahead of Falcons 2000's Tommy D'Alia on 25 and Moe marksman Matt Shearing with 22.
Red Devils midfielder Joel Baldwin came in at fourth (21 votes), in addition to taking out the prestigious Scott Frendo medal for the players' player, with Fairbrother fifth on 20.
After making the move from Pegasus to NYUSC two seasons ago, Scott has risen to prominence in the senior division with his speed, aerial prowess and eye for goal.
A former rugby league player, who took up soccer in 2010 with Tyers after moving from New South Wales, Scott has developed into one of the LVSL's most dangerous wide-men.
The 18 year-old said it was an honour to win the award and follow in the footsteps of his stepfather, Shayne Cassar.
"It's an honour to win it, it really is," Scott said.
"Shayne, my stepdad, he was 28 when he won the league best and fairest and I was 18 (when I won).
"I wouldn't be playing soccer if it wasn't for him, I didn't even know what soccer was; I played rugby before this."
A switch from the defensive role he played at Pegasus three years ago to a more attacking position at NYUSC has played to Scott's strengths.
He said the club had been a major factor in his growth as a player, and put the award down to "a good team behind me making me look good".
"My coach (Tim Armistead) is very one-on-one but group (oriented) as well. He put a lot of development into me and I've improved a lot over the last two years.
"It (changing to wing) definitely has (helped). It just gives a new perspective of the game, it's a totally different role.
"It's just a very welcoming club, from the juniors to the seniors, everyone's a part of it. The juniors come out to the seniors and the seniors go to the juniors, it's a very family orientated club."
Fortuna 60's Emily Brabazon took out the senior women's best player gong with 37 votes to hold off NYUSC's Emma Cook (34) and league champion team member Jenni Onkamo of Traralgon City (33 votes).
Holly McCullagh of East Gippsland United picked up the golden boot for her 35 goals.
Speedy Falcons 2000 attacker DJ Matar dominated the reserve grade awards with both the best player and golden boot titles.
Matar scored 23 votes to edge out Sale United gun Josh Ryan (21 votes) and Churchill senior coach Mark Bianconi (17 votes) with 25 goals through the campaign.
Brodie Downie (Churchill) and Bill Antonopoulos (Olympians) were the frontrunners in second division.
The pair split the golden boot with 14 goals apiece and finished first and second in the best player standings respectively.
Downie's 16 votes were enough to take the accolade ahead of Antonopoulos on 10, with four Olympians in the top five vote getters.
The LVSL board thanked the local soccer community for its support this season and said it was planning for future sustainability and development.
Senior Men
Best player
Brandon Scott (NYUSC) 30 votes
Tommy D'Alia (Falcons) 25 votes
Matt Shearing (Moe) 22 votes
Joel Baldwin (Moe) 21 votes
Mark Fairbrother (NYUSC) 20 votes
Scott Frendo Medal, players' player
Joel Baldwin (Moe United)
Golden boot
Jesse Kennedy (Falcons) 39 goals
Senior Women
Best player
Emily Brabazon (Fortuna) 37 votes
Emma Cook (NYUSC) 34 votes
Jenni Onkamo (Traralgon City) 33 votes
Elise Winkel (Pegasus) 30 votes
Nicole Faltum (Moe) 23 votes
Golden boot
Holly McCullagh (EGUFC) 35 goals
Reserves Men
Best player
DJ Matar (Falcons 2000) 23 votes
Josh Ryan (Sale) 21 votes
Mark Bianconi (Churchill) 17 votes
Karl Grbic (Monash) 17 votes
Jason Collins (Tyers) 17 votes
Golden boot
DJ Matar (Falcons) 25 goals
Second division men
Best player
Brodie Downie (Churchill) 16 votes
Bill Antonopoulos (Olympians) 10 votes
Peter Panayiotou (Olympians) 8 votes
Nonda Lazaris (Olympians) 8 votes
Daniel Colantuou (Olympians) 5 votes
Golden boot
Brodie Downie (Churchill) 14 goals
Bill Antonopoulos (Olympians) 14 goals