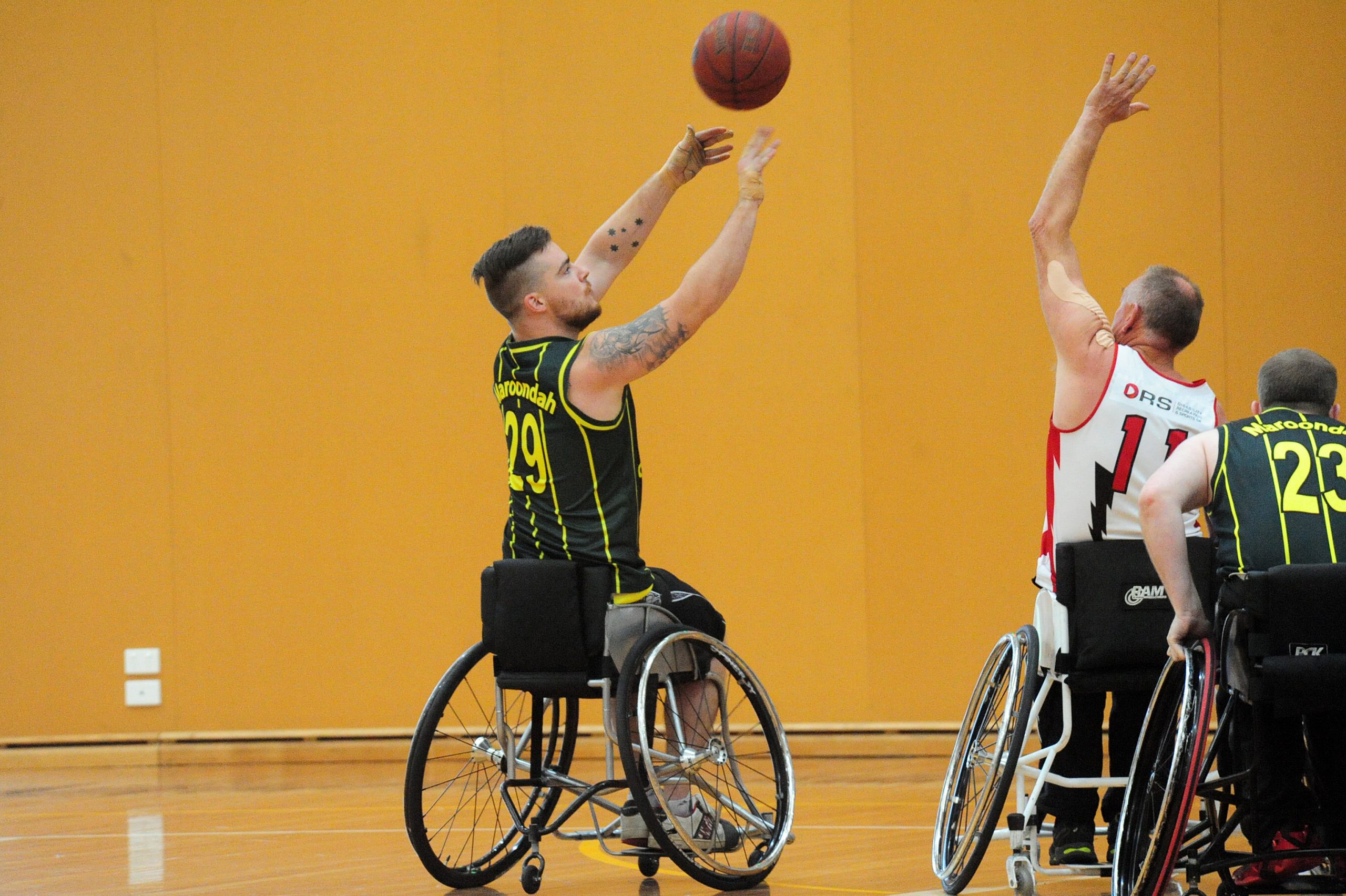 There was plenty of action at Latrobe Leisure Churchill this weekend as athletes from across Victoria and interstate descended on the town for the Gippsland Regional Wheelchair Basketball Tournament.

The Basketball Victoria tournament was held across Saturday and Sunday and featured two divisions.
When play concluded yesterday afternoon Adelaide Thunder was crowned division A champion after defeating Just Get It In 34-28.
Bendigo Braves won division B, defeating The Other Guys 28-22.
Australian national women's team coach David Gould, who travelled to Churchill to coach Adelaide, said the sport was fast, physical and involved "lots of spills".
"There's 10 wheelchairs on a normal-sized basketball court," Gould said.
"There's a lot of contact – It's very fast-paced, there's a lot of chair skills.
"It's a fantastic game."
Just like able-bodied basketball, the sport features teams of five on a regulation-sized court.
But in addition to shooting, passing and dribbling, players are required to control their wheelchair.
"It is quite a skilful sport because you've got to be able to control your wheelchair at the same time as you control the basketball," Gould said.
"You've got to do two things at once, whereas with able-bodied basketball your legs are there.
"In this you've got to worry about the basketball and stopping your wheelchair and controlling your wheelchair."
In addition to the games Gould also hosted a skills camp for juniors who were new to the sport.
Bendigo Braves player Joe Chivers said part of the attraction of the sport was its physicality.
"I played footy before my accident and it's exactly the same," Chivers said.
"Of course the ball's a different shape, but it really is rough and tumble.
"Part of the tactics is to be as aggressive as possible to establish your position or to get the best chance of sinking the shot."
He said he also enjoyed the social aspect of the tournament, which allowed him to catch up with friends in addition to playing basketball.
Basketball Victoria manager strategic operations Karen Pearce said the aim of the tournament was to grow the sport.
She said it was open to a diverse range of people.
"What we're trying to do now is get people to understand the types of people than can play," Pearce said.
"So, able-bodied people can join in and play as well as anyone with any type of impairment.
"It can be a chronic knee condition to a cerebral palsy, to an amputee, limb loss – a range of disabilities.
"We're continually getting people even directly out of rehab coming in because it's a fantastic sport."
For more pictures visit
www.lvexpress.com.au