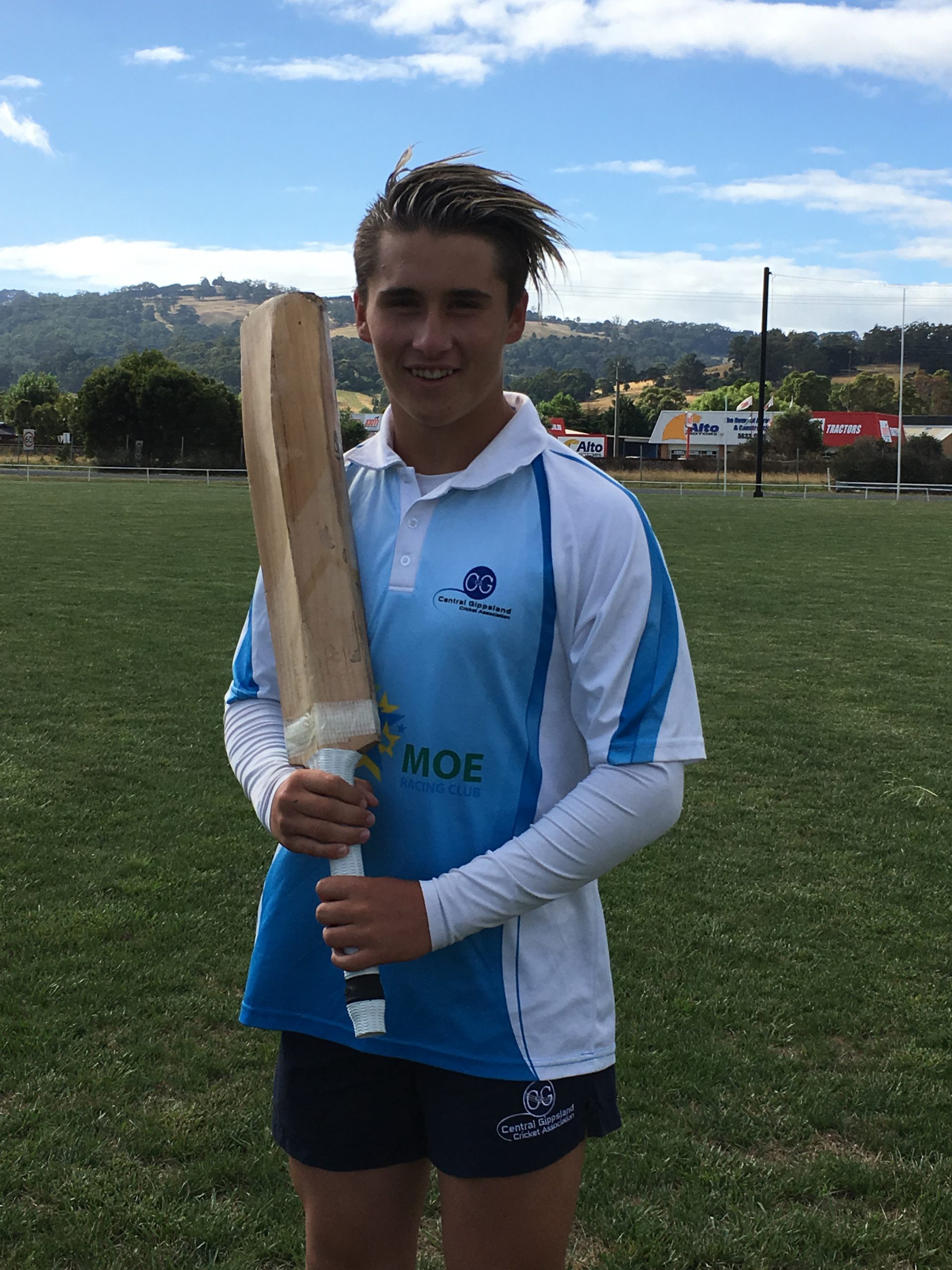 Junior Country Week

Cricket is a game of highs and lows where periods of excellent form are balanced by just as many rough patches.

The highs are high and the lows are low and this form merry-go-round is part of what makes the game so appealing.
But when most fans of the game think of a purple patch, it's doubtful they even imagine a run of form as good as Blair Clymo's at Junior Country Week.
The 15 year-old Central Gippsland Cricket Association representative finished last week's tournament with 402 runs in a series where he blasted two centuries and a 50.
What makes his performance even more impressive is the fact he was only dismissed once during the tournament, giving him a stratospheric average of 402. But despite being proud of his phenomenal performance, Blair isn't letting his success get to him.
"I can't let that get above me… I don't want to get too confident and get cocky and go out," Blair said.
The Trafalgar cricketer started his week with 25 not out against Sale-Maffra on the first day of competition and from there continued to improve with every game.
On day two, Central Gippsland took on Bairnsdale and Blair, batting at three, top scored with 36.
"I sort of had to move it along, we were going to get bowled out for 70 or so," Blair said.
"I was on about 30, so I had to move it on going into the last 10 (overs)."
From there, he opened in the CGCA's third match, against hosts Leongatha and District, carrying his bat through the innings for 86.
Blair's knock was instrumental in Central Gippsland, overhauling the host's total of 6/147 and handing his team its first win of the tournament.
After three matches in three days, many players would be starting to slow down and get weary.
But not Blair, who was just getting started.
His final two matches brought out his best as he made the tournament's top score of 139 not out in the CGCA's win against Traralgon and District and 116 not out on the final day against Warragul and District.
He said there was no secret to his success.
"I was just playing my natural game really… It was just see the ball, hit the ball," Blair said.
"I was pretty nervous from the start but as soon as you get going you just bat in the moment.
"(You) just keep going, just wait for that bad ball and just hope you put that away and focus on the next one."
The young leg spinner had a good series with the ball, claiming six wickets at an average of 19.67 as he plied the game's hardest trade.
This season Blair started playing for Premier cricket team Casey-South Melbourne and backed up Country Week by turning out for the team's fourth XI on Saturday.
The Swans were unable to overcome Melbourne University, but the young Gippslander had a good game – top-scoring with 27 and claiming his first two Premier Cricket scalps.
"It was really fun… the boys got around it (my bowling)," Blair said.
"They're coming out all right.
"Cricket's a confidence (game) – if you're batting all right I think I'm going to bowl all right."
Despite facing off against Victoria's best under 16 cricketers next week in the Dowling Shield and in contention for a Victorian Country berth, Blair is keeping his goals simple for the moment.
"(Just) keep your head and hopefully score some runs down at premier level," he said.