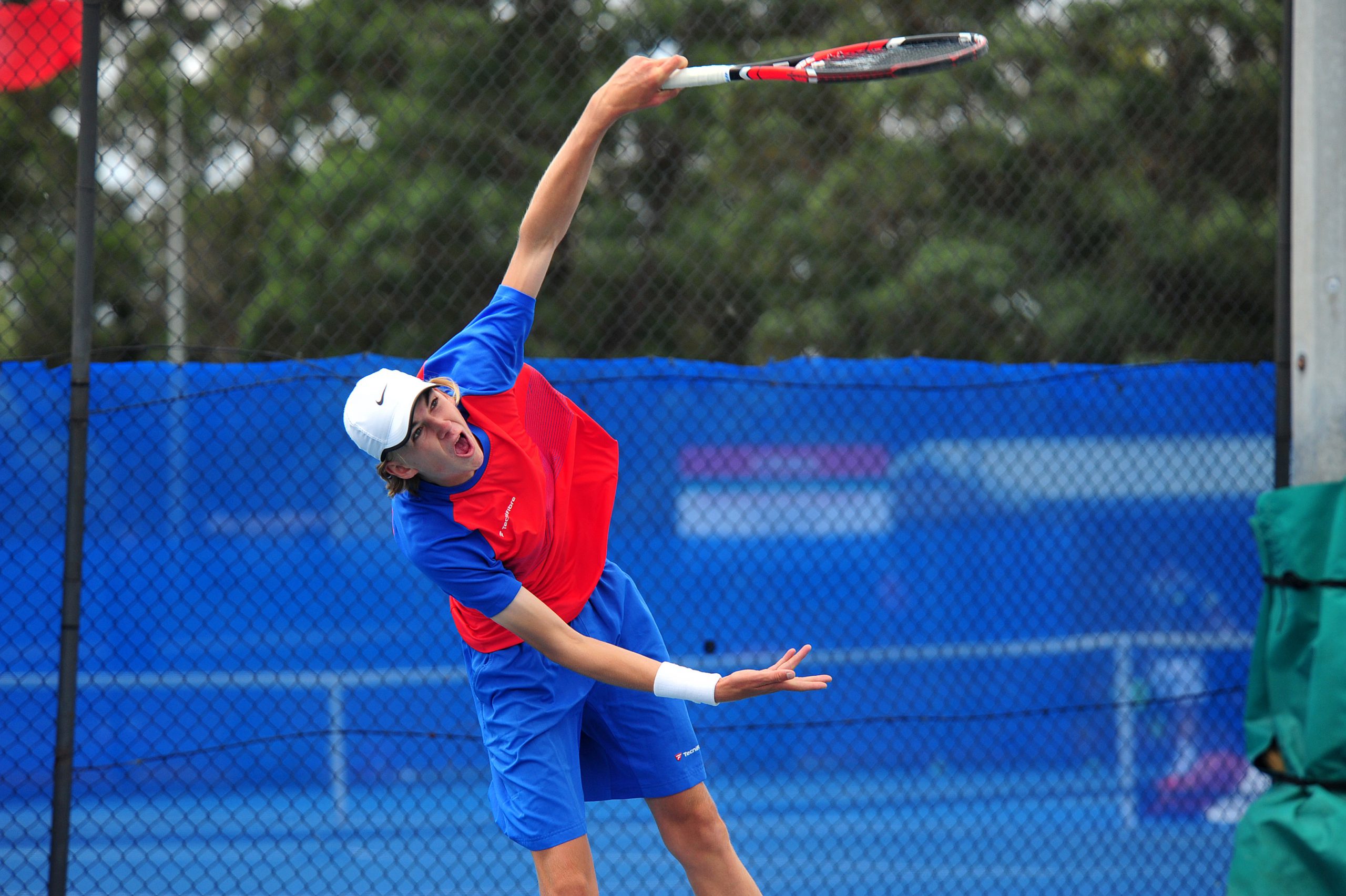 Traralgon junior tennis star Josh Charlton has got his year off to a flying start after emerging from the qualifying rounds to book a main draw spot at the Traralgon Junior International.

The 17 year-old defeated fellow Australian Will Maher on Thursday 7-6 (5) 7-6 (3) before overcoming Hong Kong's Ming Chun Alan Sou in fierce competition 2-6 6-2 7-5 to defy the odds and book a spot in the main draw.
"To qualify and win two tight matches against two quality opponents and then get in the main draw… was great," he said.
Charlton's success in the qualifying rounds allowed him to book a date with Poland's Kacper Zuk, the world number 33, on Saturday.
Despite coming up against one of the top junior players in the world, Charlton, who is ranked outside the top 1000, was not overawed by his opponent.
"It was good , a bit daunting at the start looking at him on paper," he said.
"As soon as I got out there and started hitting balls with him I thought 'I could beat this guy', but unfortunately I couldn't get up on the day."
But the Traralgon youngster proved he was not out of his depth at the top level, losing the first set 4-6 before pushing Zuk in the second.
The world number 33 eventually took the set 7-6 but Charlton was pleased with how he matched it against a top opponent.
"It's just really great to be a part of," he said.
"The opponents you come up against are from overseas or homeschooled, so they play tennis full time.
"They don't come over here to lose, so it's always tough matches."
Charlton has enjoyed a recent good run of form after taking out the Australian Championships under 18 boy's doubles title with partner Jeremy Taylor in December.
The pair reunited for the Traralgon Junior International doubles, but were unable to overcome Britain's Max Stewart and Ireland's Simon Carr, going down 5-7 0-6.
He will now turn his eye to the Australian Open Junior Championships and play consolation rounds during the remainder of the tournament to get match practice against top opposition.
"I was probably pleased with my timing off the ball. I feel like I'm hitting the ball well, seeing the ball well and middling a lot of shots," he said.
"Other than that I'm happy with my movement as well, that's a key part of my game."
Despite the outcome, the opportunity to mix it with some of the best has allowed Charlton to learn what it takes to make it at the highest level.
"I think just the main thing is you've got to take your opportunities against the better players," he said.
"You start to get less and less opportunities and whoever digs deep and takes their opportunities will take the match."
It has also provided self-belief.
"I guess on paper me being the huge underdog it was surprising for most people, but inside and with Traralgon all around me and huge support around me… it gave me the belief to believe I can win and try and do so," he said.