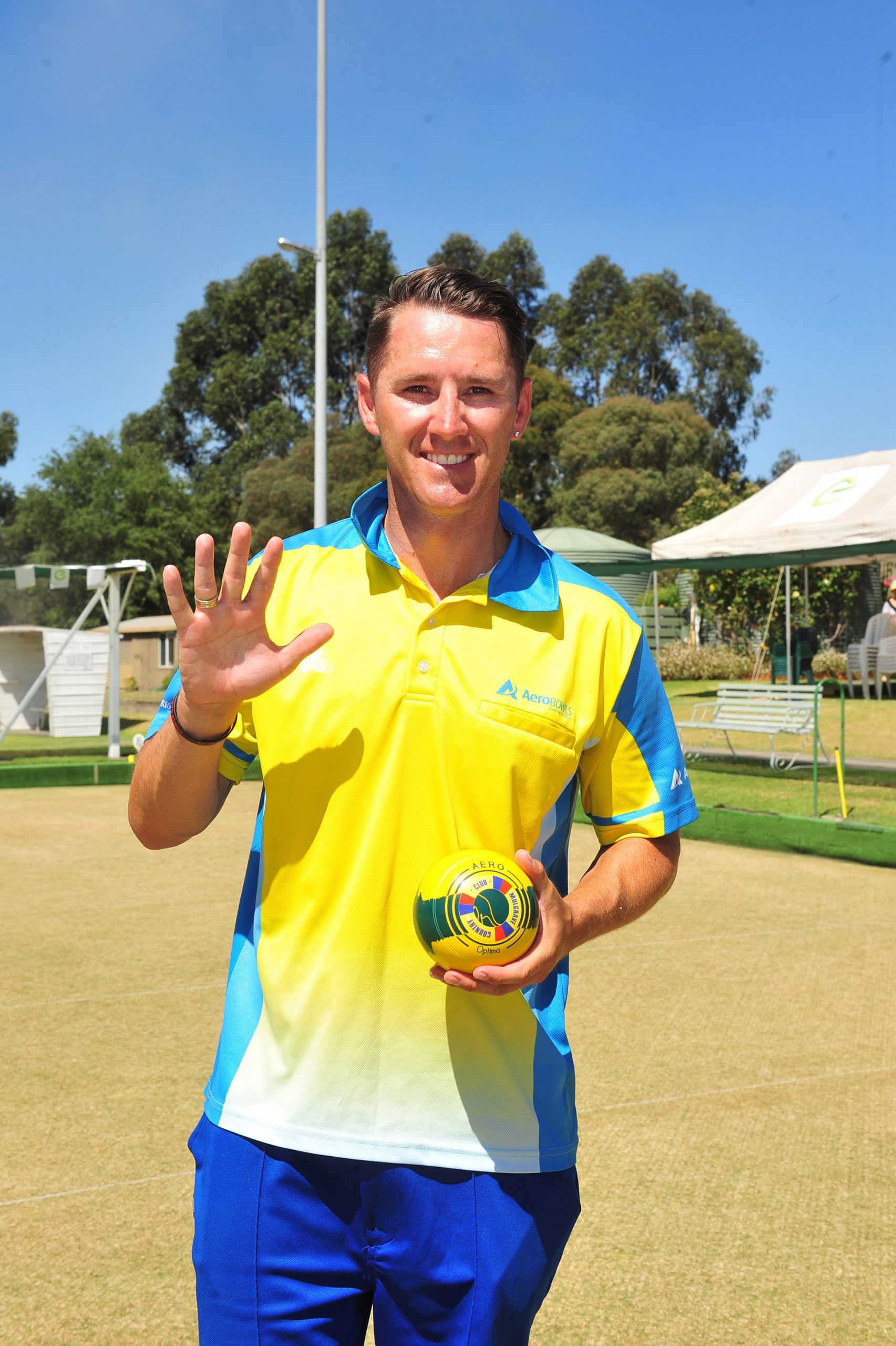 Australian bowls ace Barrie Lester started the year by writing down eight goals for a successful 2017.

While many are quietly forgetting their hastily-made New Year's resolutions, Lester has checked off his first achievement after less than two weeks.
On Friday the Commonwealth Games representative clinched his fifth Yallourn Classic Singles title, defeating Australian teammate Aaron Wilson 25-24 in a final end thriller.
"It's a dream come true winning five Yallourn Singles," Lester said.
"But to play against a really good friend, a fellow Australian player, in Aaron Wilson… I knew I had my work cut out (for me).
"To tick off my first goal straight away gives me a lot of confidence."
There was no shortage of gasps and applause from spectators during the see-saw match, as momentum ebbed and flowed back and forth between the two bowlers.
In the early stages of the match the Australian teammates struggled to gain a definite advantage as an unexpected easterly breeze hampered their efforts to find their rhythm.
From being equal at 7-7, Wilson appeared to break away as he gained a two-shot lead.
But with Wilson leading 10-8, and with the jack practically surrounded, Lester delivered his last bowl with pinpoint accuracy to close in on the kitty and take four shots and the end.
From that point, the multiple champion surged ahead, winning end after end, as he raced to a lead of 21-12.
But with both bowlers tasting success at last month's World Bowls Championships, a contest was all but ensured.
Wilson, who won gold in the men's pairs at the championships, roared back into contention as he repeatedly shut out his Australian teammate.
Soon Lester's lead was cut to six shots with the scores at 24-18.
Lester said his opponent's tactics left him struggling for rhythm.
"Aaron was playing different lengths, so sometimes he rolled long and short and three-quarter and it was hurting my rhythm and I think… his plan was to do that," he said.
Wilson continued his advance and soon the score reached 24-24.
Indeed, an incredible comeback victory appeared so likely a spectator branded Wilson 'Lazarus'.
With the kitty resting not far from the ditch and with Wilson's bowls positioned all around, it was going to take something special for Lester to claim his fifth title.
But Lester dug deep and his final shot curved back to pass between two of Wilson's bowls to finish closest to the jack.
He said afterwards his main concern in the later stages of the match was maintaining his rhythm.
"It was just important to forget the scoreboard, don't even look at the scoreboard and concentrate on rhythm and getting four bowls around it and hope you can hold onto them," Lester said.
The five-time champion, who finished second in the men's triples at the World Championships, will now turn his eyes to next month's South Africa Master Singles, where he will be one of two Aussies to compete.
Despite failing to secure the win, Wilson declared the match "a good exhibition by both".
"It was one of them good comebacks," he said.
"I was down by a lot of shots, down by about 10 and got back to 24-all and I had a chance but old Barrie snuck in with the win.
"Barrie's always been a good player to play against and obviously a teammate in the Australian team, good friends outside, but (what) a beautiful way to finish the day."