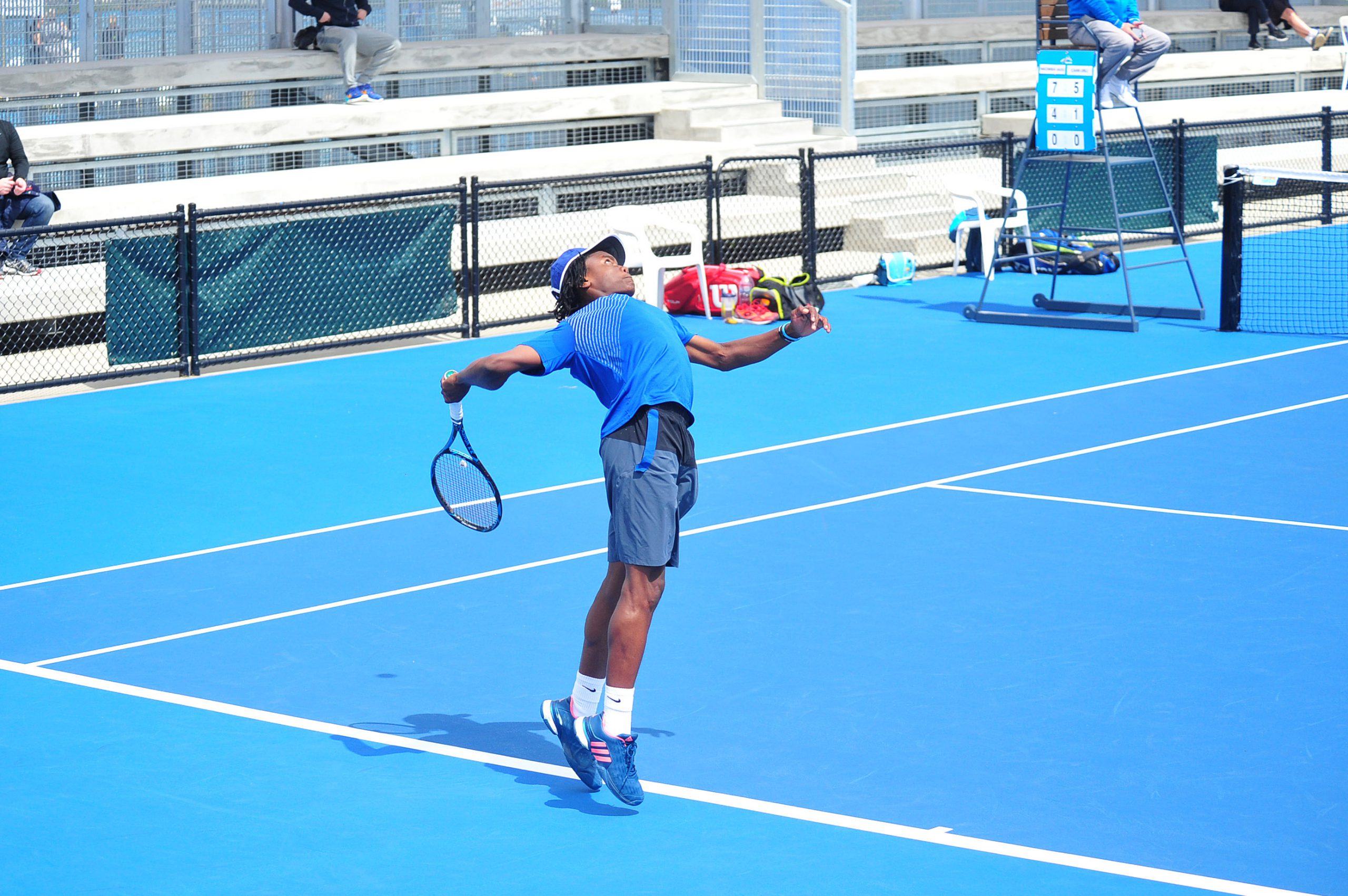 Sydney tennis young gun Benard Nkomba tries to keep things simple and follow his routines before a match.

"I always listen to music before to pump me up and get me energised and stay focused on court," the 17 year-old said.
"Before going on (I) just have some time to myself to focus on what I'm going to do for my match.
"It's been working."
It certainly has, with the world number 98 emerging victorious from his two opening matches of the International Tennis Federation's Traralgon Junior International.
Nkomba defeated Ireland's Simon Carr 7-5 6-3 on Saturday before backing up his performance with a 7-6 6-4 win over Japanese world number 21 Naoki Tajima on Sunday.
"I feel like I'm hitting them well," he said.
"Yesterday it was obviously very windy and tough conditions, but today was good conditions; it wasn't too windy and I played well from my point of view."
Nkomba will take on French Matteo Martineau today in a match which will pit the two former training partners against each other.
"It'll be a tough match," he said.
"He's a good friend of mine. I haven't seen him for a while.
"He just knocked out a sixth seed I think, we'll see how it goes."
After qualifying rounds on Thursday and Friday, the tournament's main draw kicked off on Saturday, showcasing some of the world's finest junior tennis talents.
Each year the tournament draws an array of talent from across the globe, with this year's edition attracting players from Asia, Europe and North America.
Japan's Kaoru Maezawa was among the international contingent to make the trip to Traralgon to coach Himari Sato.
The 129th-ranked Sato did not have the start she would have liked in the singles, losing 6-7 (8) 6-1 6-4 to Chinese world number 11 Xiyu Wang.
Sato had more luck in the doubles with Luxembourg's Eleonora Molinaro, defeating Czech duo Denisa Hindova and Johana Markova 6-2 6-4.
Maezawa said the tournament had provided good preparation for her player, who after the event will compete in the Australian Open Junior Tournament.
This year's edition has already thrown up some surprises, with the number one seeded boy's and girl's players eliminated over the weekend.
Number one boy's seed Yibing Wu defeated Japan's Shinji Hazawa in the first round, 5-7 6-1 6-4 before coming unstuck in his next match against Russian Mikhail Sokolovskiy 6-0 6-2.
Top girl's seed, Switzerland's Rebeka Masarova, lost her opening match to American Hurricane Tyra Black 6-3 6-3.
Traralgon Tennis Association manager Susie Grumley said despite inclement weather on Saturday, the tournament had been a success.
"We had a bit of a delay on Saturday with a bit of rain, but luckily… we could make that up," Grumley said.
"I think we had a record of 77 matches to get through yesterday."
The association last week completed work on its new show court development, which included two courts, a new viewing stand and decking to provide plenty of vantage points for spectators.
Grumley said the development had been well-received.
"We've had lots of comments from the international players saying how fantastic it looks," she said.
"A couple of others commented that the facilities get better and better every year and the players are enjoying playing on it too.
"It'll be fantastic to use it for the grand final."