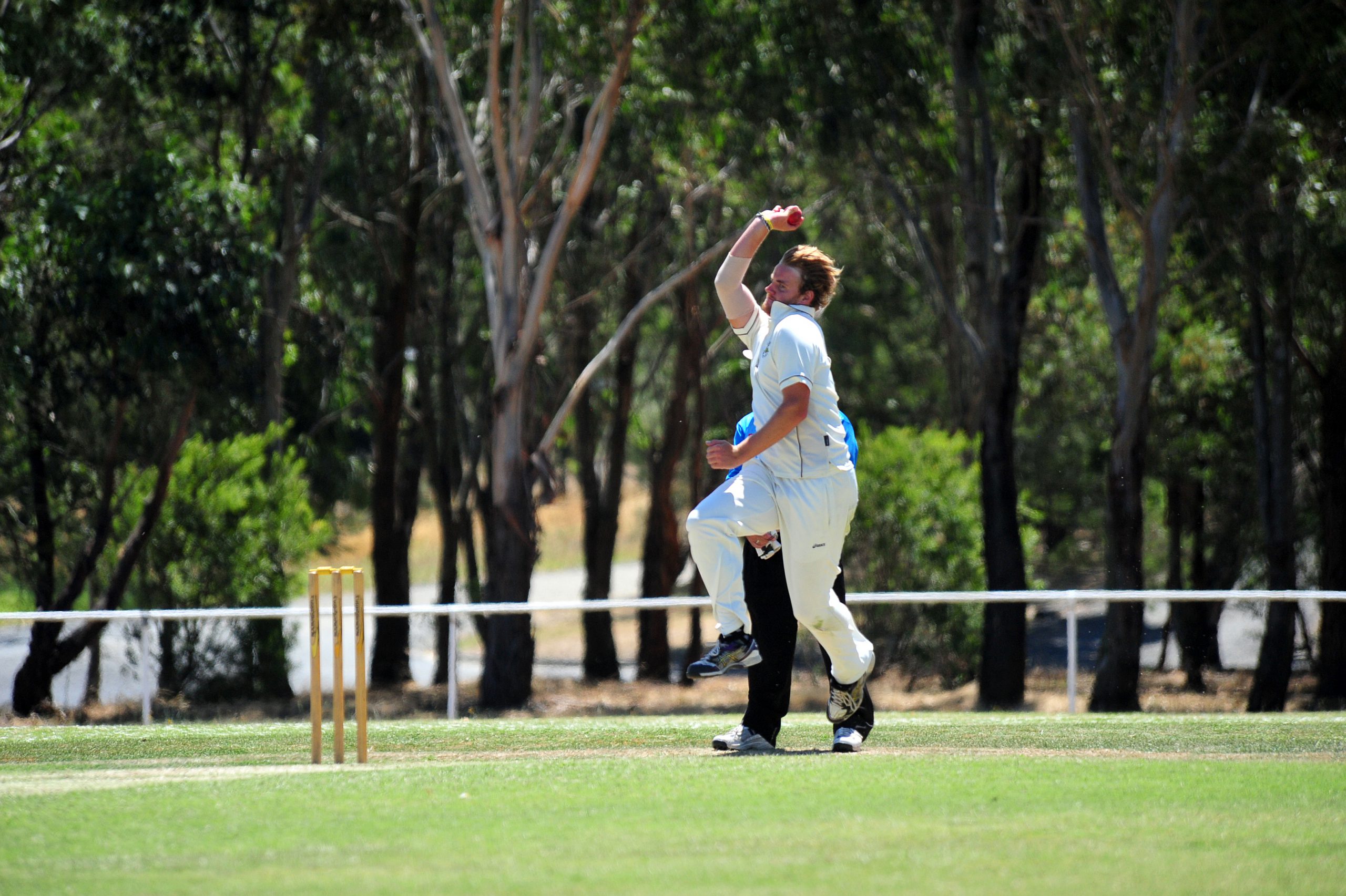 MTY Raiders batsman Mick Higgins has demolished Toongabbie with a sensational 158 as his side looks to take down one of the premiership favourites.

Travelling to Toongabbie, Raiders had the early advantage after winning the toss and batting first.
The Rams got the first blow with Matt Dyke out for one but from then it was goodnight Rams as the batsmen took the upper hand.
In an incredible stand, opener Mick Higgins showed all his style with a brilliant 158.
His massive second wicket partnership with Jason Macfarlane (61) added 165 runs to the tally.
Yinnar finished 5/288 from 80 overs.
Aaron Lynch, Josh Sandy, Tom Shippen and Tim Dunn each took a wicket.
THE highly talked about encounter between Churchill and Imperials turned out to be a fizzer when the Devils were skittled for 25 after batting first.
While Imperials won the toss and batted first, they surely didn't turn up to play as they were dismissed in 19 overs.
Churchill skipper John Keighran led the way with 6/20, while Kurt Holt 4/4 teamed up with his captain to destroy the Devils.
The Cobras then blasted the Imperials attack to every part of the George Cain Reserve, posting 7/228 off 46 overs before declaring.
Brendan Mason opened up with a stylish 41 and Ben Kearns showed all his class with 64.
King Cobra Keighran was as unstoppable with bat as ball, with a punishing 75.
Mitch Goodwin was the only Imperials bowler to shine with 4/47, while leading wicket taker Nat Campbell didn't get a dry pitch to suit and returned figures of 1/42 off 5 overs.
With 14 overs to bat in the day, Imperials are again in strife at 3/40 needing another 160 just to make Churchill bat again.
CATS travelled to Glengarry in a massive game for the club and would have been pleased to win the toss and bat first.
The visitors found the going tough against a very tight Glengarry attack and finished the day all out for 184.
Jamie Cochrane led the way with a top score of 41, who, along with Josh Keyhoe (38), Adam Nunn (28) and Evan Sheekey (19 not out) gave Cats something to bowl at.
Max Merton with 3/23 was best for the Magpies.
IN hot conditions, Centrals had no hesitation in batting first and set about making a big score.
The foundation was set early as Brenton Ould (25) and Sam Gray (22) put on 47 for the opening stand.
Mark Rawson made 21 as Traralgon West fought back to have Centrals 5/105.
From then on Centrals took the upper hand and batted very well.
Stuart Brooks was superb with a very good 81, while Corey Pollard (32) and Ji Eccles (29) both batted well to give Centrals a match-winning total of 268.
Traralgon West toiled hard all day with their bowlers giving their best.
Tim Fitch returned figures of 2/68 off 21 overs in trying conditions to lead the way.
ROVERS went into the game favourites but in stifling conditions won the toss and amazingly elected to bowl which would have pleased the Tiger batsmen.
The Tigers' bats contributed nicely with Chris Lehner making 42 at the top to set the ball rolling.
When Gormandale slumped to 5/102, Rovers were back in the hunt, but a seventh wicket stand of 105 turned the game.
Captain Shaun Barbour was at his brilliant best with a knock of 71 accompanied by Tate Marsh, who posted his highest A grade score with a blistering 70.
The Tigers finished all out for 272.
Todd Mann took 3/41 and Greg Bramwell took 4/41 off 17 to be best.
With 17 overs left in the day, Rovers have stumbled a little to be 4/74 with Ewan Williams finishing 34 not out.