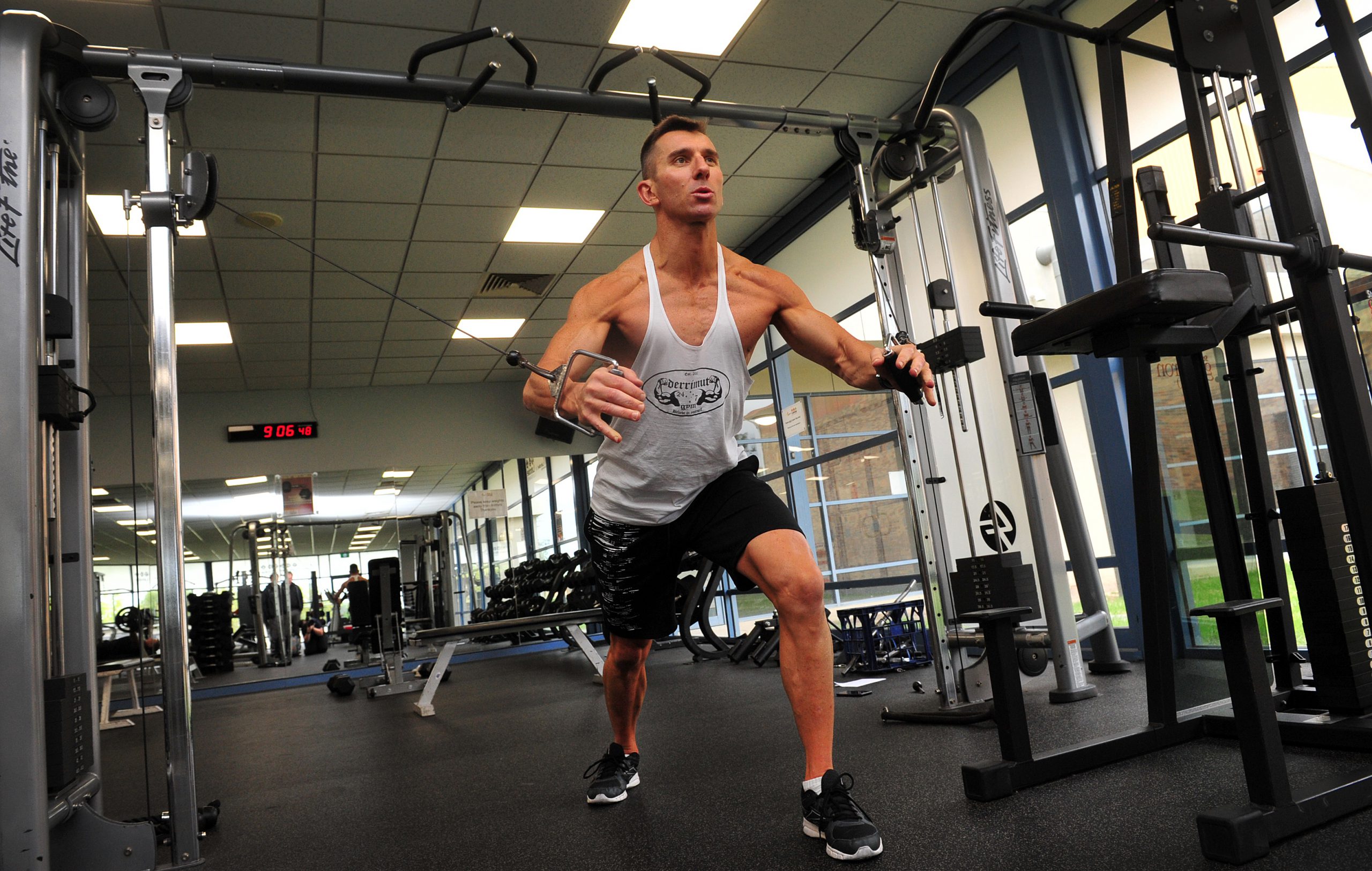 We hit the gym for many different reasons.

It could be to get fit, or stay fit, as a social exercise, some of us even do it for pure joy.
For Morwell man turned amateur body-builder, Sean Gregory, it's all of those reasons and more.
"I train in the morning, it sets me up for my day, I feel great," Gregory said.
"Sometimes it's hard getting out of bed, but once I'm training I really love it."
Gregory relocated to the Latrobe Valley from New South Wales about 10 years ago to be closer to his son.
He's worked hard to keep his head above water and better himself, and he's been busy.
Employment in aged care led him to a teaching role in the industry and he's also currently in his third-year of a business degree as a mature age student at Federation University.
Then there's the positive role he plays in his local church
All that's just a sample of what Gregory's achieving and has achieved.
But right now, he's equally all about getting his body in peak shape for an upcoming body-building competition.
"It's called Rookie of the Year," he said.
"But even though it's amateur, the guys are ridiculously fit and well prepared."
A trip back north to care for his mother enabled Gregory to take part in an online fitness challenge and that led to body-building.
As a result you can find him working out at the Latrobe Leisure Morwell gym on any given morning.
He looks good, a literal Vitruvian Man at times, depending on the apparatus he's using.
His well-toned muscles pop in just the right way and he looks buff, but not unnaturally so.
It's not freakish, like the cartoonish Mr Universes of the 1980s.
That's partly because Gregory participates in the drug-free, ICN, or I Compete Naturally circuit.
"Being a natural competition there's no quick fix," he said.
"It's sort of shaping your body to what you think is a good physique.
"In natural federation body-building blokes aren't quite as big, or no-where near as big, as the other guys. When you think of Mr Universe, that's not a natural federation."
Yet Gregory's no golden boy, the 38 year-old has made mistakes in his past.
Issues with substance abuse have lead him to where he is today, but now he pours his focus into improvement.
"From exercise and fitness you get natural endorphin and that natural, sort of high," he said.
"It makes you feel good and you don't get the artificial up and down.
"So this [ICN] being a natural competition, having had a past and not wanting to go near stuff like that, it's good."
In his regimented life Gregory puts a lot of time aside for bodybuilding.
This last year, his first competitive year, all that time produced a first place in the bottom-tier fitness class at a regional event. It was the third time he competed.
Currently, with the aid of his coach, Jake Abel, he's working towards a national event in Melbourne on 5 March, competing in the second-level physique class.
If he places top-five there he'll qualify for a global show in Thailand and the Australian national championships.
"I'm hoping to go really well," he said. "I'm aiming high for fitness, I want to be number one."
"I didn't do so well in my first competition, I didn't really know what I was doing and I didn't have a coach.
"Now I have a coach, who's a national champion, and I've been watching his success."
But all that's not cheap.
Apart from gym costs there's travel expenses and entry and coaching fees.
While he's received some sponsorship in the past, Fitness 4U in Morwell helped him out, he currently funds his body-building out of his own pocket.
"In general I haven't actively pursued sponsors but because I want to compete quite a lot this year, I'm looking," he said.