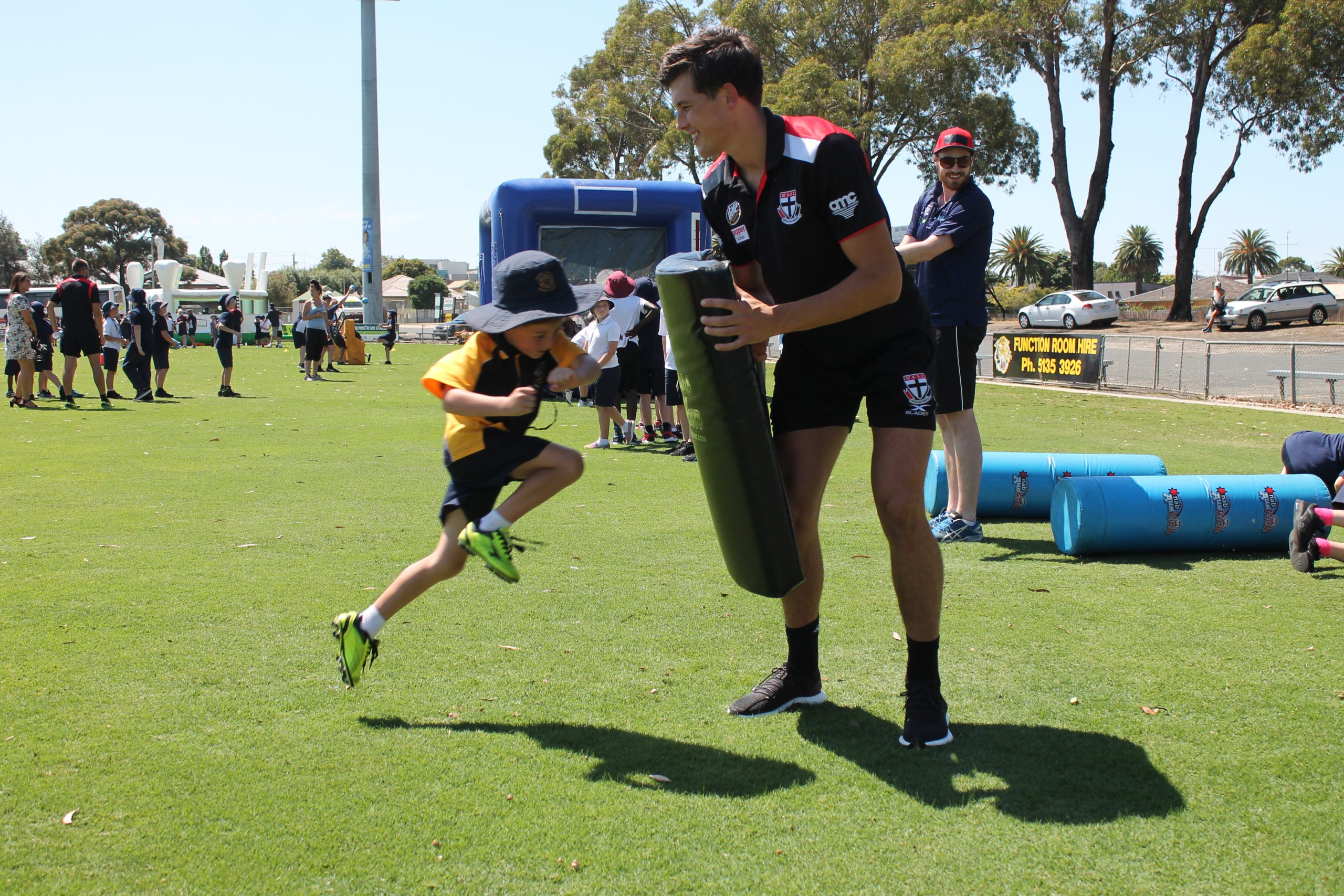 Hundreds of children, along with AFL honchos, sponsors' representatives and a fair chunk of the St Kilda Football Club list were in Morwell for the state-wide launch of this year's NAB Auskick program on Monday.

Primary school students took part in a huge Auskick super clinic, run by players from the elite club and students from Kurnai College.
"It's a really significant day for Auskick and junior footy in our region," AFL Gippsland general manager Travis Switzer said.
"In the Latrobe Valley in particular there have been some harsh times more recently; it's fantastic to have a celebratory event like today."
Now in its 22nd year, the Auskick program offers weekly football skills classes for children aged between five to 12 years old.
The program is inclusive, boys and girls and is not based on ability or previous experience.
"We even run standalone triple-A centres, or all ability centres," Auskick development coordinator Dale Wain said.
"They are groups within an Auskick centre, so kids can feel like they are in a safe environment but participate in the general Auskick, if they want to."
Mr Wain also said the clinics followed the AFL's junior match policy, in which younger participants are involved in non-contact activities and players older than grade one useing the hold and release method.
St Kilda captain Jarryn Geary said taking part in the clinics was a part of his job he enjoyed.
"Our game can be pretty serious at times, so to get back and see kids enjoying themselves and smiling, it's a really good break from the game for us," he said.
"You remember back to when you were a kid and guys would come to town and take you for a training session. So you're trying to have a good impact on the kids as it's something they remember for a long time."
Second year rookie Jade Gresham said the social aspect of the Auskick program was one of its best qualities.
Auskick was a part of his childhood and while it helped him with his skills, getting to know other clinic participants was the strongest draw for him.
"I started Auskick when I was about four years old, did that for a few years and then I moved onto junior footy," he said.
"Dad got me into it and I loved every minute of it.
"Just being out here and having fun with your mates is the main thing."
In 2017 there will be more than 60 Auskick programs set for Gippsland with the vast majority running for 10 weeks during term two.
They cost between $85 and $95 and along with the clinics, participants get a goodie bag that includes a football, footy cards, a backpack, and many other football related items.
If all that wasn't enough to get footballers excited about Auskick and the 2017 season, there's also a chance for participants to run onto the MCG during the half-time interval of an AFL match.
About 10,000 Auskickers a year get to play on the big stage and are selected based on the number of signups per region.
To sign up to an Auskick program, visit www.aflauskick.com.au
Registrations paid up before 22 April will also receive four free tickets to an AFL game.