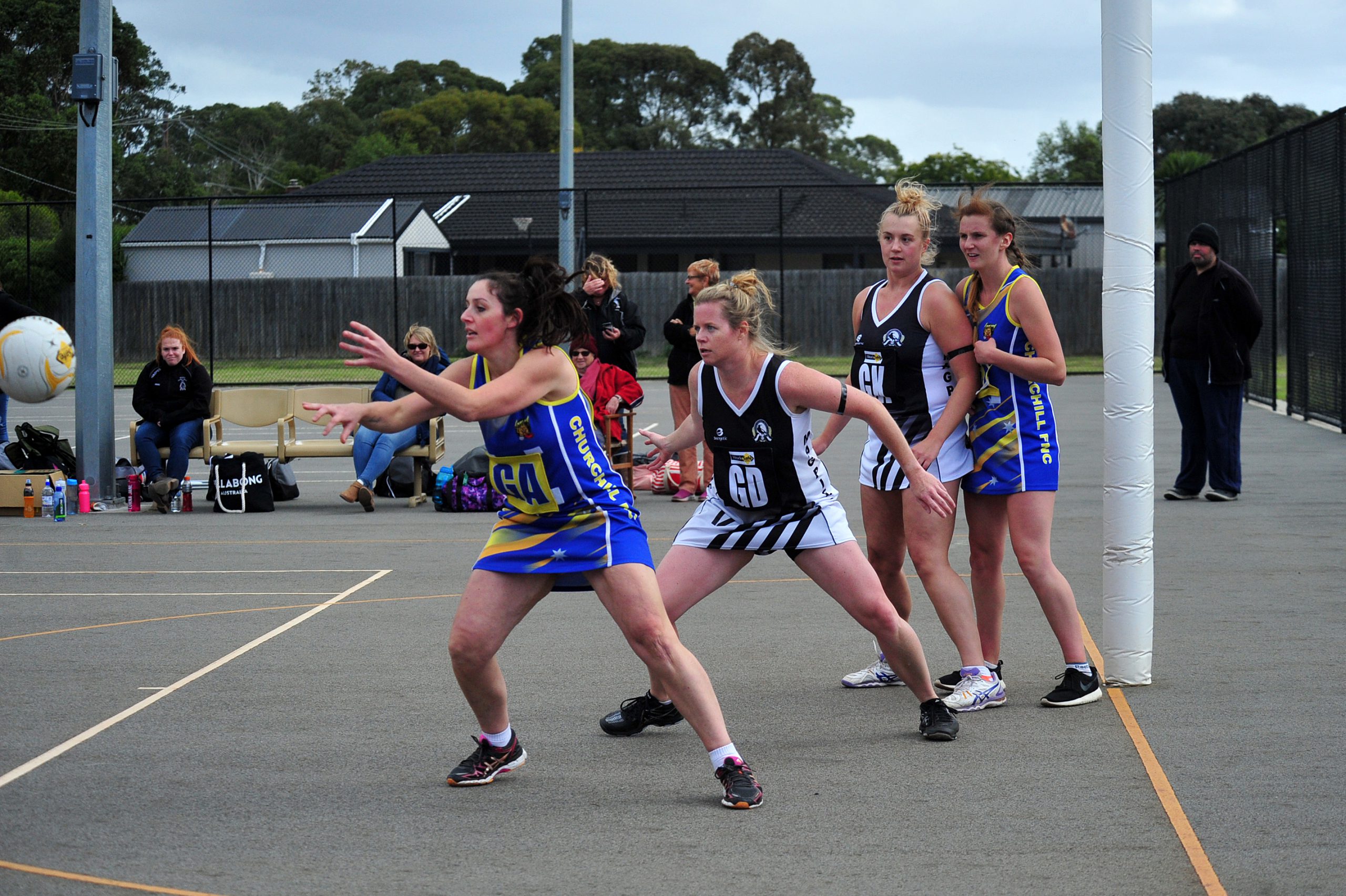 NETBALL
NORTH GIPPSLAND

IT was almost a day for the home teams in the first round of North Gippsland netball as all but one of the hosts recorded positive results.
At Glengarry, the Magpies got over the Cougars by six in a well fought four-quarter tussle.
Glengarry led from the front but Churchill was always nipping at the host's heels.
The Magpies were able to hold fast in the final quarter and take the well deserved and contested win.
Shooting for Glengarry, Megan Garlick was on target, looking relaxed and getting the season off to a solid start while Paxton Farley took on her new centre duties with gusto running a strong mid-court game.
For the visitors, Churchill's goal defence Maddison Burney had a great game long battle with Glengarry's recently promoted goal attack Tayla Gatt.
Glengarry defeated Churchill 46 to 40.
The Tigers went into the match missing key players and as a result were limited in their ability to rotate off the bench.
It was a strong defensive game from both sides with the telling difference being Cowwarr's better quality rebound attempts.
Gormandale matched up well through the centre though and it was a tight game throughout with the home side leading at the first break and only six down by the last change.
Cowwarr put the pedal to the floor in the final-quarter and kept open a gap that Gormandale just could not keep up with.
Gormandale's Tasma Horton was solid at goal keeper, relentless at the play all game.
Cowwarr defeated Gormandale 48 to 35.
At Yarram it was a good physical contest as Traralgon Tyers United came calling.
While the home-side was up all day the Bombers did not give up, closing the margin to within five goals at the final break
It was a good test for TTU's relatively new list, even if Yarram took over in the final-quarter.
There were standout performances at both ends for the Bombers with young code-crosser Sam Labros strong at goal attack and Megan Keast down back at goal defence making seven intercepts.
Yarram defeated TTU 55 to 42.
As they often are, the Woodside-Rosedale clash was played in great spirits.

The teams are close and there's no better evidence of that than a Rosedale player fund-raising for an ill child of a Woodside team member.
With that in mind it was a bit of a shame there had to be a winner, but there was and that victor was Woodside.
On a day when the final score in no way told the full story, Rosedale played three quarters of competitive netball.
It was just the third-period the Blues let it slip.
A low scoring affair all game, the first ended 6-4 after defensive manoeuvres from both sides.
The strong back-end play continued for Rosedale with 18 year-old Sale import Layla Simmons impressive all game.
Woodside defeated Rosedale 37 to 21.