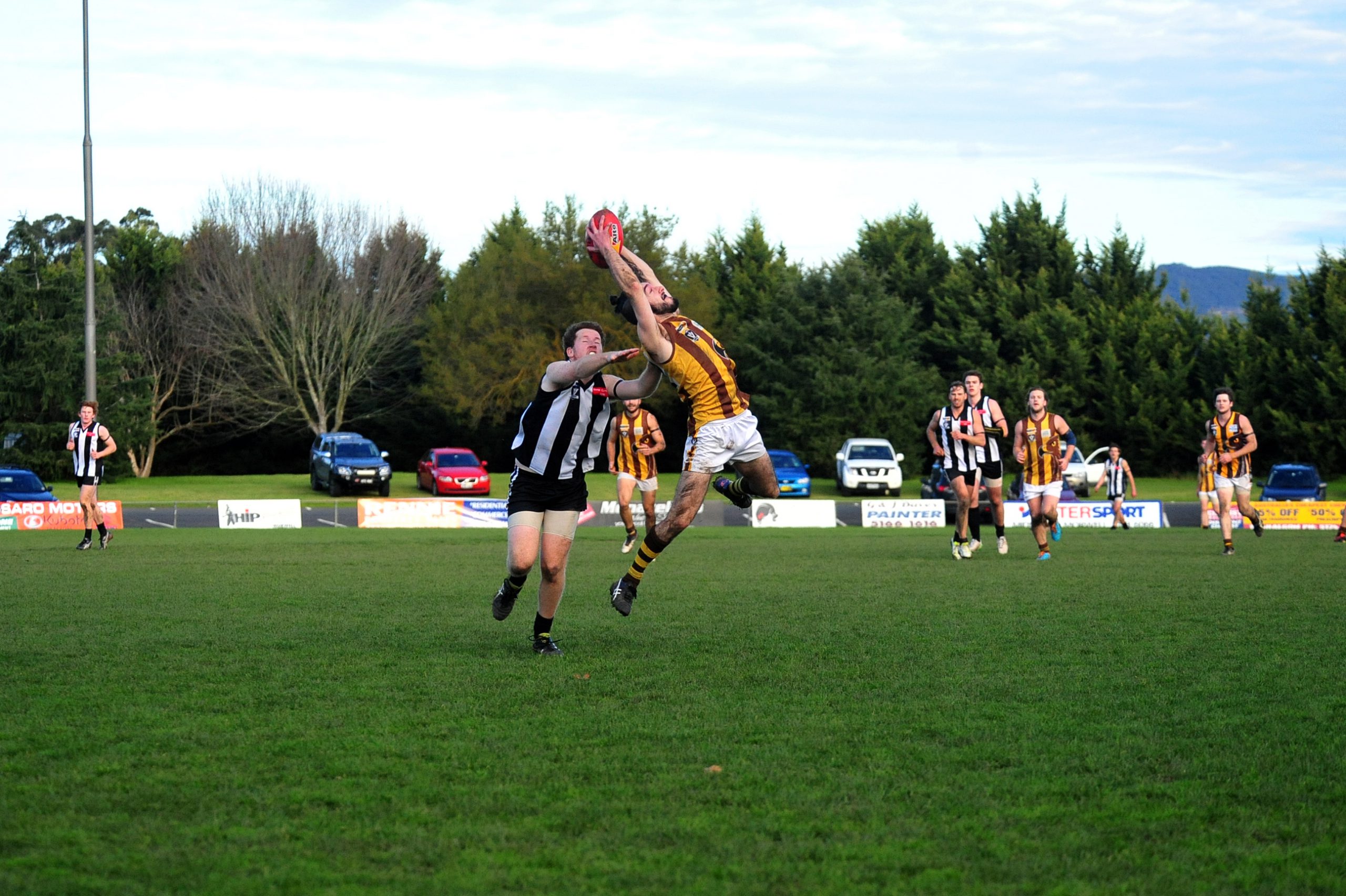 FOOTBALL
MID GIPPSLAND FL

Trafalgar looked the goods after four quarters of solid Mid Gippsland football last Saturday while Mirboo North was coming off a disappointing home loss.

The Tigers had five players run out for their first senior game and while the side made a good account of itself, look for more changes as experienced players draw back into the line up.
Tigers vice-captain Luke Palmer, along with Boolarra import Darryl Mayman should start and coach Clancy Bennett is a 50/50 chance.
Trafalgar came out of its game against the Panthers injury free and look like taking an unchanged side into the match.
Despite four quarters of decent football, the Bloods are keen to keep improving and Mirboo North will be a good benchmark for a side keen to win back respect from he rest of the competition.
Going on last week's performance, the match between Boolarra and Yarragon could be a close tussle.

Nether side will be happy with their previous showings and both will be out to make amends.
The Panthers are the ones best positioned to do something about it.
Competitive for at least a quarter, Yarragon has the potential to kick away and address its percentage imbalance, whether they can do it is another question.
There is not a lot to take away from Yinnar's creaming of Boolarra in round one, apart from the fact the Maggies look brutal this season.

Hill End made a good account of themselves against a lacklustre Morwell East but struggled to find an answer for the Hawks' fitness and rediscovered skill late in the game.
If the Hillmen can stick with Yinnar early they should prevent major bleeding.
If they get runover in the first, it could be a blow out.
Hopefully it won't be and both sides will get the fair test they deserve.
Three quarters of high quality football was not enough to get the job done for Yallourn Yallourn North in their grand final rematch.

Four sold quarters this week and the Bombers should register their first win.
The Hawks looked dangerous in the last term against the Hillmen; if they can bring that all match they should make a game of it.
If they turn out and play hap-hazard, especially in defence, the Bombers won't give Morwell East a second chance.
Carrying momentum from last week's irregular win over Mirboo North will be key for Thorpdale in its home opener.

Forced to chase early, the Blues held their own and eventually ground out the win.
Newborough, which again proved it is a key side to defeat, played a quarter of gold standard footy and crushed the 2016 league second-place getter.
The Bulldogs came out of their grand final rematch with no injuries and will only have one change for the game.
Playing in Thorpdale anytime is challenging and win, lose or draw, the Bulldogs will be happy to get this encounter out of the way before the cold of winter.