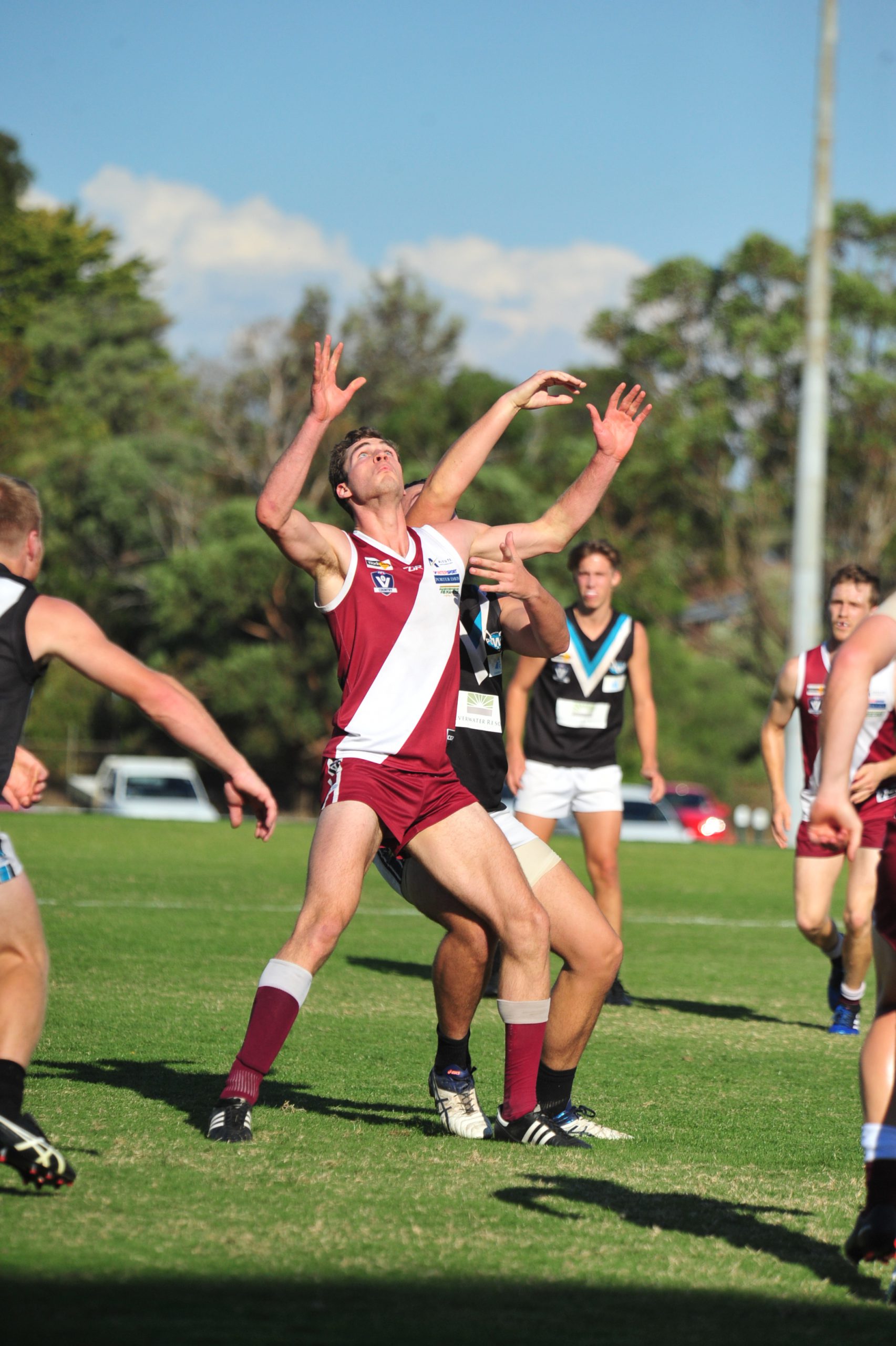 FOOTBALL
GIPPSLAND LEAGUE

Moe and Traralgon had big wins in round one, so this weekend's battle from either end of the Valley should be a good yardstick to see how either side is travelling.

Moe's first opponent, Warragul, bounced back with a vengeance on Good Friday, while the Maroons' early quarry, Wonthaggi, not so much.
The young Lions have some positive predicaments going into Saturday's game at Ted Summerton.
"We've got a couple of problems we haven't faced in the past four or five years," Moe coach James Blaser said.
"We had a good win against Warragul, and now we've got a full list of guys to pick from."
Assistant coach Daniel Risol is available to play and forward Carl Woodkey is in the selection mix.
All that means list competition.
"I'll probably have to leave somebody out who doesn't deserve to be left out," Blaser said.
Scuttlebutt has the Marrons of old back on the park, and Blaser is preparing for the challenge.
"Traralgon are always a strong side and I think from the talk they think they are up around their 2015 form," he said.
"They have a pretty good side, a pretty even side and it'll probably be a big challenge for us."
Maroons coach Mark Collison rejects the 2015 form tag.
He's not looking forward, or in the rear view mirror; Traralgon's focus is firmly on the week-to-week.
In 2015 the Maroons were small and quick, now there are even and well balanced.
While the side came away from the Power game injury free, Collison is picking sides based on that week's opponent, so there could be changes.
Along with Blaser, Traralgon is looking to handle Moe's recently added tall ruck Dylan Farrell, and first time goal-kicker Darnell Grech.
"We're not going to take them lightly, they're a good side," Collison said.
While still fledgling, Drouin had some good takeaways from their heavy loss at the hands of Morwell in round one.

Coach Bob McCallum said the team had a good fortnight on the track with a focus on pressure, especially around stoppages.
In this fixture last season the Hawks came away from the long road trip with the win and it's something the young side is aiming for again.
The side still has some experienced hands to draw back on, including Michael Fairdice (knee) and James McKellar (wrist), but that will not be this week.
Like Drouin, Sale also suffered a big defeat in its first hit out and will also be keen to bounce back.
While the side has no injuries out of the first round there are still some key players waiting to come back into the line-up.
Half-forward on-baller Jackson Glenane is likely to play, with backman Chris Laverty a maybe.
Sale coach Shane Fyfe was not completely unhappy with this the Pies' showing against Maffra, especially over the first two quarters.
His focus has been skills and fitness over the long break with the aim of setting the agenda against the young Hawks.
He also rejected last year's loss, saying both teams are now different and there wasn't a lot to take from it.
Bairnsdale and Maffra will meet for the 250th time on Saturday.

They played each other 157 times in the old Gippsland Football League between 1901 and 1959, and 92 in this competition.
The clubs have had a close record over the past 116 years.
The Redlegs have the edge, 125-121, with the Eagles leading in Gippsland League matches, 48-44.
The Eagles have won the past six matches against the Redlegs.
In their last meeting, the Eagles recording their biggest ever victory over the Redlegs – 109 points – and came within 13 points of equalling their best score against Bairnsdale.
In round one, Maffra did what was expected of the reigning premiers against Sale, while the Redlegs lost at Leongatha by 62 points.
Expect a better Bairnsdale line-up on home deck.