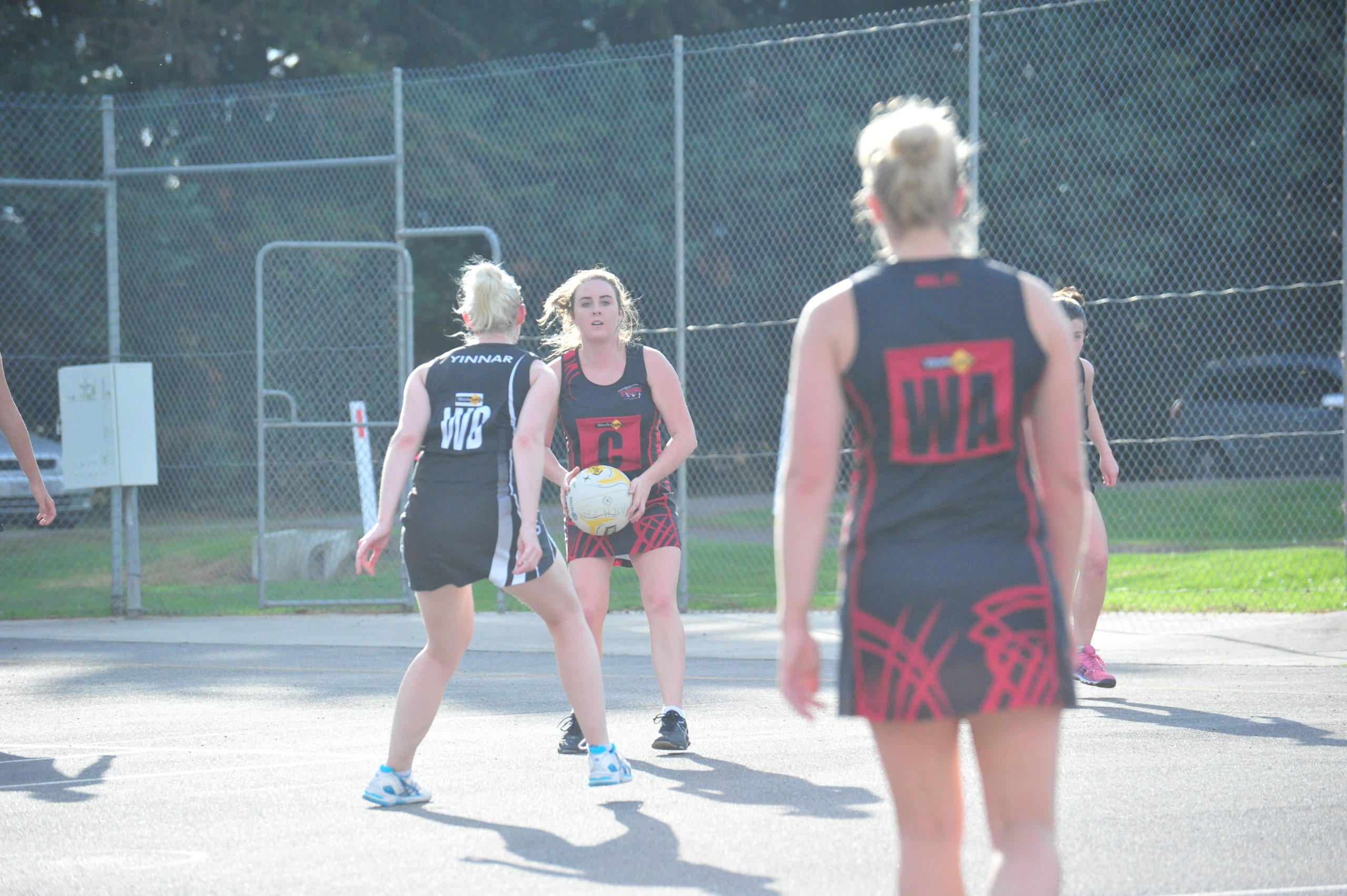 NETBALL
MID GIPPSLAND NA

Yallourn Yallourn North held on for a hard-fought victory against Yinnar in the third round of Mid Gippsland netball.

Tight all game, both sides made changes at different times.
The Pies started out with lineup differences, but reverted back to what worked.
"We tried something different to start with but then put it back to usual," Yinnar coach Haile McCol said.
In the last quarter it was the Bombers trying to mix it up in an attempt to reinvigorate their game.
And it worked, for YYN at least, scraping out the win 48-45.
The game of chess saw the black and red put Christie Smith on at wing attack with fresh legs late.
That inspired ball movement down the court with the aid of Liv Vincent who drew back into centre.
Meanwhile Brittney Milne went back into defence for the Bombers.
It was a game McCol said was played in different parts.
"It was a really up and down sort of a game," she said.
"We both had good patches and bad patches, so the score sort of reflected that.
"We were down in the first quarter, even, then up, then ended up down by three.
"So yeah, it was a bit of an inconsistent game."
McCol said Magpie shooter Sophie Latino performed well under pressure while Gabby Maynard was named team's best in the losing effort.
The game was the first win for YYN in a while and broke somewhat of a drought.
Yarragon v Hill End

Leading until three-quarter time, Yarragon ended up dropping a six-goal lead to Hill End.

The young Yarragon side had the better of its visitors through good defence and excellent shooting thanks to the Green sisters.
Yet all the youth and guile were unable to account for strength as Hill End muscled its way back into the game.
Yarragon goal shooter Tayla Green was double-teamed for much of the second-half as it did not help her side's structure started to break when the hosts applied the pressure.
Despite going down by six, Panthers' coach Paula Borsato said there was positives out of her team's effort.
"To actually be leading and to lose was disappointing," Borsato said
"But out of that they realised they need to slow down and think about how they were playing."
Panthers' captain Courtney Green also had a good game under the net.
Hill End defeated Yarragon 52 to 46.
Morwell East v Newborough

In a highly competitive hit-out from the suburban teams in the league, Newborough was able to grind out a nine-goal win against Morwell East.

Trailing at all breaks the Bulldogs got the job done in the last, outscoring their opponents by six and securing the victory 49-40.
"It was even all game, it was a good netball game to watch," Newborough coach Greta Douch said.
"The girls are fit and like to win."
There were strong efforts all over the court.
Down back Courtney Risol and Louie Patten anchored the team while Aleasha Horne set up good feeds into the arch.
When the ball got there, especially at the death, shooter Jackie Douch had the answers
"She didn't shoot perfectly all day but in that last quarter she was good," Douch said.
Trafalgar v Thorpdale

IN the Sunday game, Trafalgar continued its unbeaten run for the season downing visitors Thorpdale.
In the end the Bloods' 19-goal winning margin was telling, taking the game 49-28.
Mirboo North had the bye.