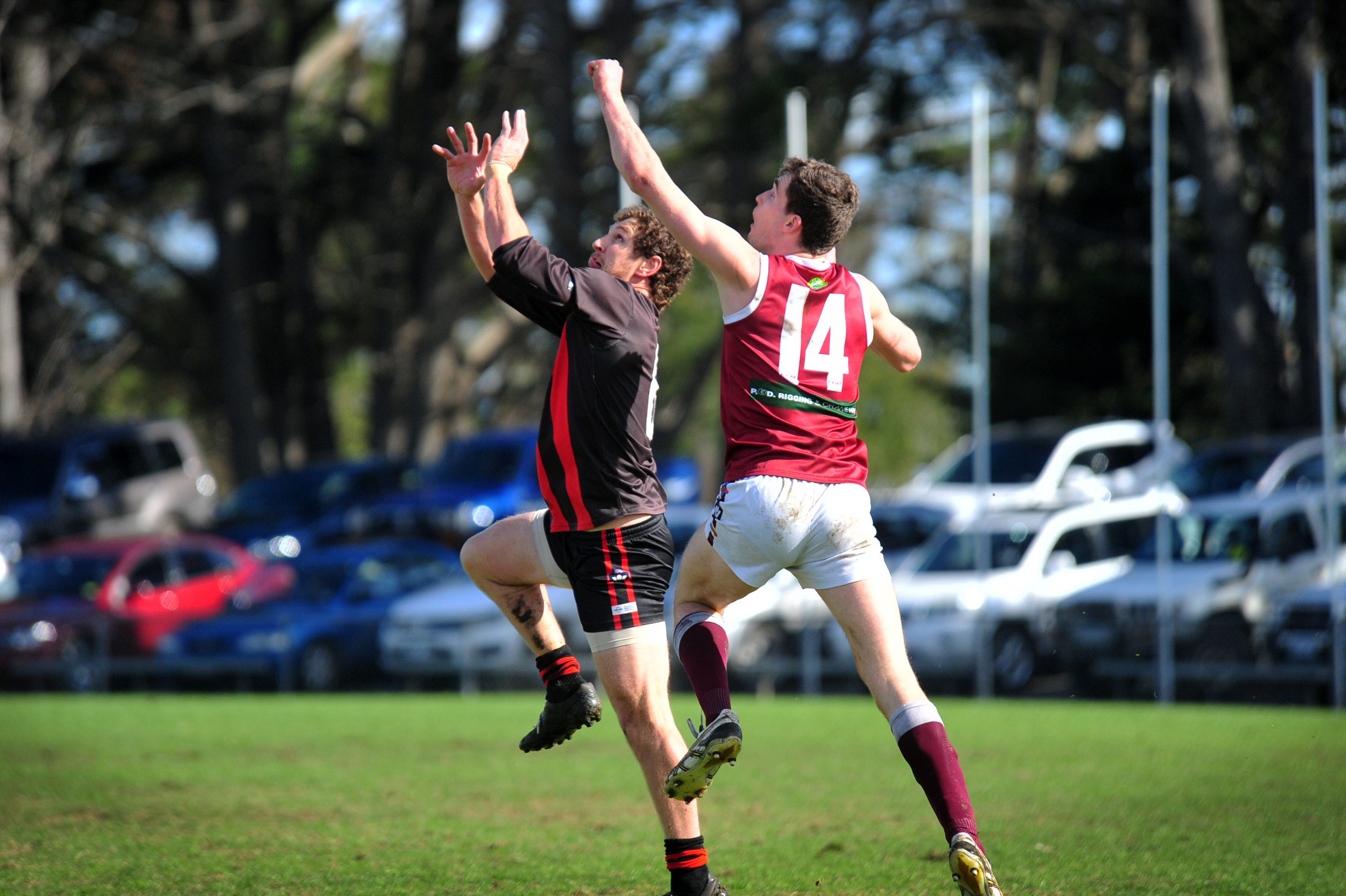 FOOTBALL
GIPPSLAND LEAGUE
After taking the four points and getting the hell out of Drouin, Traralgon now turns its attention to a real test this weekend, Maffra.
The Maroons are still undefeated and sit a game clear at the top of the table, ahead of both Leongatha and the Eagles.
Whether home or away, Traralgon has looked reasonably unstoppable so far with the closest games being a 30-point win over the Parrots and a 19-point victory in Moe.
For its part, Maffra's only slip has been a 16-point loss to the hot and cold Warragul.
Despite the benchmarking ahead, Traralgon coach Mark Collison said his side would prepare the way it always does – to the beat of their own dinner bell.
The Maroons had 12 changes for the game against the Hawks, including three top flight debutants.
Some of the shuffling was due to interleague injuries, while other players were always going to sit out the game after the representative footy fixture.
At a minimum, Tim Northe should draw back in, but expect other moves as well.
Traralgon came out of the Drouin game injury-free.
"We only had a few niggles," Collison said.
"Nothing major, which is good after we had a pretty bad week at interleague."
If travelling all the way to Bairnsdale and coming back with a win for the first time in almost two decades isn't the kind of thing that lifts a team, then pretty much nothing will.
However, talking to Lions coach James Blaser, it's clear it did.
His challenge now is carrying that momentum into this week's Sale game.
It offers the Lions a chance to go on with their winning record and make it three in a row, establishing themselves as a finals contender in the early going.
An injury-free game last week means Blaser will again have the pick of the litter.
"We picked up a couple of knocks that you get in a solid game," he said.
"But everyone ran out the game fully fit, so a few guys will be a bit sore but at this stage everyone should get up for next week."
If it weren't for Drouin, the Magpies would be winless, with a number of blowouts against more fancied sides.
A Moe win is expected.
Morwell's season currently stands at a bit of a cross roads.
With the Redlegs this round and the Power a week later, the Tigers have a chance at two wins in a row and an opportunity to get 2017 back on track.
The side was crushed by Leongatha last round, including a scoreless second quarter.
It's a defeat the Tigers will have to work hard to overcome, both mentally and physically.
"We definitely have a lot of work to do and hopefully we can turn that around and be better," Morwell coach Joel Soutar said.
With no injuries, team changes will come down to improving the side's showing.
"We came out alright," Soutar said.
"We still have to find our right mix. That's got to happen pretty quickly or we'll be behind the eight-ball."
Perhaps the Tigers need to be more resilient.
The effort is there but when things don't go Morwell's way, generally due to being outplayed or by its own hand, heads can hit chests.
It happened for two-and-a-half quarters against the Parrots, three quarters against Maffra and one painful quarter when Warragul came to visit.
All those teams are flag contenders.
The Tigers might be able to make the finals off the back of wins over less-competitive clubs, but if and when they get there, the constant beatings at the hands of more fancied sides could take a toll.
That outcome is still many months away, however.
More immediately, anything less than a win this round will surely turn the screws at Morwell Recreation Reserve.
This week the Parrots get the handy percentage boost.
Drouin are still struggling to get numbers and have been easy beats week in, week out, since 1 April.
The Hawks smallest defeat so far this season has been 90 points.
Don't expect that to change come Saturday.
On the flip side, the Parrots are rolling along with just the one loss, courtesy of Traralgon.
Last round they crushed Morwell by 77 points and held them scoreless for the second quarter.
This one will be brutal.
The Power haven't been the worst, but neither have they been the best.
They have picked up two recent wins over Bairnsdale and Drouin and weren't uncompetitive against Maffra last round.
Whether the home team gets the win will have a lot to do with the mindset of the opposition.
Predicting how Warragul will go is a tough job.
The Gulls ground out a win at Maffra and smashed the Tigers away on Good Friday.
In-between all that, they lost to Bairnsdale and were creamed by Moe in round one.
Could go either way.
However, just to hedge all bets, that prediction is couched within the proviso, 'unless it's the powerful, brutal Gulls that show up'.