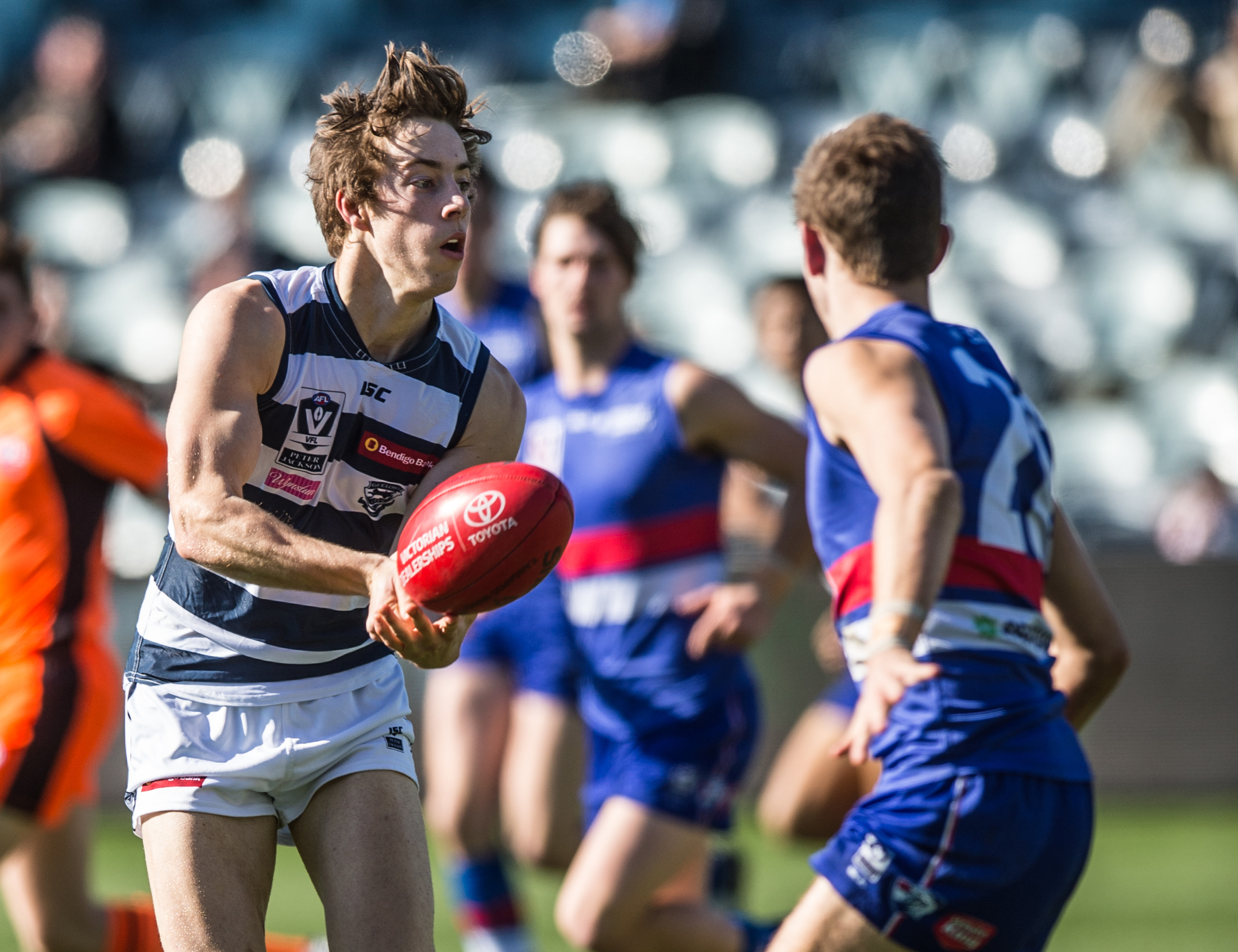 FOOTBALL
AFL

Jordan Cunico's first taste of elite level football was a booming 50-metre punt along the wing at Kardinia Park.

Channel Seven commentator Bruce McAvaney described it as a "neat kick".
It cleared the ball from Geelong's half-back line and relieved pressure after a Port Adelaide goal.
After running on for the Cats for the first time on Thursday night, the 21 year-old from Traralgon said he didn't remember much about the game.
"It was probably more of a blur than anything," Cunico said.
"I started off in the first quarter well and played out the rest of the game not too bad but more of a blur than anything."
Ultimately, Cunico helped get the win on debut, as Geelong took the game by two points.
His first kick was one of eight for the game, along with three marks, and four handballs, mainly played across the right wing and into centre half-forward.
Of the possessions he does remember, a couple of marks stood out.
"They were probably the highlight of my game," Cunico said.
"I think I had seven contested possessions as well, which is something I've been working on – trying to be a bit better around the contest."
Drafted in 2014 at pick number 59 by the Cats from the Gippsland Power, the speedy mid-fielder had an up and down start to his AFL career.
Knee injuries have kept him out for much of his time with Geelong but he had played a handful of VFL games before getting the call-up to the senior side.
Despite the challenges, Cunico said he was feeling good about the effort he had put in and what was to come.
"It's been a pretty long wait, I've been on the list now for about two-and-a-half years," Cunico said.
"I've been biding my time in the VFL and had a few injuries.
"I've just been trying to get my body right to play AFL footy and try and enjoy it."
His first long, lofted kick marked a key moment in Cunico's journey.
It was the beginning of his time at the elite level but also the culmination of the journey from local junior footy to the AFL.
Cunico played his first footy at West End in the Traralgon District Junior Football League.
After trying out for Traralgon Maroons in 2010 as an under 14 topager, he was selected by Brian Graham for the fourths.
Graham has fair experience in Gippsland footy, having coached Fish Creek, in the Traralgon junior league and with the Maroons and the Power.
He said Cunico showed early skill, along with other qualities that needed to be successful in the sport.
"Jordy was certainly a kid with a lot of ability footy-wise, but also athletically," Graham said.
"I don't think you had to be anyone brilliant with footy to realise that he had a lot of potential. He applied himself and worked on the areas he needed to.
"It was just fantastic to see him play his first of hopefully many to come with Geelong."
While claiming little, if any, credit for Cunico's achievements, Graham said seeing players achieve success was rewarding.
"I don't think I had much to do with where Jordan's at today," Graham said.
"You like to think you help them a bit but the bottom line is that's why you get into coaching, to help kids reach their full potential.
"Especially at Gippsland Power, when you get to that level, it's really rewarding to be able to pick out a kid you think should go on."
Gippsland Power coach Leigh Brown is seeing that reward at the moment.
He guided Cunico in 2014, the then young prospect's draft year.
Brown said the Power product should go well at the elite level.
"He's quick and very skilful," Brown said.
"I think he'll fit in to the AFL level really well and it'll only enhance his skill set.
"It's a tough game and he's showed some reliance to get to this point, so that holds him in good stead, hopefully it's the first of many."
Brown said when players like Cunico made senior AFL lists it could be inspirational in many ways.
"It gives the next generation coming through someone to look up to," Brown said.
"Some of our kids in the program would have gone to school with Jordy.
"So it makes it a bit more real, it makes it a bit more achievable."