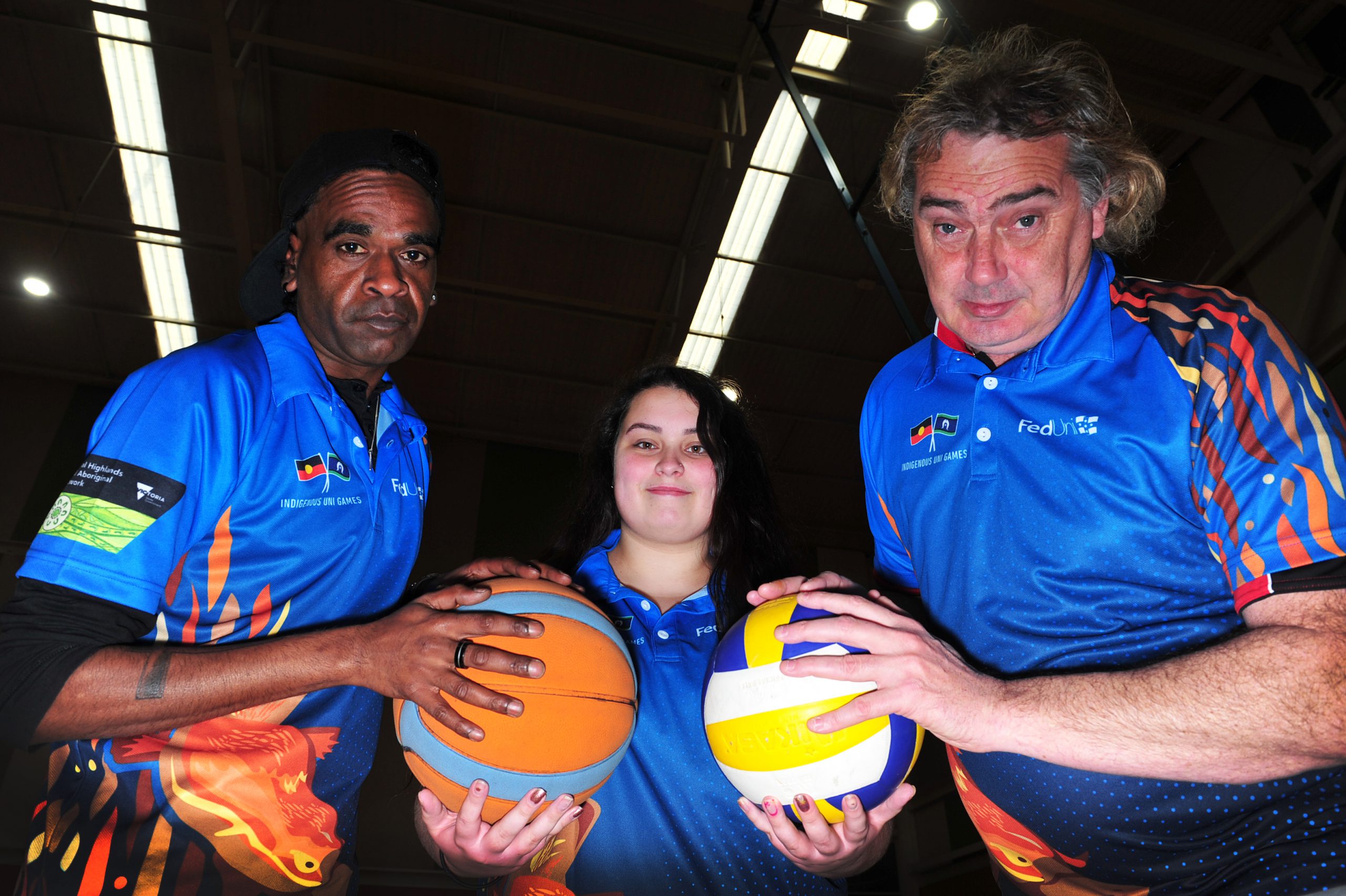 For the first time in the brief history of the institution, Federation University's Gippsland campus will send students to the forthcoming National Indigenous Tertiary Education Student Games.
The multi-sport event will be hosted by Deakin University in Geelong between 25 and 29 June.
Jessica Hunter, Samuel Crane and Ronald Edwards will take part in mixed round-robin tournaments featuring touch football, netball, volleyball and basketball.
"It's good to see a showcase of students, not just sporting achievements, but also we can get feedback from each other on how we're doing our study, and life and this and that," Crane said.
"It's a bit like a big corroboree, but we play sport at the same time."
Now more than 20 years old, the games were first run as part of a class project by Aboriginal studies students at the University of Newcastle.
The students have different reasons for taking part.
"I just thought it was an opportunity to get out there and have fun," Hunter said.
Edwards had a range of reasons for joining the team.
"To meet other people and to enjoy the sport and to get fit, and to win the games," he said.
In his third-year of study, Edwards is completing a bachelor of art and design. He's a painter working in traditional pigments, along with acrylics, on canvas.
"I do Aboriginal art from the Gunai Kurnai tribe," he said.
"I do stories and design."
Hunter is also in third year, studying psychological science.
She's aiming for clinical practice once she's graduated.
Crane is in the process of finishing his masters. Attached to the school of nursing for his postgraduate degree, partly due to the location of his supervisor, he said the final thesis looked at what impact constitutional recognition for Aboriginal and Torres Strait Islander people has had, and could have on health outcomes for First Australians.
"I'm hypothesising that recognition in the constitution is not going to work," Crane said.
The students said Federation University was a great place to study, and celebrated their Aboriginality.
Crane, who had studied at a number of other institutions, praised the facility.
"Everyone is allowed to blossom to their natural talented ability," he said.
"When you see them blossoming you know you've picked the right place."
Edwards agreed.
"It's taken me places and given me opportunities where I though I would never go," he said.
While there are networking and social outcomes on the cards for the students taking part in the games, the FedUni participants aren't just going there to make up the numbers.
They have their eyes on the ultimate prize.
"It'll be great to represent the Aboriginal community and where you come from, to take the trophy back home," Edwards said.