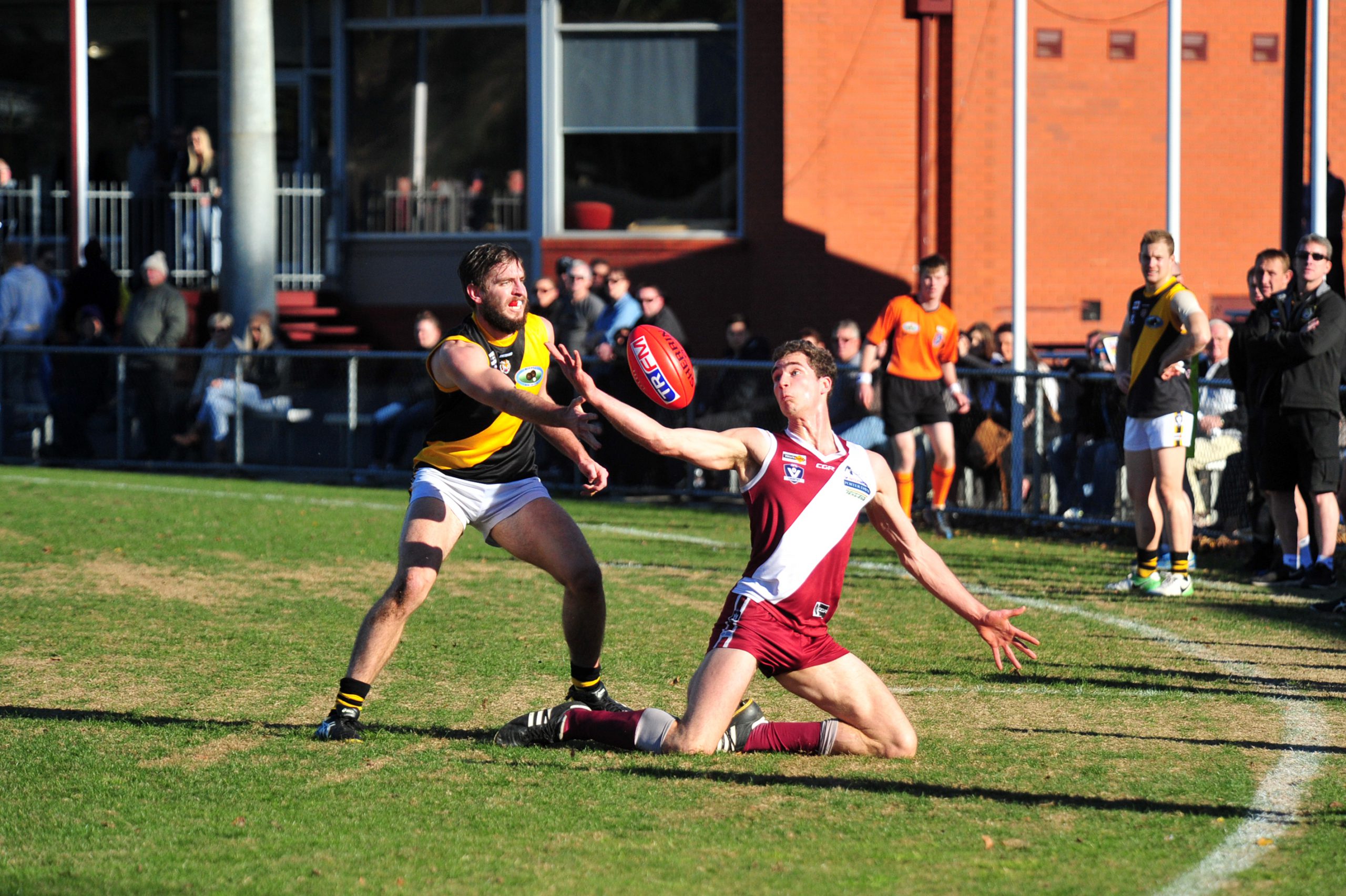 FOOTBALL – Gippsland League
One first half inter-town derby for Morwell done, one more to go.
This week the Tigers shift their attention from travelling east, to looking west, as Moe comes a-calling.
Not rapt with a draw, but happy to avoid the loss, Tigers coach Joel Soutar said his side was starting to come together.
"Early on I think the Warragul game cost us a little bit," Soutar said.
"We didn't start really well and we fought back hard and then got rolled.
"Our last few weeks… have been really good. I think the side is more settled now and we can start stringing a few wins together."
A loss would have given the Lions a four-point gap on the ladder over Morwell.
"The draw is a better result for us than them winning," Moe coach James Blaser said.
"Would have been nicer if we were four points ahead of them going into the game.
"We'll go in as per normal but expect a big challenge and a solid hit-out. Almost a mid-season final."
Moe came from a fair way back to run over the top of Wonthaggi in its last game.
It's an effort that's given Blaser and his team confidence.
"Good sides can win ugly games and we're starting to think we're a reasonable side that can win when we're in bad positions," he said.
"It is promising and a good sign for the group."
Both the Tigers and the Lions emerged from their last games with no injuries.
In addition, Moe should get back key player Mitchell Stanlake who hasn't played since the Lions' Maffra game at the start of June.
Warragul v Traralgon
Following a blistering start to the season, Traralgon has gone winless for the last two rounds.
Although, after recording a one-point loss to Bairnsdale and drawing with Morwell at the weekend, it's not as if the side is struggling.
While keen to get back to winning, Traralgon coach Mark Collison said there were some positive takeaways from the recent outcomes.
"Although we haven't got the wins, we've probably learned more out of the last two games than we did out of the six wins," he said.
"We probably learned a little bit more about how teams are playing us and how we need to correct that and get back to some good form."
With no major injuries from the Morwell game, the Maroons will keep getting back players lost over the start of the season.
"The depth is starting to get back in there," Collison said.
Warragul has been up and down, so it's hard to draw any conclusions from the side's showing in previous rounds.
Leongatha beat the Gulls on Saturday and two weeks before that the Power also handed them a defeat.
In-between, Warragul smashed Drouin and during May the side took wins from Sale and defending champs, Maffra.
Traralgon can't let the Gulls get a sniff, that's when they can be at their most threatening.
Maffra v Leongatha
In a round of delicious fixtures, this grand final rematch would be one of the tastiest.
The powers that be have made us wait the longest possible time to see how the two teams who battled it out for the flag last September currently match up.
Leongatha is top of the table, something it also did this time last year, although 12 months ago the side was undefeated.
The Parrots have recorded seven victories and one loss, the only blemish being on the bad side of an encounter with the Maroons.
Maffra sits third, with a winning record one game off matching this Saturday's foe.
An Eagles win has the potential to put them at the top of the ladder, although due to percentage it would need to a thumping one and Traralgon would also have to lose.
A Parrots victory would keep them free and clear leading the competition.
Once they took that position last year, they never gave it up.
Wonthaggi v Sale
After two tough defeats, Wonthaggi will be looking to return to winning and Sale might just be the side able to assist it in that effort.
The Power was having a decent run of it, beating Warragul and Bairnsdale in May, until the side came up against Moe and Morwell in the last two rounds.
The wash-up is Wonthaggi finds itself in eighth place on the ladder and while not out of finals contention, a lot will have to go right for that dream to become a reality.
Sale is one place below Wonthaggi on the table with just one win for the season so far.
Post-season action is pretty much out of the equation for the Magpies, wins now become a matter of pride.
Bairnsdale v Drouin
Despite the slow start Bairnsdale now seems to be on the way up, having won its last two, including the one pointer over Traralgon and a final quarter effort to get over Sale on Saturday.
Sale is probably not the best measure to judge where a team is at, neither are Drouin, which will travel east and aim for victory.
The biggest questions will be about how big the win will be and how many goals Bairnsdale's Damian Cupido will kick.