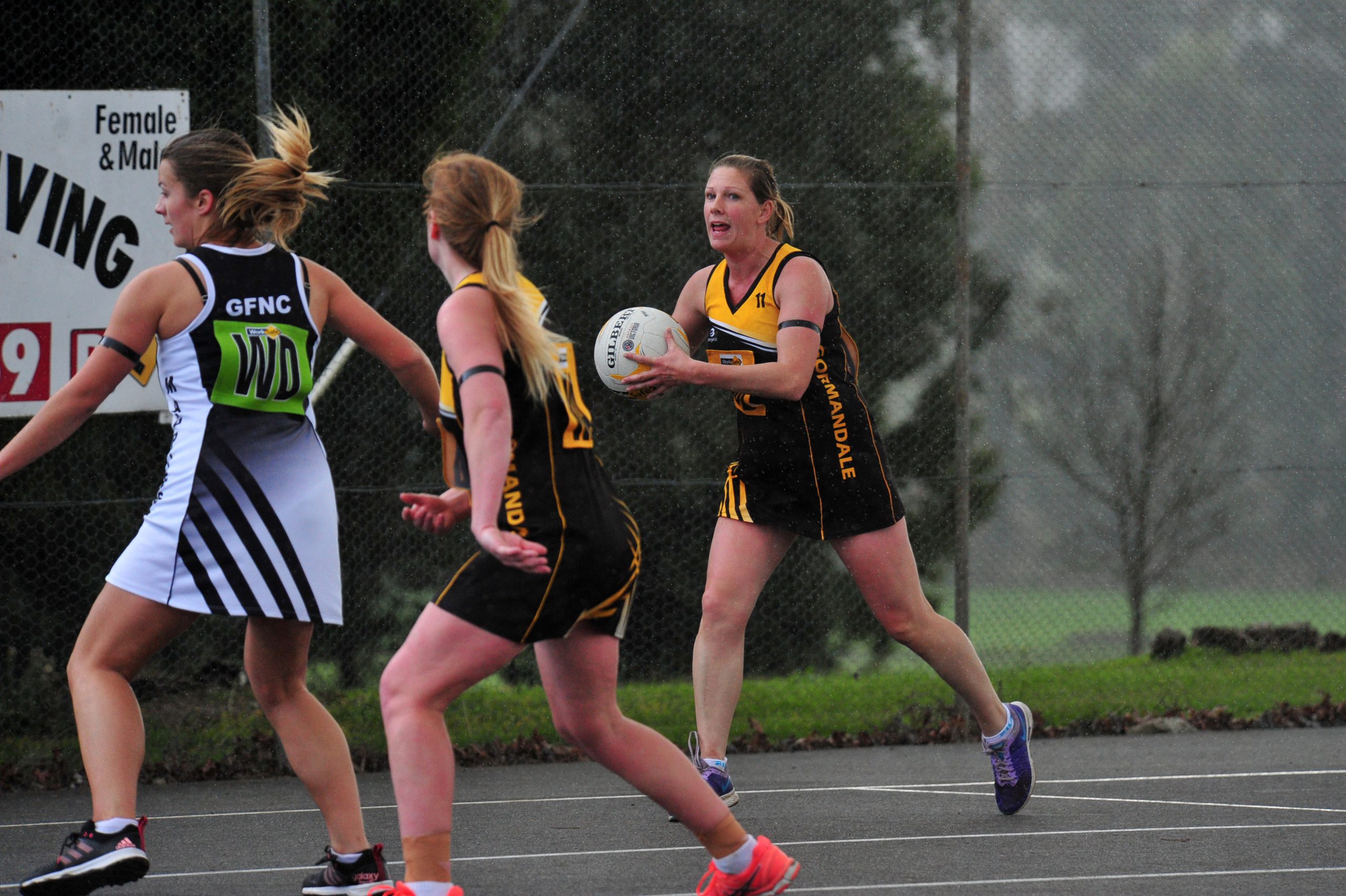 NETBALL

NORTH GIPPSLAND
Glengarry proved too strong for Gormandale, battling on through the wintery conditions, to secure a seven-goal win, on the road, 51-44.

The Tigers provided plenty of fight during the first three quarters, leading at every break and stretching the margin out to as far as eight goals during the game.
But the wool was pulled over their eyes in the final term, as the Magpies played a "stellar last quarter" according to Glengarry netball manager Amy King.
"It was a tough game and well-fought out, it took a while for the girls to gel on the day because it was a bit cold," King said.
"Gormandale put on some great defensive work which made it quite challenging for our attackers, but in the end our girls kept their head and continued to play the game and eventually got it all together."
Emily Whitty and Brooke Aurish provided plenty of strength in defence, with Aurish creating a number of turnovers for the Tigers.
Paxton Faley provided a number of good opportunities around mid court for the Tigers, keeping her cool to provide drive in the attacking end.
Gormandale A grade coach Collette Justice praised her side's effort, but attributed the lost to a number of reasons.
"We still led by two going into the last quarter but we lacked a bit of structure in the fourth and that lost the momentum through the centre court making it harder to bring the ball down to the goal ring," Justice said.
"Our two goalies were standouts – Maddy Dark and Lorelle Nolan – shooting with over 80 per cent accuracy."
Glengarry remains in the top five, in third position with eight wins and three losses, while Gormandale bump in at ninth with one win and nine losses.
Gormandale hits the road to take on Sale City on Saturday this round while Glengarry host Cowwarr at home.
Heyfield v Yarram
Following Heyfield's win in round 11, Yarram has been knocked back to sixth on the North Gippsland A grade ladder after securing its first top five position in more than 15 years.
While the Kangaroos remain defiant on top following a six-goal win, 34-40, Yarram coach Lucy Bell said the game was a promising result for the Demons.
During an impressive performance, Yarram came back from a six-goal deficit at half-time to lead into the final term with a one-goal advantage.
Bell said the win was a "massive confidence booster" for her side, which has not won an A grade flag since 1984.
"Heyfield are undefeated. To put pressure on all game was a really great sign for not only the team, but the entire club," she said.
Fifteen year-old Chloe Finn was subbed on in the second half, shooting accurately according to Bell, after winning the North Gippsland under 15s best and fairest last year.
"Our midcourt was fantastic, Chelsea Smith was our centre and performed like a pocket rocket… she provided plenty of speed down the court," Bell, who was named best on court for the Demons, said.
The win places Yarram in sixth on equal points with Cowwar. separated only by percentage, while Heyfield remain undefeated on top.
Yarram hits the road to Woodside this weekend while Heyfield hosts Rosedale.
Sale City v Churchill
Sale City is closing in on a prime ladder position after defeating seventh-placed Churchill at home, 54-25.
The Bulldogs came out strong in the first term, taking the lead at every break in an effort to snatch their sixth win of the season.
Sale City A grade coach Jae Schuback said the group combined well as a team, acknowledging Alleena Butcher for her work in centre.
"She was extremely quick and speedy and transitioned well from the attack to defence," Schuback said.
"Faith Biddle was another stand out, she was strong in defence and closed down the space in the goal ring, limiting Churchill's scoring opportunities."
"We came out quite strong to start with but really only started to pull away and shoot more (goals) in the second quarter."
Churchill sits seventh on the ladder, with five wins and six losses.
Cougars' A grade captain Kat Hutchins said her side "lacked intensity" and "was no match for the dominant Sale".
Sale City remains fourth on the ladder and four points ahead of fifth-placed Cowwarr.
The Bulldogs host Gormandale at home in round 12 while Churchill travels to Tyers to play the Bombers.
Woodside v TTU
Traralgon Tyers United was no match for the Wildcats at Woodside after a 12-goal defeat, 47-35.
TTU is yet to register a win in A grade following a disappointing start to a season riddled by injury.
Bombers netball manager Sharon Rodgers said while the result wasn't what she hoped for, it was still a positive game.
"In the second half the girls actually kept up with Woodside, in the last quarter there was only goal difference so that shows that the girls could dig in deep when they need to and make an impact on the game," Rodgers said.
Sam Webb and Annalise Hughes received notable mentions for the Wildcats as Hughes returned to the side for the first time this season following surgery for a fractured finger.
While TTU trailed at every break, Rodgers said the score line wasn't reflective of the match as "Woodside had the opportunity to take the game".
"The Wildcats had 75 shots to TTU's 52, so that shows the kind of defensive pressure TTU put on Woodside during the game," Rodgers said.
In round 12, TTU hosts Churchill at Tyers Recreation Reserve while Woodside hosts Yarram.
Cowwarr v Rosedale
In the final North Gippsland A grade match-up, Rosedale defeated Cowwarr after an impressive start, 42-31.
The Blues maintained consistency throughout the game, following a season plagued with injuries and seven losses.
In the surprise upset, Rosedale defeated Cowwarr on its home turf in a win Blues' coach Staci Scott attributed to a consistent performance.
"We had a full team for a change, we've had a pretty inconsistent season with a lot of outs and injuries, so we were very lucky to get away with the win," Scott said.
Layla Simmons performed well in defence for the Blues while Bronwyn Tebb was a stand-out in goals.
Cowwarr hits the road to Glengarry this weekend while Rosedale travels to Heyfield.