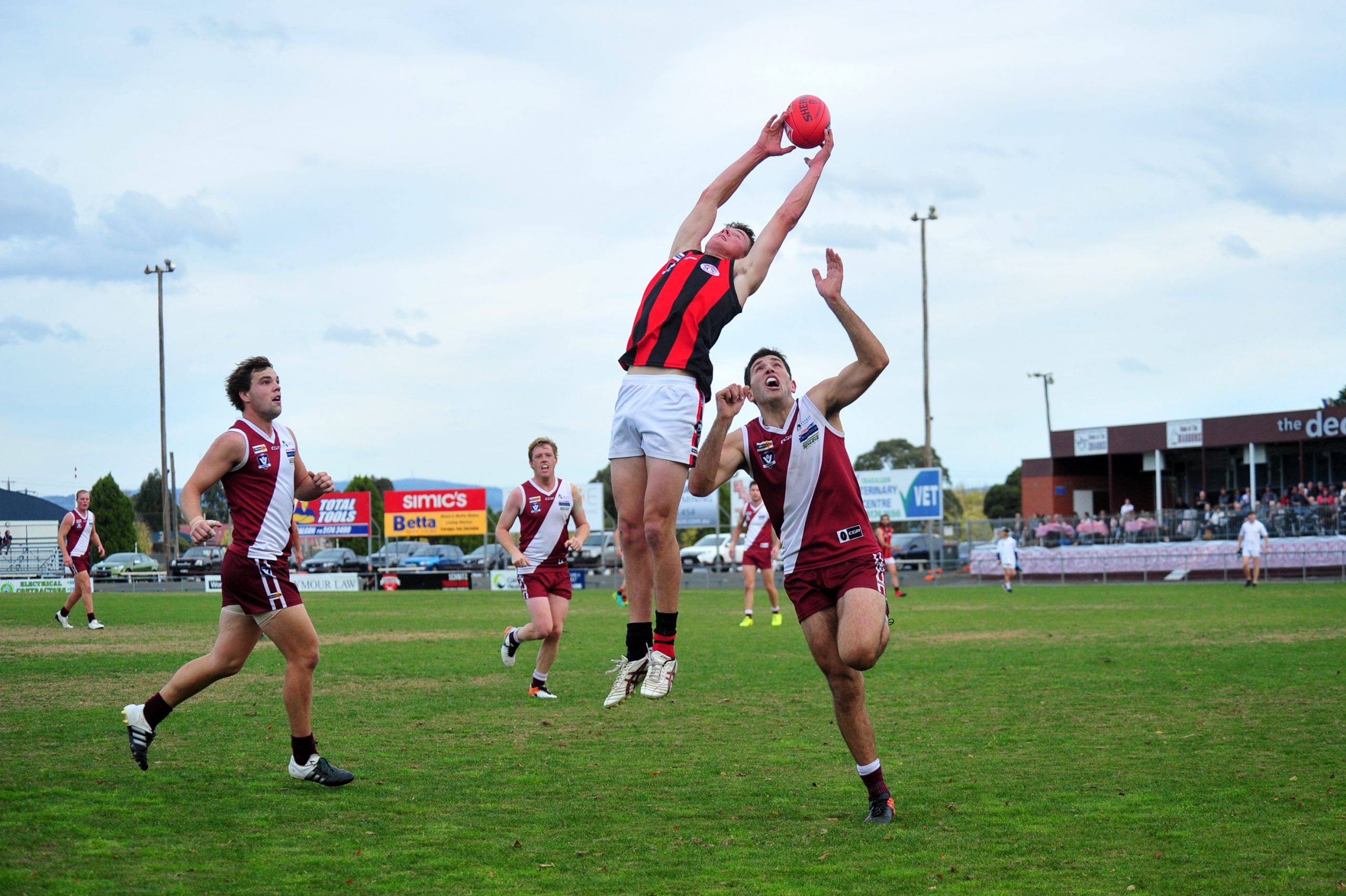 FOOTBALL

GIPPSLAND LEAGUE
Cellar dweller Drouin will be in search of its maiden win for season 2017 when it goes head-to-head with Moe on Saturday.
The Hawks continued their winless ways in round 12, falling victim to Wonthaggi by 64 points.
The Lions fell just a point short of Leongatha last weekend, and will be keen to rectify the ledger against Drouin after a run of defeats on the road.
"It's been a long time since we've beaten them at Drouin, I reckon it's almost five or six years so we'll be looking to change history and get a win against them," Moe coach James Blaser said.
"We're not going to take them lightly; they seem to have improved in the last few rounds."
Blaser said he expected a spirited showing by Drouin after a luckless 2017 so far.
"They have improved and if we go in thinking we've already won it, then they could give us a real run for our money," Blaser said.
Drouin coach Bob McCallum maintained his side takes no value from its previous string of wins at home against Moe.
"This side is a completely different side to last time," McCallum said.
"We're young and we don't have a lot of experience, but we're trying to put in big defensive efforts each game and focusing on trying to string four quarters together."
McCallum also said Drouin were "sweating on" the fitness of captain Darcy Irwin after he carried a niggling hamstring injury through last weekend's game.
Sale v Morwell
Morwell will look to cement its spot in the top five this weekend when it takes on ninth placed Sale on Saturday.
Sale were sent packing by Traralgon to the tune of 53-points last weekend after relinquishing an 11-point first term lead.
The Tigers suffered a similar fate in round 12 after they surrendered a seven-point lead at quarter time to lose to Maffra by 48 points.
Last time the sides met in round four, Morwell won by 36 points after holding the Magpies goalless in the first half.
Morwell coach Joel Soutar said his Tigers would take little solace from their last performance against Sale.
"It's a whole new ball game and they had a few out that day," Soutar said.
"We won't be taking Sale lightly, they pushed Traralgon on the weekend who are a really good side, so it's a big game for us as they all are in the second half of the year.
"We need to come in and play our sort of footy, which we haven't been doing a lot of lately."
Morwell sit a game clear of Wonthaggi in sixth position on the Gippsland League ladder, while Sale sit in ninth.
Leongatha v Traralgon
First plays third this weekend when ladder leaders Leongatha host arch-rivals Traralgon.
Off the back of a clutch one-point win against Moe last weekend, Leongatha will be looking to reclaim bragging rights over Traralgon after falling to them by 30 points in round four.
Traralgon also come into the top three clash in form, after a convincing 53-point win over Sale last weekend.
One of only two teams to clinch a win over the Parrots this year, Traralgon coach Mark Collison said "it's exciting to play another top team."
"We're looking forward to facing Leongatha again.
"It will be a tough task to go over there and win the game," Collison said.
Maffra v Warragul
With five consecutive wins under its belt, the Maffra Eagles head into this weekend's clash with Warragul hot favourites.
After a resounding 48-point win over Morwell in round 12, the Eagles will be searching for redemption against the Gulls after falling to them by 16 points in round four.
Maffra coach Wayne Butcher said his chargers were prepped to settle the score.
"Warragul beat us in the first time we played them this year at their ground, so we're pretty keyed up to return the favour," Butcher said.
"We'll focus on hard ball gets, and being in contested possession, because that's where they beat us last time we played."
Warragul coach Steve Kidd said his side would look to its six-game winning streak as source of inspiration ahead of this weekend's clash with Maffra.
"We just want to bring the same effort and attitude to this game as we have been doing in previous rounds," Kidd said.
"We want to be able to take the game when we get the opportunity."
Bairnsdale v Wonthaggi
Bairnswill be looking for redemption after a narrow seven-point loss to Warragul last weekend when it hosts Wonthaggi in round 13.
Last time the sides met in round four, Wonthaggi were far too strong for the Redlegs, running out 42-point victors.
Sitting in sixth position on the Gippsland League ladder, Wonthaggi will be eager to continue its winning form following a 10-goal belting of Drouin last weekend.
They trail Morwell by a game in the battle for fifth spot, and will be keen to keep their finals chances alive with a win this weekend after narrowly missing out on a berth in 2016. After three consecutive losses, Bairnsdale has slipped to eighth on the Gippsland League table, and will need to notch up a win against this weekend to keep finals hopes alive.