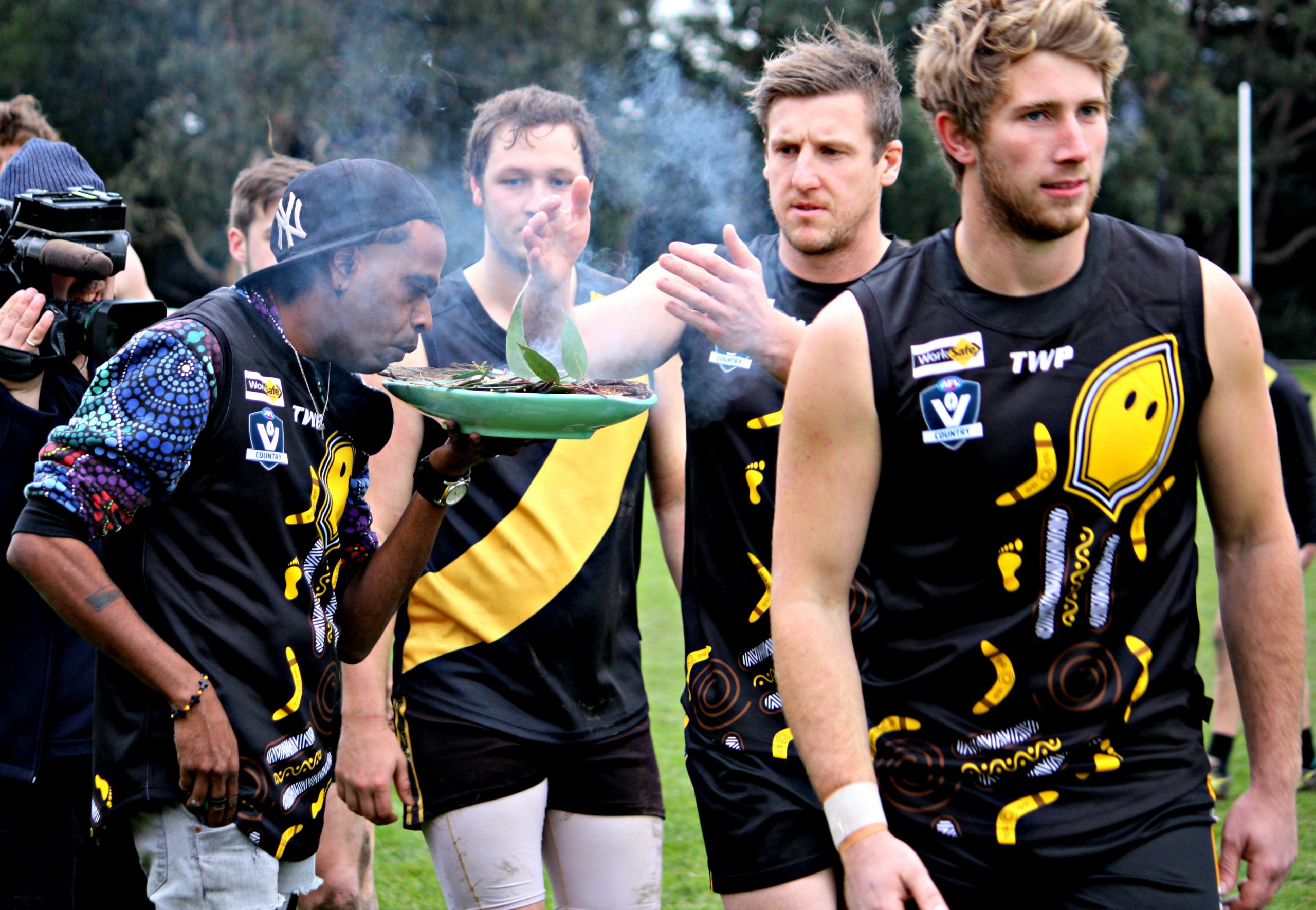 Mirboo North Football Netball Club successfully held its second annual Indigenous Round on Saturday, 8 July, when it hosted Hill End Football Netball Club at Tigerland.
This year's NAIDOC Week ran from 2 to 9 July and its 2017 national theme 'Our Languages Matter', highlighted the 120 indigenous languages spoken by Aboriginal and Torres Strait Islander people.
The theme identifies the role indigenous languages play in cultural identity in linking people to land and water and in the transmission of Aboriginal and Torres Strait Islander history, spirituality and rites through song.
Mirboo North's senior footballers and A and B grade netballers wore yellow and black uniforms designed by well-known local Aboriginal artist Ronald Edwards.
The uniform design encompassed Gippsland's five Gunai Kurnai clans and paid respect to their heritage and customs.
Immediately before the senior football and A Grade netball games, traditional owners, past and present, were recognized when Mr Edwards performed a formal smoking ceremony and Welcome to Country on the football oval.
After Mr Edwards addressed the large gathering, he lit a collection of native plants from which clouds of smoke rose skywards.
Mirboo North and Hill End footballers and netballers, officiating umpires, MNFNC and Hill End officials, guests and members of the public, then walked past the platter of smoking plants held by Mr Edwards.
At half-time of the senior football match, afternoon tea offerings included a chocolate cake baked and donated by Jess Taylor from Hill End, featuring an Aboriginal flag, two boomerangs and flags depicting Mirboo North and Hill End club colours.
Along with its Indigenous Round celebrations, MNFNC also incorporated its annual northerners, sponsors and life members days in the club's upstairs viewing room, where a light lunch was served during the senior football match.