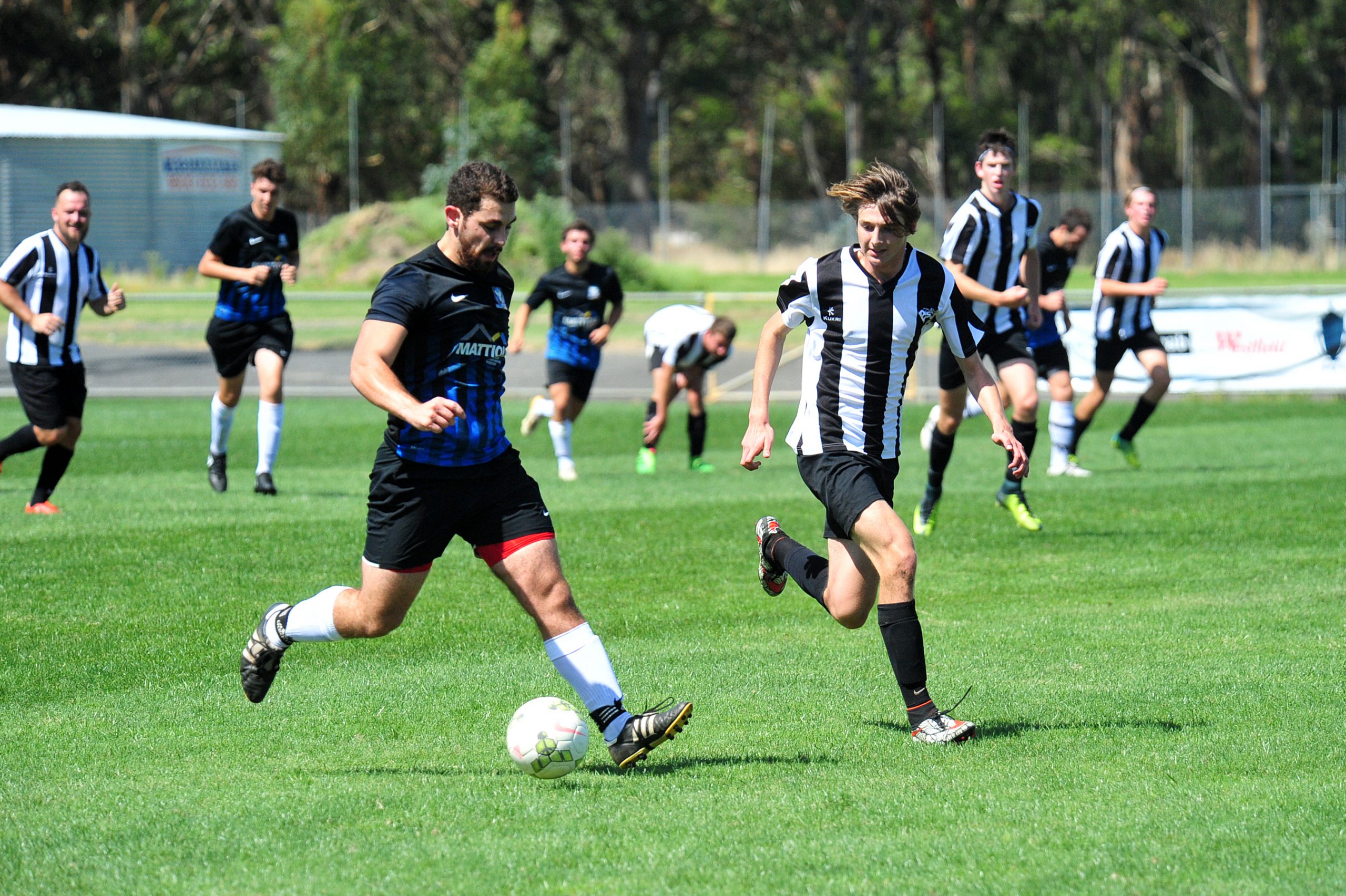 SOCCER
LVSL
Two nil-all result games were the highlight of a cold and windy round of soccer.
Trafalgar pushed Traralgon City to a 0-0 draw, while the derby between Monash and Newborough/Yallourn also finished in a stalemate at 0-0.
Olympians v East Gippsland
Olympians travelled to Bairnsdale to battle the Eastern Eagles and managed to escape with the three points.
East Gippsland scored first in a bright opening to the match as play went end-to-end, but it was the East who scored on the quarter hour.
Olympians were stung into action and equalised only a minute later.
From then on it was locked-horns until the break which stood at 1-1.
For the next 20 minutes after the break it was to and fro with neither team creating chances until East surprised the Olympians with another goal to give the home side a 2-1 lead.
Olympians had to do something and two goals within two minutes gave them back the lead 3-2.
East Gippsland tried hard in the dying minutes but couldn't score, although there were two really good chances that went begging.
Olympians went mad in a burst near the finish with goals at 89 and 90 minutes to seal the match 5-2.
Monash v Newborough/Yallourn
It was a tough match between the two Newborough-based teams on a windy cold pitch at Monash.
Bragging rights were up for grabs as the two potential finalists battled it out.
The result was an arm wrestle with the scores locked at 0-0, but there were few chances taken in the first half where respective keepers were kept quiet.
A shot by Monash's Ethan Lawrence hit the crossbar but there were few shots on goal.
Neither team dominated the first half but players such as Brayden Paulett, Marcus Krznaric and Ryan Semple for Monash were busy, while Newborough/Yallourn's Adam and Andrew Batt and Deng Maccia also came under notice.
After the break the game swung towards Newborough/Yallourn as it did most of the attacking.
Dylan Fairbrother, Ash Birrell and Alex Bowman were giving the combine plenty of the ball and Monash's keeper Leon Cook pulled off two good saves to keep his team in the match.
With the clock winding down at 80 minutes, Monash had a double interchange bringing on Andreas Nilo and the game suddenly changed.
Monash had someone to aim at up forward and he almost caught the combine's keeper Damien Gilbert napping at 85 minutes with a shot that was parried to the right.
Play was halted moments later as Newborough/Yallourn's Alex Bowman had to leave the field after a tackle. No card was given.
The match finished at 0-0 which was probably a fitting result between two hard-nut teams. It was only the fourth draw between these two in their 37 matches played.
Traralgon City v Trafalgar
Having lost all their previous matches (5) to Traralgon City, the Trafalgar Victory were happy to share the points after their 0-0 draw.
Traralgon would have been a bit disappointed that it couldn't beat the much-improved Trafalgar team.
It was expected that Traralgon City, entrenched in third position, would take Trafalgar apart but the Victory had other ideas and put it to the Traralgon team.
Chances were missed by both sides and the cold crosswind made it difficult to pin point passes.
Moe v Fortuna
The former powerhouses of the league Moe and Fortuna fought out a tough game at Moe.
Conditions were cold but the action on field was hot as both teams had their chances.
Both teams have played below expectations this season after team building, and they face the prospects of finishing outside the finals.
While Fortuna was only one place above Moe on the table, Moe gave it everything to secure another three points to take the match 3-1.
Falcons 2000 v Tyers
Top team Falcons 2000 was expected to beat bottom team Tyers, and did, but the 3-0 scoreline was no reflection on how hard the match was played.
Tyers pressured the Falcons who were unable to get their usual free-flowing game to effect.
The Lightning almost scored at 18 minutes but their effort was ruled offside.
Falcons recovered from the shock and were rewarded by a goal at 25 minutes, to go 1-0 which stayed that way until the break.
Coming out of the break, Falcons were in good form but the windy conditions and pressure from Tyers made it difficult to score.
After a relentless push towards goal Falcons were rewarded, putting them 2-0 up.
A goal five minutes before the finish was just reward for some hard work from the Falcons as they ran out winners 3-0.