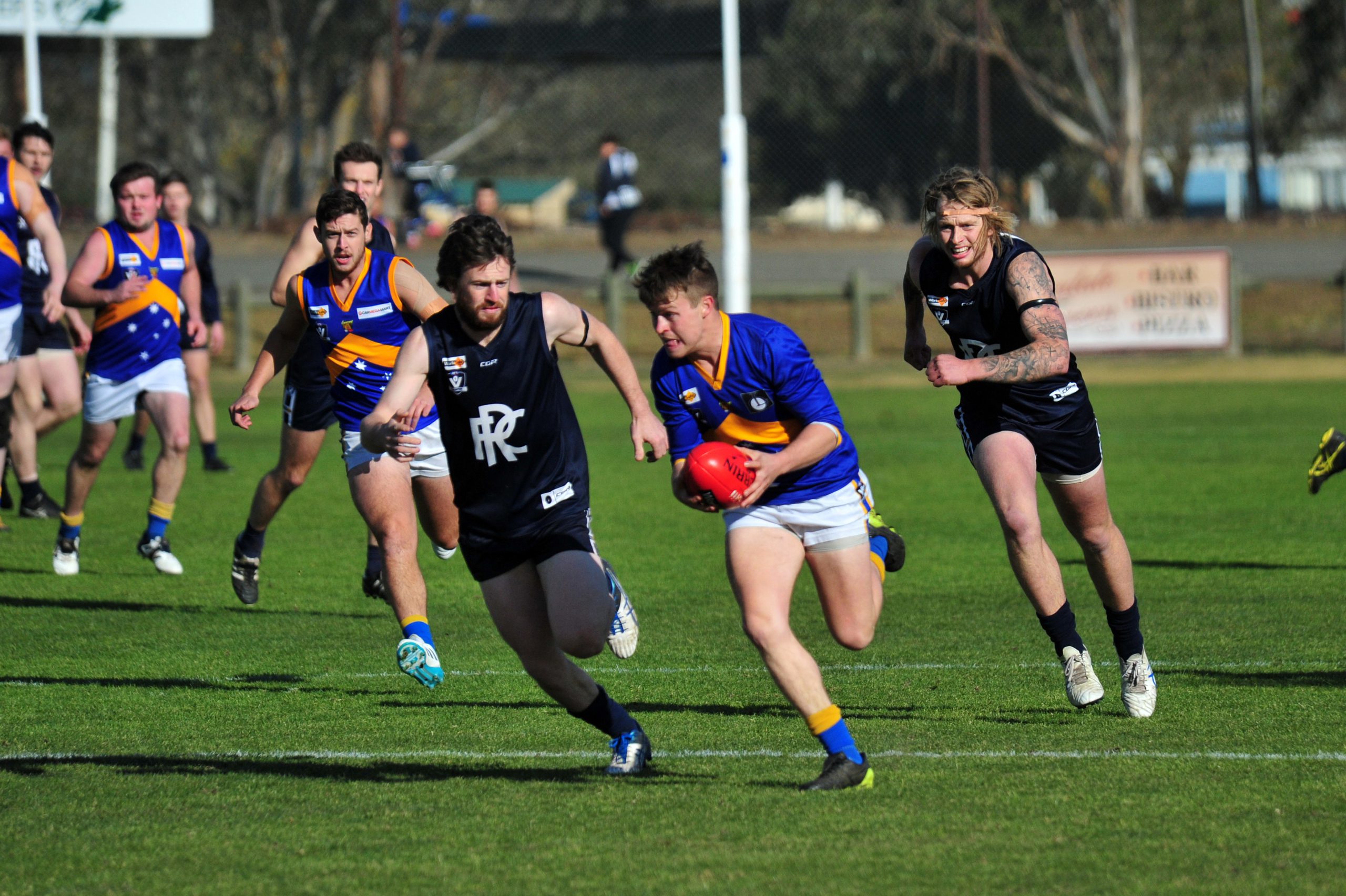 FOOTBALL
NORTH GIPPSLAND
It was a one-sided split round this weekend in the North Gippsland Football League with Heyfield and Churchill securing 24-goal and 10-goal wins, respectively.
The Kangaroos hosted Gormandale at Gordon Street in a first-versus-last battle while Rosedale hit the road to Churchill to go home with its tail between its legs following a 68-point touch up, Churchill finishing 23.18 (156) to Rosedale 13.10 (88).
The Cougars took a four-goal lead into quarter-time after kicking seven goals to Rosedale's four majors before jumping out to a 37-point lead at half-time.
Churchill coach Brendan Holt said he was pleased with the Cougars' four-quarter consistent effort, acknowledging the scoreboard reflected a "comfortable win".
"It could've been a bigger score though, our kicking for goals has been pretty horrendous this season so we were pleased with our hard-fought effort against a side who are very competitive," Holt said.
"What was pleasing for me was an all-round performance, our forwards were as good as they have been all year, our back six were solid and created a lot of run from defence and the midfield were spot on as well.
"Billy Wight… he played a good game through the midfield, Leigh McDonald played well and kicked seven and Dillon Leys and Kurt Holt played well across the ground."
The Cougars took an eight-goal lead into the last quarter to add on an additional six goals in the last to the Blues' three.
Rosedale coach Sam Bristow was disappointed with the Blues' accuracy in front of goals and said "we just couldn't quite slot them through".
"There wasn't much pleasing for us… but we never gave in and kept trying until the end so that's a positive, I guess," Bristow said.
"(Churchill) were pretty accurate, their forwards were really good and we just turned the ball over too much.
"Corey Beaver played well across half-forward, Matt Royal in the midfield was good on wing and Trent Prosser in centre half-forward and was a good target… he tried hard all day."
The Blues will be without Adam Diamond for the next few weeks after he was "knocked out" in the final term, according to Bristow, who said "he only came back recently after a similar a incident 18 months ago, so we're going to play it by year, it's too soon to say (how long he will miss)".
While both teams have next weekend off due to the split round, Churchill remains at fourth with nine wins and five losses while Rosedale sit ninth with two and 12.
Heyfield v Gormandale
IN the second round 14 North Gippsland clash of the weekend, ladder leader Heyfield set out to make a meal of tenth-placed Gormandale, putting in an 11-goal last quarter to secure a 144-point victory, 24.22 (166) to 3.4 (22).
The Kangaroos took the game on early with a 25-point lead at quarter-time, keeping the Tigers to one behind.
Heyfield added an additional six goals in the second quarter to take the lead to 61-points at half-time, 9.15 (69) to 1.2 (8).
In the third quarter Gormandale nabbed two majors but the forward-line pressure of Heyfield was too much as the Roos added another four goals.
In the final term, Gormandale was left without a bench, after an injury-plagued first half of football which saw the Kangaroos record an 11-goal fourth term.
Heyfield coach Josh Stubbe said his side's ball movement was challenged on Saturday after Gormandale "put three players behind the ball".
"It meant we had to change a few things and had to be willing to use patience before we could deliver to our forwards," Stubbe said.
"But we had a lot of contributors, in the last quarter they ran out of legs and we were able to get the upper hand with quick ball movements.
"There wasn't a lot to take out of the game though, Gormandale tried hard all day and I really like what they're trying to do by rebuilding the club."
Hayden Burgiel was named best on with two goals while Michael Coleman "had a heap of the ball in the midfield", Stubbe said.
Big bad Jesse Jackway kicked six for the Kangaroos as the ladder leaders recorded 12 individual goal kickers during the game.
Gormandale coach Steve Hazelman said he was pleased with his side's first three quarter performance, but was disappointed with the 11-goal blowout in the final term.
"We had a few guys who were sore, so we decided to rest them which meant we didn't have a bench in the last quarter," Hazelman said.
"They came out and kicked 11 goals, but up until three-quarter-time I was really happy with our effort.
"We tried to get back and defend as much as possible and I thought our guys did that really well."
Daniel Domaille and Al Jenkin were named best on for the Tigers, as Domaille provided support across the midfield while Jenkin "took up the role of a loose man across half-back".
"Al wasn't supposed to play, he was a late call up… he had a sore hamstring and that's why I really rated his game because he was playing under injury," Hazelman said.
The loss comes as Gormandale was left with 25 players unavailable between its senior and reserves sides on the week, according to Hazelman, who said his club would "appreciate the break".
"With the week off hopefully we can regain about 20 blokes and try to improve both seniors and reserves teams," he said.
Ben Julin kicked two goals for the Tigers while Jereme Lazaris nabbed the third.
Heyfield remain defiant on the top of the North Gippsland ladder while Gormandale are the only team left to register a win this season.
Both teams have the week off due to the split round.