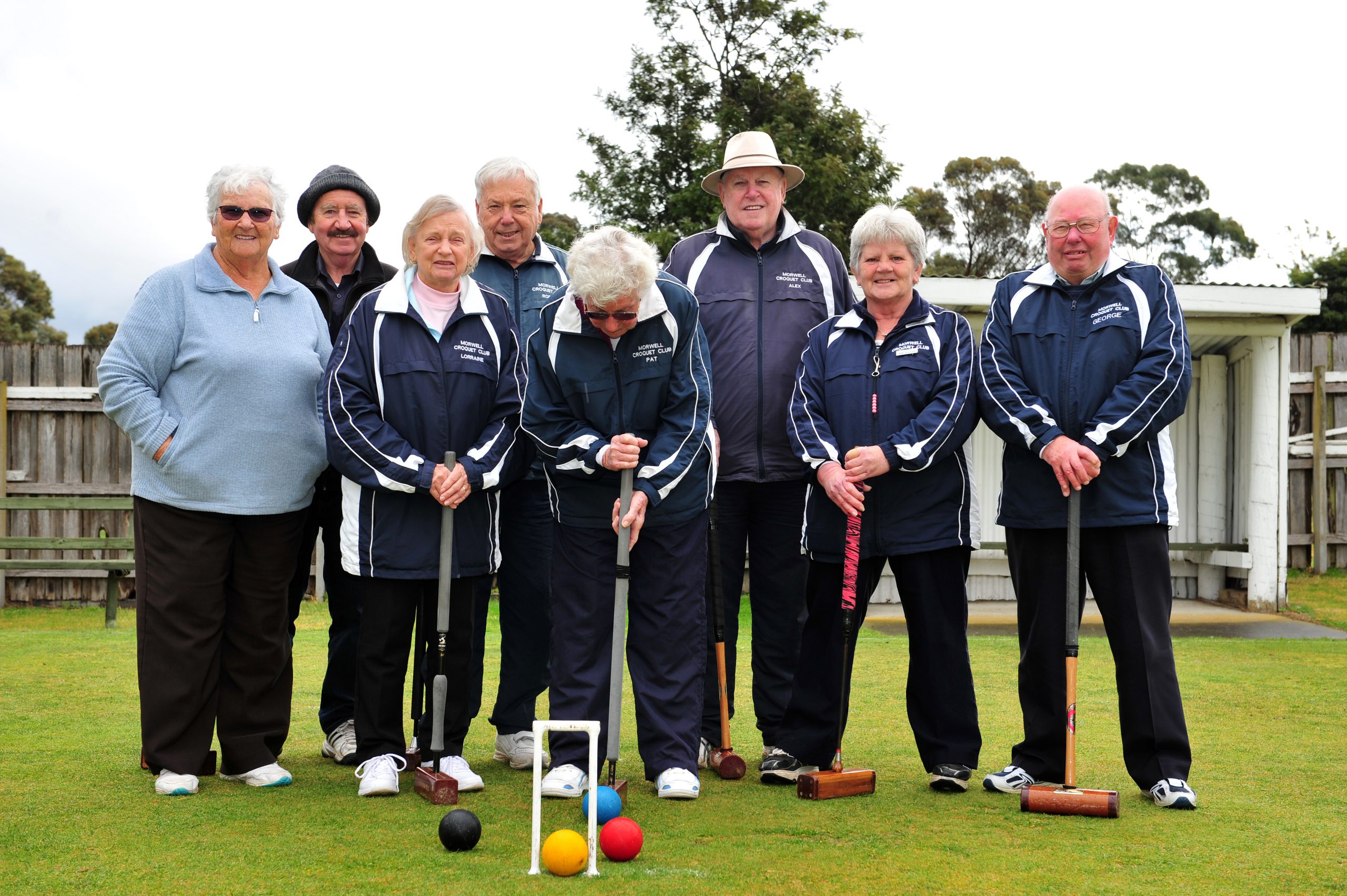 The sport of croquet is often thought of as the exclusive domain of nineteenth century British aristocracy, but its transformation over the years has seen it become one of the most easily accessible and fun sports around.
A long way from its inception in France, members young and old play year-round in rain, hail or shine at the Morwell Croquet Club.
"A lot of young people who have never played croquet before come and have a go and they absolutely love it and can't wait to come back," club secretary Sue Elliott said.
"It's addictive."
And it's easy to see why.
Using a giant mallet to hit a wooden ball along the ground through a narrow hoop may not sound overly exhilarating, but once you pick up a mallet it's hard to put it down.
Pat Hopkins is 93 and has been hooked on croquet for 50 years.
"It's challenging, it's social and it's just a lot of fun. I wasn't a sport person growing up but croquet is a sport I found I could finally do something in," Pat said.
"It's just a fascinating game and even at my age I find I can keep up with other people."
Known by her opponents as 'the smiling assassin', Pat not only manages to keep up with others decades her junior, but she puts them to shame.
"Pat played in our pennant team last year and was our most valuable player for the year," Sue said.
"Don't be fooled by that smile, she doesn't give her opposition any leeway on court and Pat is the perfect example of why we like to say it's the nastiest game played by the nicest people."
"There are no friends once you cross those white lines. We can be friends afterwards but not out on the court," Pat said.
Vice-president Robert Smallwood said while croquet can be "fiercely competitive," it's the social side of the sport that reels players in.
"It's a fantastic place to meet new people and make new friends," Robert said.
"It's a sport that can be played by any age group and there's no advantage to being bigger or stronger. You get gentle exercise and there is mental stimulation too because it's very tactical."
For those thinking of trying their hand at croquet, the lure is simple. It's a lot of fun.
"I never dreamt I'd be playing croquet. If anyone told me that [I would be playing] I would have laughed," Sue said.
"Then one day I went down to a come-and-try day and I thought 'how am I going to hit a ball that far with a stick let alone get it through a hoop?' but now it's 'how can I not?'"
"We can take most people out on the court and within half an hour they're having a pretty good hit and have pretty much got the hang of it," Robert said.
The Morwell Croquet Club hosts a number of fun days each year which are open to the general public, including events on Melbourne Cup Day and Australia Day.
"Fun days are played under different rules; they're only semi-serious," said Robert.
"If somebody plays what I regard as a mean shot then they lose a point, and if they hit a shot that's too good then that's pretty mean too and they'll lose a point."
"It's a fun day where anyone can come along, we run sweeps and we raise over $500 each year for the Latrobe Regional Hospital".
With minimal out-of-pocket costs, croquet is also an easily accessible sport for people from all walks of life.
"It's not an expensive sport," Sue said.
"Membership is cheap, green fees are cheap and we have mallets that people can use, too."
"Croquet keeps people in the community active, healthy and social and I think that's very important. How many other sports do you see where somebody Pat's age is still playing actively and loving it?"
For enquiries or more information, phone Sue Elliott on 0408 564 712.