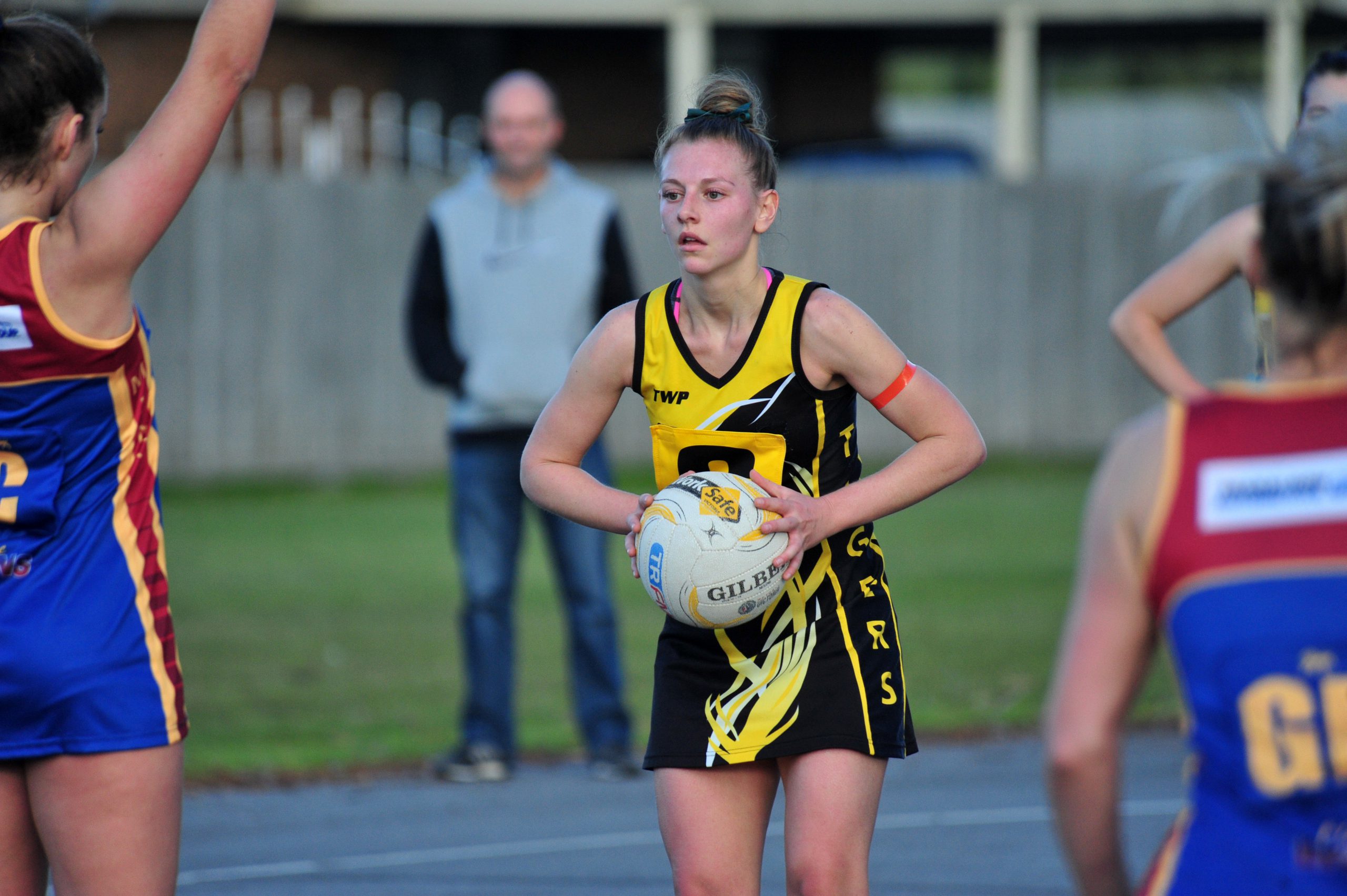 NETBALL
GIPPSLAND LEAGUE
Morwell and Traralgon headline this weekend's A grade netball action in the Gippsland League when second plays first in the penultimate home and away fixture for 2017.
It was a relatively low-scoring affair when Morwell hosted Wonthaggi at the weekend, with the home side dominating in attack on its way to record a 39-23 win.
The Maroons were indomitable in their round 16 clash with Bairnsdale, tearing away to win by 45 goals.
Traralgon will start the game hot favourites thanks to its 16-0 win-loss record and looks set on continuing its winning run towards finals, but a feisty Tigers outfit is determined to hand the Maroons their first defeat of 2017.
Last time the sides met in round eight, Traralgon was ferocious and belted the Tigers by 30 goals.
Morwell coach Gail MacFarlane said her side learnt a lot from its last meeting with Traralgon and will look to close the gap this weekend ahead of finals.
"We know where we fell down last time, so we definitely have been working on those areas," MacFarlane said.
"We were too loose in defence and didn't apply enough ball pressure and we let them dictate where we played rather than being more aggressive ourselves."
MacFarlane said she expected a "very different contest" this time around.
"We were very disappointed with the margin in round eight and it didn't indicate the strength or talent we have available, so it's a bit of a pride thing this weekend for us at the very least," she said.
MacFarlane cited the Maroons defence as their major weapon and said the Tigers were more prepared ahead of round 17.
"Their defence is really strong and our girls really felt that last time," she said.
Wonthaggi v Moe
Moe will look to firm up its finals form this weekend when it travels to take on Wonthaggi in round 17.
When the sides last met in round eight the Lions were too strong at home for the Power, outrunning them to the tune of 15 goals.
Wonthaggi lost out to Morwell in round 16 by 16 goals while Moe beat Maffra by nine goals at Korumburra Road.
The Lions are set for a finals berth this year and is poised in fourth position with nine wins, four off the trail of Drouin in third.
Moe coach Vicki Van Gelderen said it was a must-win game for the Lions.
"We need to win and keep working on our game and making sure we get things right leading into finals," Van Gelderen said.
Wonthaggi lags in eighth spot on the Gippsland League ladder and wont play finals this year but Van Gelderen said the Lions would be wary of the Power attack.
"Their goaling can be really accurate and they're very experienced," she said.
"Our defenders are young and very talented but they're very experienced on goal so we need to look out for that."
Van Gelderen pinpointed the Lions attack as an area for improvement ahead of finals in 2017.
"We're constantly working on our attacking end and it has been hard to find a balance there, so we're working to cement that."
Bairnsdale v Sale
Bairnsdale hosts Sale this weekend in a bottom-of-the-table battle.
The Redlegs were outclassed by Traralgon in round 16 and never managed to stamp their mark on the game during the 74-19 loss.
Sale suffered a similar fate at the weekend and lost out to Leongatha by 33 goals.
Last time the sides met in round eight Sale handed Bairnsdale a 29-goal defeat.
Both Bairnsdale and Sale are out of finals contention for 2017, sitting in 10th and ninth with just two and one wins, respectively.
Maffra v Drouin
Maffra is faced with a tough task this weekend when it hosts third-placed Drouin in round 17.
The Hawks sit in third spot on the ladder, matching Morwell in second with 13 wins for the season.
Maffra is out of the finals race in seventh with five wins and will have to pull out all the stops if it is to dent Drouin's winning form.
The Eagles travelled well and showed plenty against Moe in round 16, but were overrun by nine goals at the final whistle.
Drouin was indomitable in its round 16 meeting with Warragul, stacking on 71 goals to win by 22.
Last time Maffra and Drouin did battle in round eight the Hawks were too strong and trampled the Eagles by 21 goals.
Warragul v Leongatha
Warragul hosts Leongatha in round 17 action this weekend when sixth takes on fifth at Western Park.
The Parrots were too strong at home when they hosted Warragul in round eight, dominating across all areas of the court to record a 61-46 victory.
Warragul travelled to Drouin in round 16 and was overrun by the hosts to the tune of 22 goals.
Leongatha faced Sale at the weekend and were dominant on goal, defeating the Magpies 65-32.
The Parrots look set to play finals this year and sit two games clear Warragul.