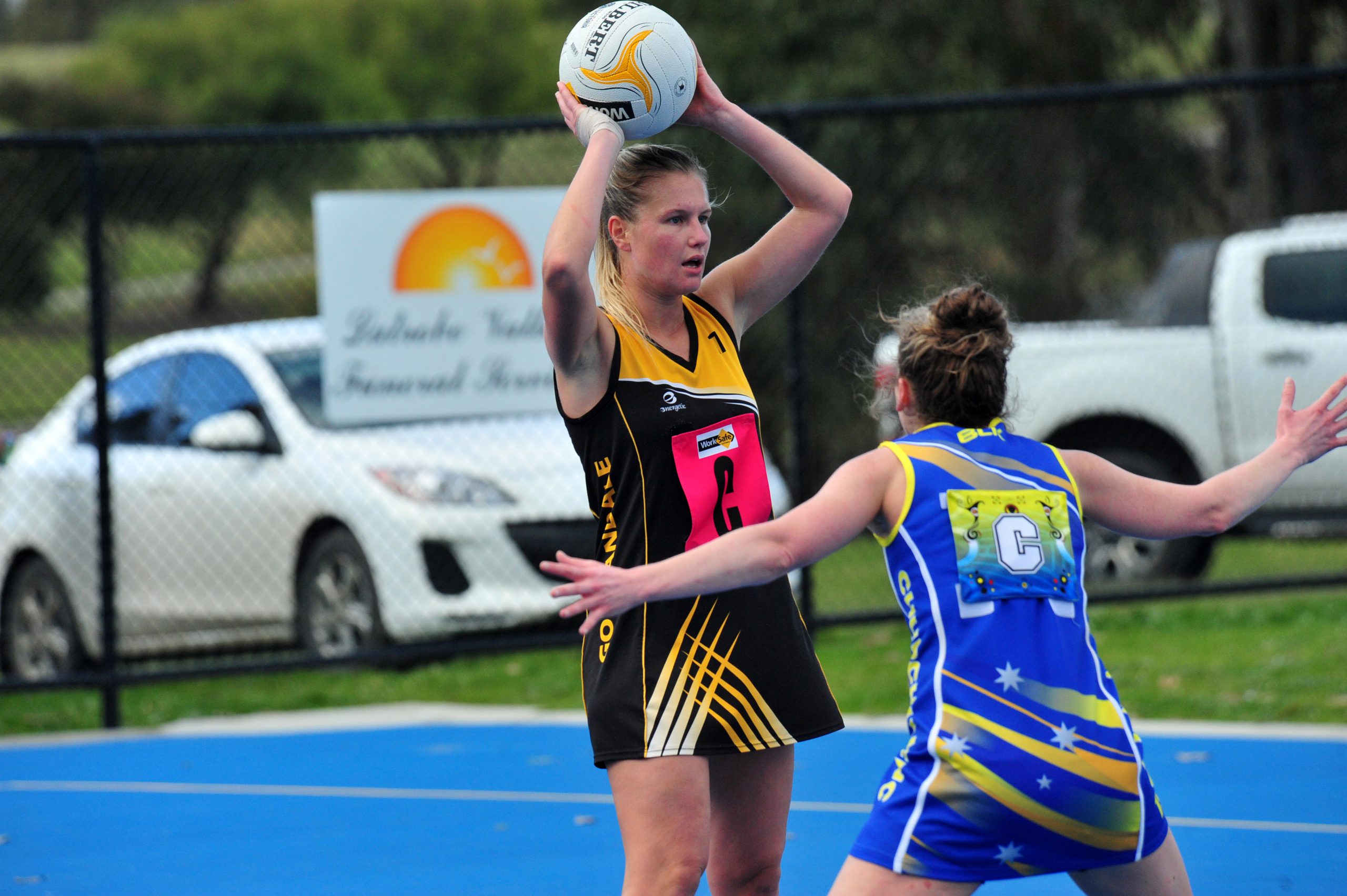 NETBALL
NORTH GIPPSLAND
Heyfield sits atop the ladder, 10 points ahead of second-placed Woodside, while Glengarry, Sale City and Yarram round out the final five.
ONE round remains in North Gippsland netball with the top five locked in for finals action next weekend.
Heyfield sits atop the ladder, 10 points ahead of second-placed Woodside, while Glengarry, Sale City and Yarram round out the final five.
Churchill sit at sixth, eight points behind Yarram while Cowwarr, Rosedale, Gormandale and Traralgon Tyers United make up the 10.
Yarram A coach Lucy Bell said she was pleased with her side's six-goal win over Churchill last round ahead of her side's game against Cowwarr this weekend.
"We are hitting the best form we've been in all season so that's a great feeling," Bell said.
"Everyone loves the story of an underdog and that's certainly our team heading into the finals.
"Two years ago we hadn't won a game for two years so to see how far we've come as a side is really exciting and I couldn't be prouder of what we've achieved over the past two seasons."
The Demons are set to take on Cowwarr this weekend following a three-goal loss to Sale City on Saturday.
Cowwarr sits seventh and will look to close the doors in average season with five wins, 10 losses and two draws.
Gormandale v Rosedale
GORMANDALE will look to continue its winning streak when it travels to Rosedale this weekend following a 10-goal win over last-placed TTU in round 17.
The Tigers sit ninth with two wins, 14 losses and a draw while Rosedale sit in front with five wins, 11 losses and a draw.
Rosedale A grade coach Staci Scott said while her side was out of finals contention, it would look to send-off one of their senior players.
"One of our more experienced players Julie Gerrand is retiring, she started her career at Gormandale and has spent a lot of time with Rosedale," Scott said.
"We'll be playing hard to make sure we get the win and send her off on a positive note.
"Julie has been with the club in excess of 25 years so it'll be a good chance to celebrate her playing career with the club."
Scott said she was pleased with her side's season despite the losses, adding "over half of our losses have been within five goals so that's been a pretty reasonable result".
Rosedale heads into the game following a four-goal loss to Glengarry last weekend.
TTU v Heyfield
Ladder-leader Heyfield hits the road to Traralgon this weekend to take on the Bombers in a first-versus-last battle.
The Kangaroos head into the game following their first loss of the season to Woodside last weekend, going down by six goals at home.
TTU netball manager Sharon Rodgers said while she expects the game to be a tough one, the girls would give it their best.
"I think we'll set ourselves a few goals and if we can reach those goals, I think we'll be happy with the game," Rodgers said.
"It's been a positive season, although we don't have the wins showing on the ladder, it's not reflective of the season we have had in terms of several games we lost by only a few goals."
TTU have won two games for the season and head into its final game of the season following a 10-goal loss to Gormandale last round.
Churchill v Woodside
WHILE Churchill's finals hopes have been short-lived, it will look to finish off the season with a cracker following a six-goal loss to Yarram on the road last round.
The Cougars sit sixth on the North Gippsland ladder, six points behind the fifth-placed Demons.
But it will be a tough ask to take on and defeat the raging Wildcats after they knocked-off top-placed Heyfield last weekend.
Sale City v Glengarry
IN the last North Gippsland home-and-away A grade game for the season, Sale City will host Glengarry.
Both teams will make it through to finals regardless of the outcome on Saturday as the Bulldogs sit fourth with 11 wins and six losses, one place behind Glengarry with 11 wins, five losses and one draw.
The teams will vie for a top spot, only separated by two points on the ladder.
Both teams head into the game in good form, both coming off round 17 wins.