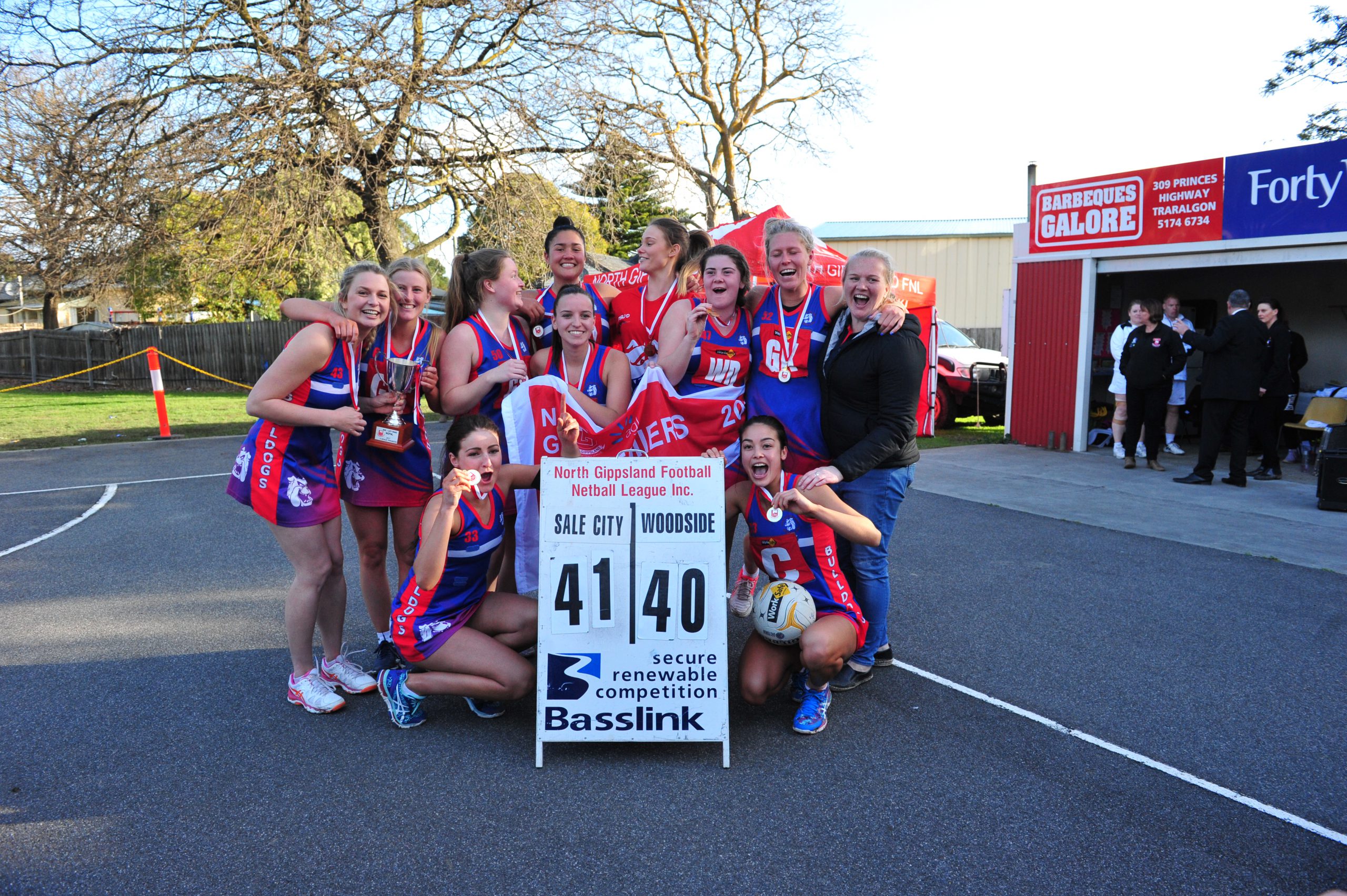 NETBALL
NORTH GIPPSLAND
Sale City has clinched the 2017 A grade netball flag with a sensational win over defending premier Woodside in overtime, 41-40.
A gallant last quarter from the Bulldogs saw them pin back a six-goal deficit and level scores at 34 goal apiece at the final whistle.
With the momentum swinging in its favour, Sale City gut-runners Alleena Butcher and Paige Wilson never tired and led the charge in overtime, feeding with pace to Liv Ronchi and Sarah Gardiner who fired in goals to help secure the victory.
Sale City coach Jae Schuback was overcome with pride in the wake of the clutch win and praised her chargers for their remarkable finals campaign.
"These girls wanted it so hard this finals series and we've had a phenomenal end of season to win 10-in-a-row to get this flag," Schuback said.
The frenetic pace of play early on made for a somewhat error-riddled opener.
Alleena Butcher led the way for Sale City in centre and paired up with Paige Wilson to provide speed, but ball movement was rushed and the tall Woodside defenders were afforded plenty of turnovers.
Holly Jonston and Jacqui Irving capitalised on the Bulldogs' misses and rebounded well, switching the ball from defence to attack with aggression to take the Wildcats to an early 5-2 lead.
Woodside went in to the second quarter with a 7-6 advantage and scored two goals within 45 seconds before Sale City was shocked in to action.
Youngster Faith Biddle led in defence for the Bulldogs, reading play with precision and intercepting at every opportunity.
After a passage of goal-for-goal play, Woodside shooter Kristy Lucas stood up and bagged consecutive goals to give Woodside an 18-15 advantage at the main break.
Lucas continued to dominate in the third, rebounding her missed goals and pairing up with Carly Foat to race away to a 21-15 lead.
Sale City started to flood the Woodside defence late in the term and was able to use its midcourt pace to switch in to attack and etch the deficit back to three goals at the final break.
The Bulldogs kicked-off the final term with gusto, using their fitness and leg-speed to hit Liv Ronchi and Sarah Gardiner in goals to level scores at 31 goals apiece.
Sale City's Faith Biddle was key, nullifying the Woodside attack with multiple intercepts across defence.
With scores level at the final whistle the game was forced in to over time, where Sale City's run and carry shone.
Shooter Sarah Gardiner was on song in the closing minutes, firing three consecutive goals to hand the Bulldogs the 2017 premiership in a thrilling finish.
With an average player age of 19, the Sale City youth stood up under pressure and was critical in the dying minutes.
Wildcats captain Carly Foat congratulated City on its finals campaign and applauded her own team's efforts. Woodside's Holly Jonston was named best on court for her work in defence.