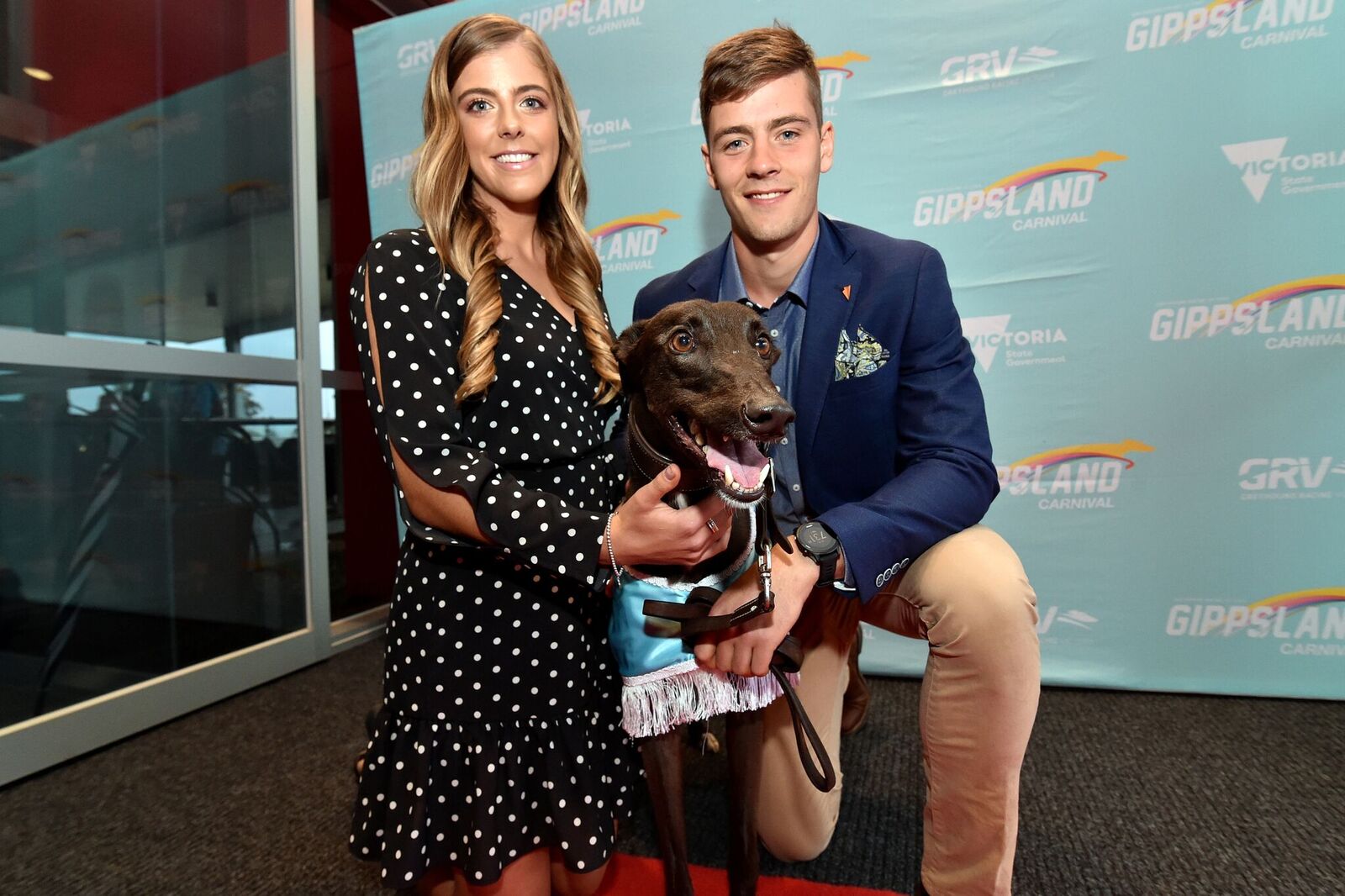 Greyhound Racing Victoria launched its Gippsland Carnival season last week with a host of sport's biggest names in attendance at the Traralgon Greyhound Club.
Former AFL player Richard Champion served as emcee for the night and was joined by a star-studded line-up for a panel discussion.
North Melbourne legend and AFL games record-holder Brent Harvey headlined the panel and was joined by racecaller James Van de Maat, but it was Gippsland siblings Lara and Josh Dunkley who stole the show.
The children of former Sydney Swan and AFL Hall of Fame fullback Andrew Dunkley, Lara and Josh come from solid sporting stock.
Josh, 20, has followed in his father's footsteps and now lays claim to an AFL premiership after a breakout year with the Western Bulldogs in 2016.
A proud Gippsland Power product, Josh was touted as a hot prospect for Sydney under the father-son rule but landed at the Dogs with their first pick in the 2015 draft.
"I did nominate the Swans as a father-son prospect, but to be knocked back didn't faze me too much," Josh said.
"As a kid, all you want to do is be on an AFL list, and for me on draft night to realise that dream and know you're going to be walking into an AFL club in the coming days is something I'll never forget."
On whether the grand final win over Sydney carried special significance for him, Josh admitted the victory was extra sweet.
"Personally I [enjoyed it], but Dad didn't," he said.
"I actually missed the game during the year, so … I didn't get to play on the SCG in round 12 so I was fighting to get out there on grand final day and to get the win was amazing.
"You grow up as a kid and you watch the grand final, see the grand final parade and you see guys running around for the lap of honour and to be a part of that was something special.
"I felt like a rock star the day after."
Sister Lara, 22, is a natural sportswoman and dabbled in tennis, basketball and football in her childhood before finding her feet on the netball court thanks to a mischievous aunt.
"I always say that I played footy with the boys before I was allowed to play netball, but my aunty gave me a pair of runners and snuck me into my first training session and I just think that since day dot I have loved netball," Lara said.
After taking out the first-ever flag for Boroondara in the Victorian Netball League in 2015, Lara became accustomed to life as an underdog.
"Being [the underdog] is really exciting, especially coming into a match like [the Victorian Netball League championship], and we hadn't beaten that team all season," Lara said.
She has enjoyed a breakout year on the court with Victoria Fury in the Australian Netball League and recently signed with the Melbourne Vixens.
"I got a good look-in from the coaches [this year] and have signed with [the Vixens] for 2018 in the squad of 14," she said.
"I've got this opportunity now but I'm so excited and I'm just taking baby steps and really focusing on making sure I have a good preseason.
"It was a dream that I wanted to chase and I'm still on that ride but I'm really excited."
While the pair's individual achievements speak for themselves, both agree a certain degree of sibling rivalry is healthy.
"I think if there's not that rivalry then you don't have what it takes to compete at an elite level," said Josh.