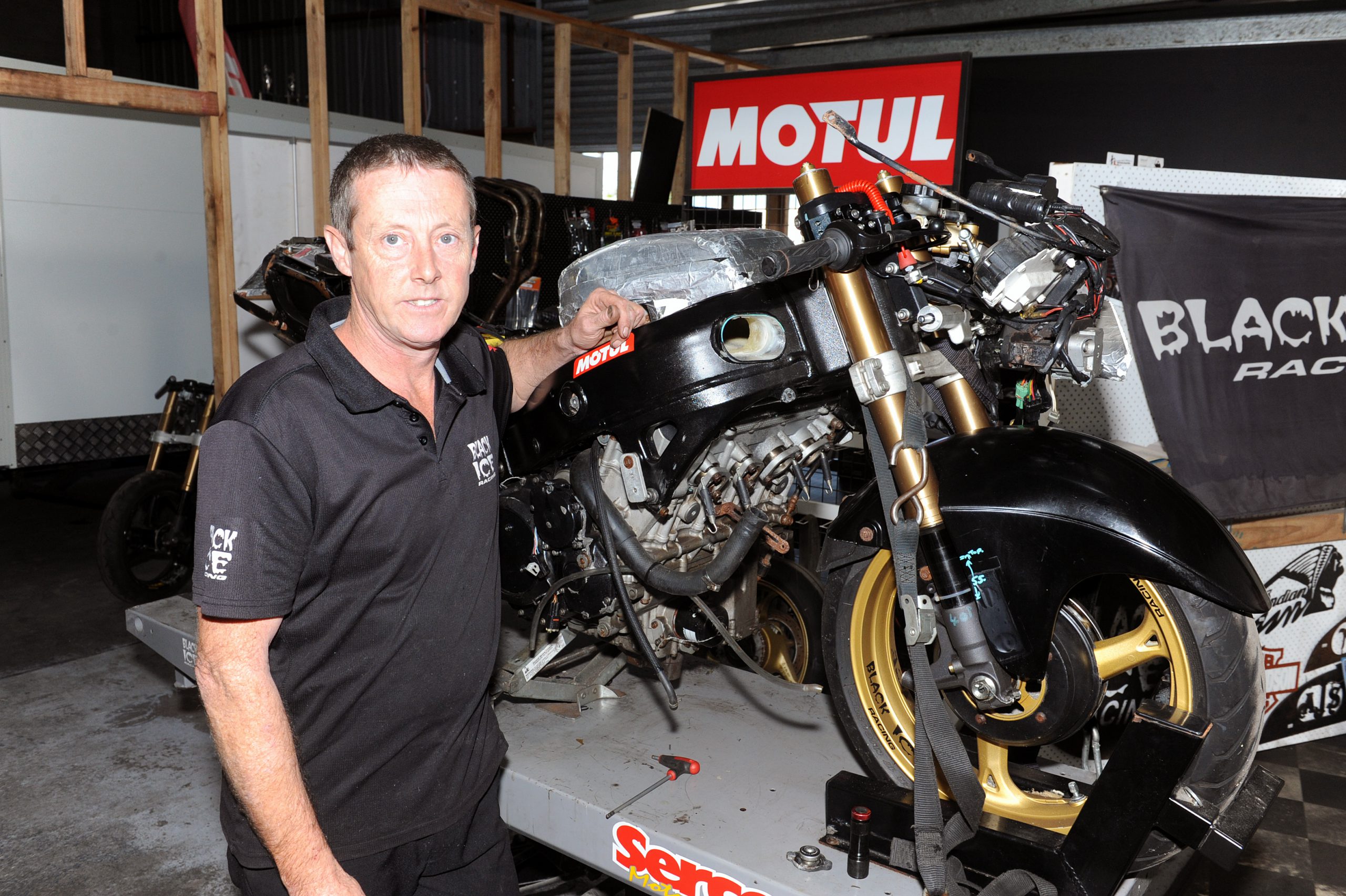 Ken Robinson will attempt to break a world land speed record next month when he travels to South Australia's biggest salt lake to compete against some of the world's fastest motorcycles and their riders.
Mr Robinson, who has been racing on the salt since 2009, holds more than 10 Australian land speed records and, for the first time will put his Suzuki Hayabusa through its paces for a world record attempt on Lake Gairdner.
With a top speed of 375 kilometres per hour, the Moe local is this week dismantling his bike down to the bare frame in preparation for the trials – including removing a 98 kilogram lead weight used to prevent wheel-spinning at high speeds.
It will take about a week to reassemble the bike before it can be raced on the salt.
Described as the "pinnacle" of land speed racing, the International Motorcycling Federation will track the bikes over a distance of about 9.6 kilometres on two separate runs going north and south before the average speed is calculated.
"If it's 200mph, it feels fast, if it's 220mph it feels twice as fast and if it's 230mph it feels twice as fast again and that's just an incredible experience," Mr Robinson told The Express.
"What you've got to look out for is slowing down. You don't put your head up above the screen though, it will probably tear your head off."
The Black Ice Racing team consists of a pit crew of five – made up of friends and family – plus Mr Robinson and his sister Rebecca who races a Yamaha VMAX.
The VMAX has a top speed of about 280 kilometres per hour and uses five-point-three litres of fuel each minute at flat throttle.
It has a fuel tank capacity of only 15 litres.
"So she might be pushing it back to the pits if she's not careful," Mr Robinson said jokingly.
The record will be measured over six miles which takes less than two minutes to complete at top speed, Mr Robinson said.
In the week leading up to the world championships, Dry Lakes Racers Australia will hold the Australian trial which Mr Robinson is familiar with having previously challenged a number of DLRA records in the last decade.
"We're going to use the Australian champs to just test the bike and settle it down and make sure that when we get ready for the world event that the bike is actually doing what it's supposed to – going fast, going straight," he said.
"Last year we were running in February, it was so hot it was about 50 degrees. Some days it was just stifling and there's no shade or no wind out there."
But slowing down on the Suzuki is no easy feat, especially without brakes.
"I took them off so I don't apply the brake at high speed, and if I'm trying to slow down and I apply the brake like I would on the road, I would lock the wheel up and fall off.
"The speedo ends at about 280kph so when you see that needle come back on you can start to lift your body up a bit to catch a bit of the wind to slow down.
"Anything over that and you have to stay behind the faring otherwise you could just get blown off."
The International Motorcycling Federation will host the World Speed Trials between March 17 and March 19.