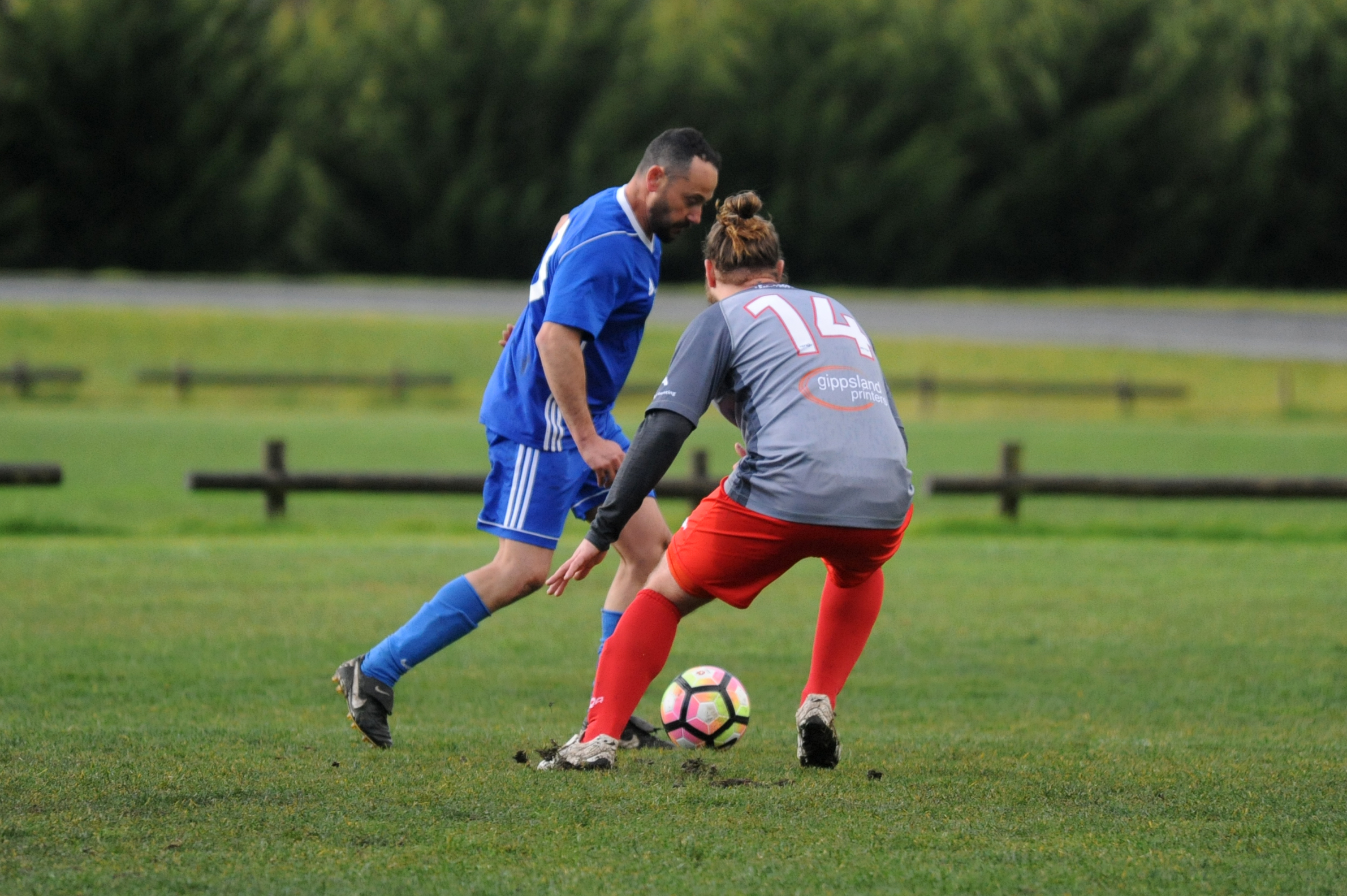 Laurie Williams
SOCCER

LVSL

It was an exciting start to the first round of the Latrobe Valley Soccer League with all winning teams scoring three goals, a record for the competition.

All matches were close and results could have been reversed in some games but late goals sealed at least two matches.
Fortuna v Falcons (2-3)

Last year's premiers Falcons had a tough battle against their closest rivals Fortuna but emerged victorious, 3-2.
Both teams had a new look and it was Fortuna who drew the first blood when Hayden Cook beat the keeper to give them the lead at eight minutes.
Ryan McAuley, making his senior debut for Falcons, gave the birds some joy when he equalised 20 minutes in.
David O'Dowd swung the match towards Fortuna with a cracker at 38 minutes but his good work was nullified by Ryan McAuley who equalised again only two minutes later to go into the break at 2-2.
It was touch and go for both teams and the stalemate continued until former Falcons coach Nick D'Allessandro became an instant hero when he beat the keeper to put Falcons 3-2 up with three minutes to play.
It was Falcons' 12th win over the Lions as they took home the Danny Malarkey Trophy.
Newborough/Yallourn v Churchill (3-2)

Last year's runners-up Newborough/Yallourn United hosted 2018 cellar dwellars Churchill and found the Rams a somewhat different team.
United found early goals at nine minutes from Mark Fairbrother and only three minutes later brother Dylan put number two past the guardian.
It was looking to be a rout with United two up after 12 minutes, but Churchill found some wind and forced attacks with Paul Riess finally breaking through at 33 minutes in.
After half-time and with a change in wind direction, the Rams set about to upset the Newborough Yallourn camp and Riess busted through defence to score his second for the Rams which brought the score to 2-2.
Newborough/Yallourn were being outplayed by the Rams and it was a last minute gasp by Mark Fairbrother for his second at 77 minutes which sealed the match for the home side.
Olympians v Sale (3-1)

Olympians were home to Sale and had a good win inspired by newcomer Harry Crooker who scored a brace for his new club.
All four goals were scored in a 12-minute period, Olympians scoring first at 24 minutes then again at 34 minutes to hold a 2-0 lead, they went further ahead at 36 minutes when James Sykes beat the keeper.
Sale clawed one back through Callum Campbell just two minutes later but it was Sale's only goal for the match.
Neither team could score in a hotly-contested second half as Olympians held out for a 3-1 win.
Monash v Moe (3-1)

Monash, after an exhausting preseason with FFA cup matches and the Konqa Kaos Cup commitments, were all fired up to take on town rivals in Moe.
Moe surprised Monash with their early pace and against the run of play, Ty Georgiou scored for the Red Devils at the nine-minute mark which was the only goal for the first half.
The Wolves looked sharper in the second half with Braden Paulett producing two gems at 52 and 73 minutes to give his side a one-goal buffer.
It was left to Andreas Nilo to seal the match with two minutes to play as Monash ran out 3-1 winners.
Trafalgar v Traralgon City (0-3)

Trafalgar were the only team not to score in the opening round, going down to Traralgon City 0-3.
Traralgon City, with new striker Keiran Coltman, scored the opener after 10 minutes.
Another import for the Roosters, Ray Allred, boosted the scoring at 32 minutes which saw the Roosters at a 2-0 lead at half-time.
Traralgon City nullified the Trafalgar strikers, limiting them to a couple of full drives towards goal.
The sealer for the game came from James Sykes with only a minute to play to give Traralgon City a 3-0 win.
Cup matches this weekend

The first round of cup matches start this weekend with the Battle of Britain Cup featuring a clash between Churchill and Olympians at Churchill while Trafalgar host Sale in the second match.
The same teams will compete in the Shopwell Trophy games while the Women's Cup, the Browne/Huizer, will feature matches between Churchill and Moe and Olympians and Falcons.
In the second division, Churchill are home to Tyers in the Nan Bosma Cup and Falcons play Pegasus at Trafalgar.