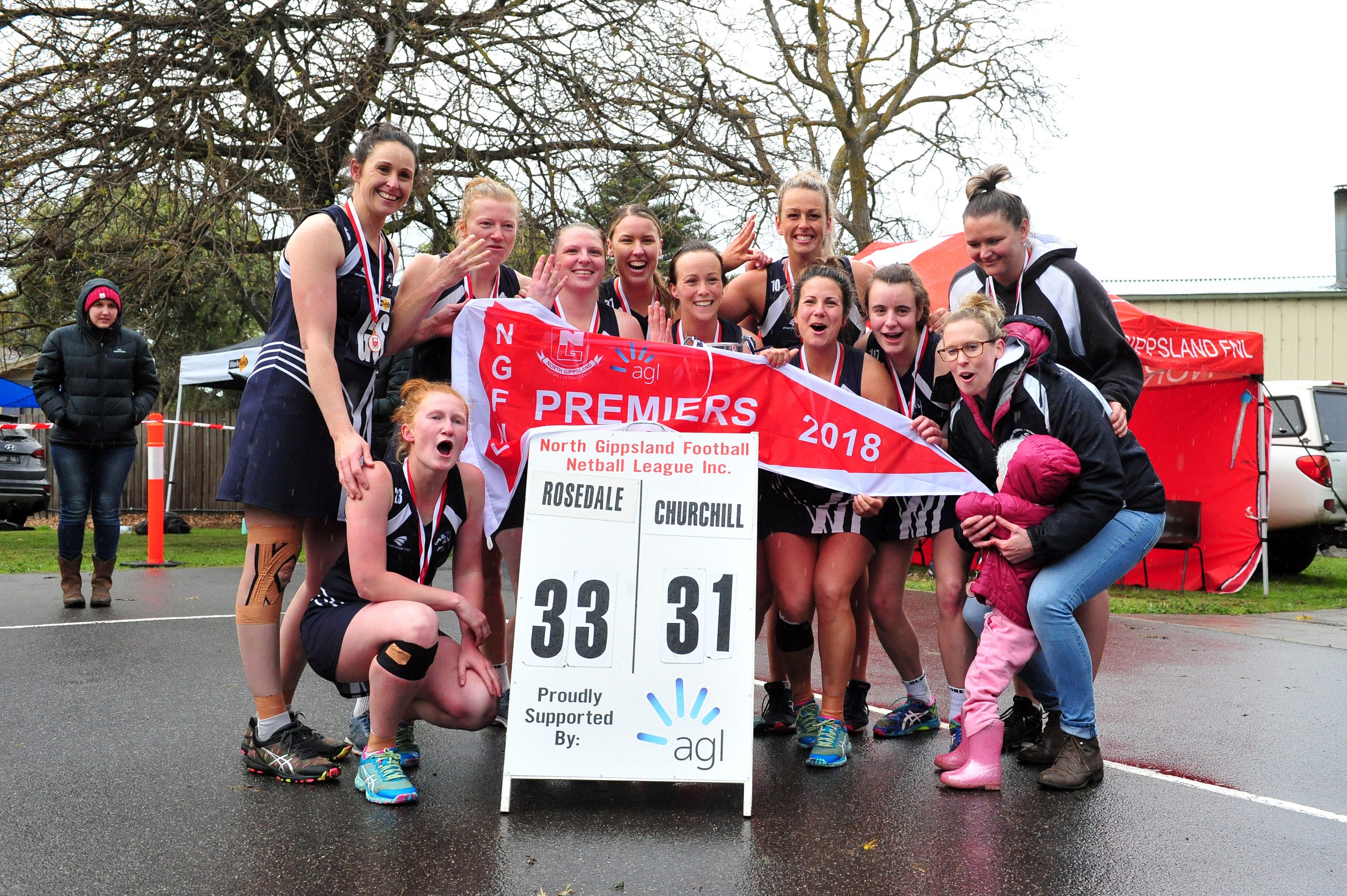 Rosedale

Captain: Amy Harrison
Coach: Staci Scott
2018: Premiers
Rosedale will be the team to beat this year after claiming the 2018 A grade premiership in a two-goal win against Churchill.

Coach Staci Scott said Amy Harrison would lead the team as captain this season, which is fairly unchanged from the premiership side last year.
"Amy has taken the lead in preseason development and selection processes not only for A grade, but for the whole club," Scott said.
"I guess we've got a few new players in. But first and foremost the focus will be on building up on-court partnerships and also adding versatility to individual players."
Former Sale and Maffra netballer Meg Gordyn will join the club in goals while former Blues player Bronwyn Tebb will return to Rosedale following the birth of her second child.
"The side itself is fairly unchanged so I'm expecting we'll be able to carry across the same high intensity netball we did last year," Scott said.
"We did lose Taylor Brouns who is focusing on her career – she's not long joined the police academy."
Churchill

Captain: Rachael Loechel
Coach: Maddison Burney
2018: Runners up
Churchill have recruited well in the off season and are hungry for victory this year after losing to Rosedale in last season's grand final.
Coach Maddison Burney will lead the side with assistance from Rachael Loechel who was this week named as Cougars captain for 2019.
Loui Patten joins Churchill from Newborough as a strong and versatile all-rounder who can be dominant in goals, as well as defence, while Tayla Cheffers has also been recruited from Yinnar.
"Tayla's a very skilled young player taking on an important role in the midcourt while Roxy Whitechurch has also returned to Churchill and will be co-coaching the A and B squad with myself," Burney said.
The side had a successful fitness weekend at Inverloch recently, Burney said, while training in the lead up to round one has focused around familiarising new players with the Cougars' style of play.
"Resilience will be our focus. We have a rough start to the season with large amounts of player unavailability but this gives our players across B grade to further develop and get opportunities in A grade," Burney said.
A number of notable players are expected to miss the first few rounds.
Cowwarr

Captain: Sukie Hodgson
Coach: Herbie Porter
2018: Third
Former Saints coach Herbie Porter returns to Cowwarr this year to head up the club's A and B grade sides and has finals in her sights.
Porter has an extensive coaching record mainly at Traralgon where she led both junior and senior sides to flags in previous years.
Georgia Dent and Innika Hodgson, the younger sister of captain Sukie Hodgson, have joined the side which is largely unchanged from last year.
"We've had an influx of juniors filtering up through into the senior grades as well so we're in a good position," Porter said.
Porter returns to the side after retiring from coaching and moving to Western Australia four years ago.
Glengarry

Captain: TBC
Coach: Emily Whitty
2018: Ninth
Glengarry's plan is to finish higher than they did last year, according to the club's netball manager Amy King.
The Magpies have attracted a number of recruits during the off season including versatile, experienced players in Tiffany Boatman from Traralgon and Aimee Rothnee from Moe, who will play in goals and defence.
Tayla Gatt will also resume her position on the court in goals returning after the birth of her first child while Hannah Sass has departed the team for study.
"The focus is a bit of positivity out on the court and developing combinations in both our defensive and attacking ends," King said.
"I think we have a chance of doing better than last year, definitely, just with this year we have all players on the court.
"We had a few people out last year for various reasons but with the new additions hopefully we will get some stability within the team and a consistent starting seven each week."

Gormandale

Captain: Lorelle Nolan
Coach: Bronwyn Joyce
2018: 10th
Improving speed and fitness will be Gormandale's focus this year as the Tigers have recruited a number of players in the off season.
"We've had a few changes in positions because we've had people leave including Carly Jennings who has left to have a baby and one of our other defenders is coaching one of our younger sides," second-year captain Lorelle Nolan said.
"We've been focusing a lot on fitness over the preseason, that's our main focus so we can run out four quarters of the game."
Angela Fitzpatrick will step up to a more senior position in the team, taking on a position in defence, while a number of new players are expected to help Gormandale's on-court performance.
Maitland McStay will also join the A grade side from 17 and under and is expected to play a key role in defence.
The club played two practice matches in the preseason against Boolarra and Mirboo North, winning and losing respectively.
"We won by about 13 goals against Boolarra and then when we played Mirboo North we lost by 23 goals but it was a high scoring game, 40-63," Nolan said.
"We ran out the game and played a fast game and that was good."
Heyfield

Captain: Sammy Beha
Coach: Amanda Tyquin
2018: Fifth
Heyfield will take to the court with a "fresh, young" side with a number of new players taking the reins in the Roos' A grade side.
Amanda Tyquin will coach the side this year allowing former coach Sarah Schellen to focus on her role in the mid court.
Schellen is expected to be out for a few weeks with a finger injury, however, the team has a number of notable inclusions.
Sammy Beha returns to the side as their newly-crowned captain, while Brittney Coridas will take the step up from B grade following the birth of her second child.
Holly Hansford, described by Tyquin as a "smart and talented mid courter" will also join the senior side from the under 17s.
"We've had a big loss in Megan Kelly but we've compensated her with Sammy Beha," Tyquin said.
Rachel O'Brien has left to study as the club aims to focus on consistency this season to become a premiership contender.
Sale City

Captain: TBC
Coach: Jae Evans
2018: Fourth
Sale City will take to the court with a new line up this year with the focus on structures and working together as a team, coach Jae Evans said.
Megan Kelly will join the Bulldogs as a defender from Heyfield while Ash Higgens will take to the court as a mid court shooter from Stratford.
Simone Turner will also play for Sale City this year after returning to the region from Melbourne while Britt McIntosh has received the call up from B grade.
"We're going to have three captains for A grade; they'll be club captains and working with all the grades and leaders in the club throughout the year," Evans said.
Traralgon Tyers United

Captain: Jacklyn Stevens
Coach: Jennifer Duncan
2018: Seventh
TTU coach Jennifer Duncan returns for a second season.
There has been exodus of players, particularly defenders, however, Duncan said the club has recruited well.
"We've recruited Emily Chapman from Boolarra and we've also got one of our players stepping up from last year's B grade team in Taylah Ferguson," Duncan said.
Megan Barnes will also join the team from Woodside.
Duncan said the side "just missed out" on a finals campaign this year and would be looking to "get the balance" right in season 2019.
"Everyone plays for finals and that cup and medals at the end of the season. We've been training twice a week really just to help the club grow," Duncan said.
"I want to see commitment, dedication, but also that fun and relaxed atmosphere. You have to have that at the club."
Woodside

Captain: TBC
Coach: Carly Foat
2018: Eighth
Playing coach Carly Foat will return to Woodside this year after taking a break from the club in 2018.
A number of players will return to the club, including Andrea Elliot in goals, Laura Foat on centre court and the coach herself.
Former Traralgon player Brittany Mustoe will also join the Wildcats in goals and mid court, while Holly Johnston returns following a back injury.
"We're a completely new group so we'll need to gel and work together to aim for success and, of course, have some fun," Carly Foat said.
"I'm definitely more confident heading into this season. We also have one of our juniors in Megan Harrison joining the side in defence as well."
Yarram

Captain: TBC

Coach: Stacee Staley
2018: Sixth

Yarram's A grade side is "fairly unchanged" heading into the 2019 season, senior coach Stacee Staley said.
Hazel Karrison-Male will join the Demons' A grade side coming up through the junior ranks, previously playing academy and zone netball.
Tavia Field returns from Melbourne as a handy all-rounder.
"We're building on our systems, building on them and getting better at what we did last year," Staley, a second-year coach, said.
"We want to improve on our set plays as well, both in defence and attack."
Steph Dyer has left the side and leaves a gap to fill in the centre court.