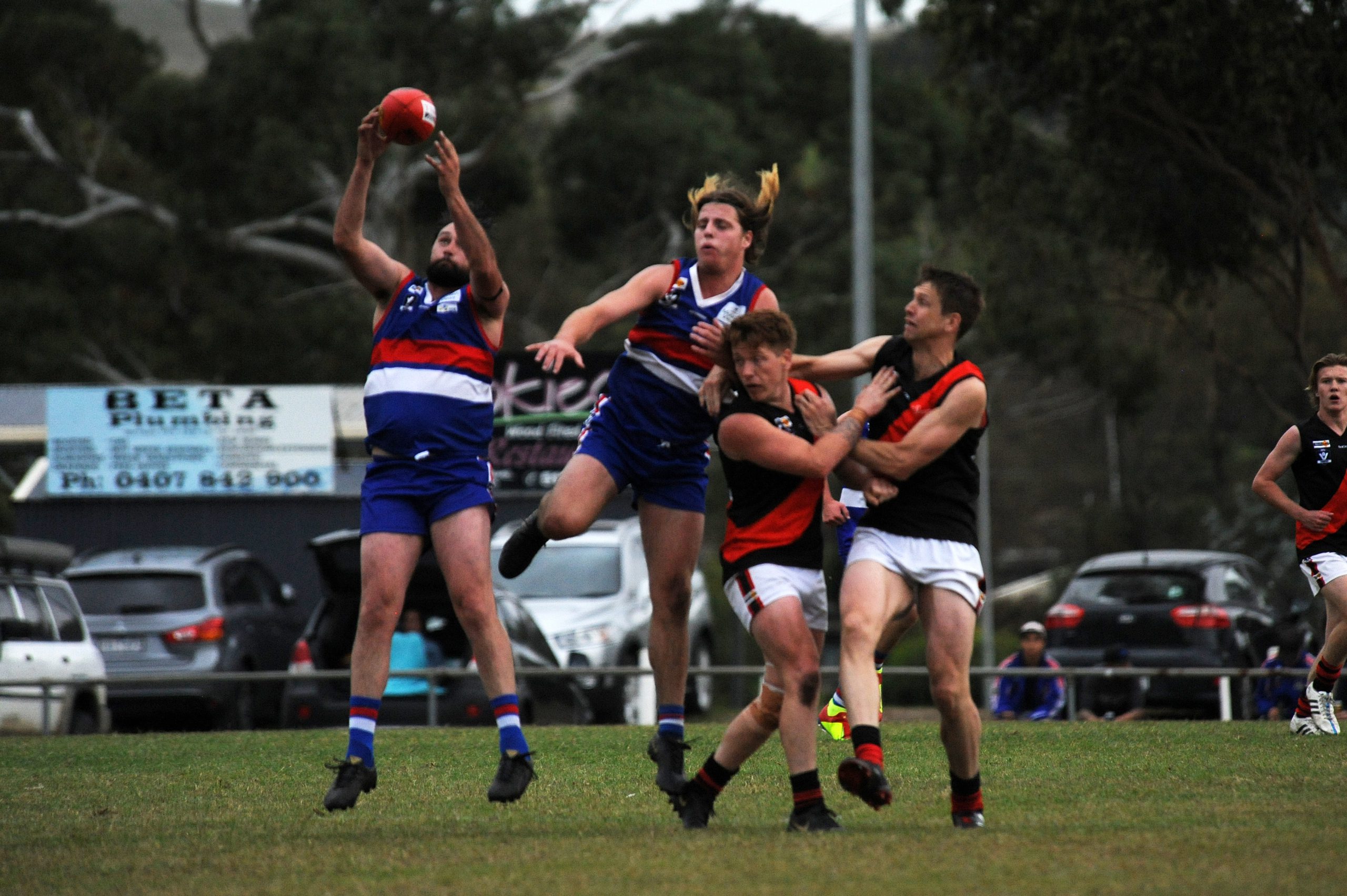 FOOTBALL

MID GIPPSLAND
Yallourn-Yallourn North opened their season with the very clear intention of stamping their mark on the 2019 MGFL competition, demolishing Newborough, 25.10 (160) to 3.8 (26).

The Bombers are widely tipped as a premiership contender on the back of a strong 2018 and some impressive off-season recruiting was evident from the first bounce on Saturday.
They burst out of the blocks and turned a seven-goal quarter-time lead into a 12-goal lead at the main break.
Dean Macdonald might have been the star of the show in years gone by but he had company over the weekend with the 2018 leading goal-kicker's seven goal haul upstaged by Keenan Hughes' 11.
The visitors added another 11 goals to their 14-goal first half with James De Virgilio, Campbell MacInnes, Rohan Reid and Dylan Bath the best of a very good group.
"I was pretty pleased with the outcome, thought we used the ball pretty well going forward, Keenan was outstanding as was [Dean Macdonald]," Bombers coach Barrie Burnett said.
"We still have a lot of areas to work on as we have a few new players … I thought Newborough really had a crack and didn't give us anything easy the whole four quarters."
Hill End v Trafalgar

It was a win that rewarded some brilliant off season work for Hill End which became the second team in as many weeks to defeat the reigning premiers 16.6 (102) to 11.12 (78)
A 15-point quarter-time lead was extended to 32 points at half-time and coach Mike Santo would have been pleased, but still wary of a second half that in the week prior cost them any chance of victory against Morwell East.
It was the type of win that a season can be built on, but for it to be of any value it will needed to be backed by many more in the weeks ahead.
What should be noted from the Rovers win was the handful of goal-kickers they had going forward with Ben Rotheram and Chase Saunders kicking four apiece while Luke Mulqueen and Jack Hudson grabbed three each.
"We got on top early in the contested stuff and showed great composure with the footy under pressure especially in the late stages. A great win for us obviously with locals saying it was the best win in around 20 years," Hill End coach Mike Santo said.
"Forwards were very efficient in front of goal … there's a great feel about the team at the moment"
Yinnar v Mirboo North

A performance as outstanding as it was surprising had Mirboo North thump Yinnar on Saturday, 24.12 (156) to 4.7 (31).

For a round two clash, this match promised plenty on the back of both clubs' impressive wins in round one.
The Magpies had prepared to celebrate the club's season launch with a win in front of their home crowd, however, what they delivered was well short of what was expected.
Mirboo North kept the Magpies to just the solitary goal until half-time while adding more than 14 of their own.
That first half was matched by an equally impressive second with every player contributing.
Coach Josh Taylor was sidelined with a foot injury and will be for the season but that gave the young coach the box seat in a satisfying performance.
"Another solid win, we went down there very confident, but never thought it would end the way it did. The boys are in ripping shape and put together one of the better halves of footy in a very long time," Taylor said.
"Our intensity and pressure on Yinnar was brilliant which created turnovers and run and carry in our favour.
"Big focus was on 21 players playing their role and that definitely happened."
Thorpdale v Morwell East

Morwell East made it two from two with a comfortable victory over Thorpdale, 25.15 (165) to 6.10 (46).
The Hawks made their way to Thorpdale with an expectation that a win was absolutely crucial and reached it in emphatic fashion with a four-quarter effort pleasing for coach Devon Soutar.
"We found dangerous areas on entry resulting in better conversion in front of goal," Soutar said.
"We have fluctuations in intensity and concentration which continue to be an issue but in reality it was a great effort to field both a senior and reserves team."
The Hawks were best served by Jarrod Lont, Eric Semmler, Frank Marks, Daniel Hutchison, Rob Michaelidis and Brendan Evans.