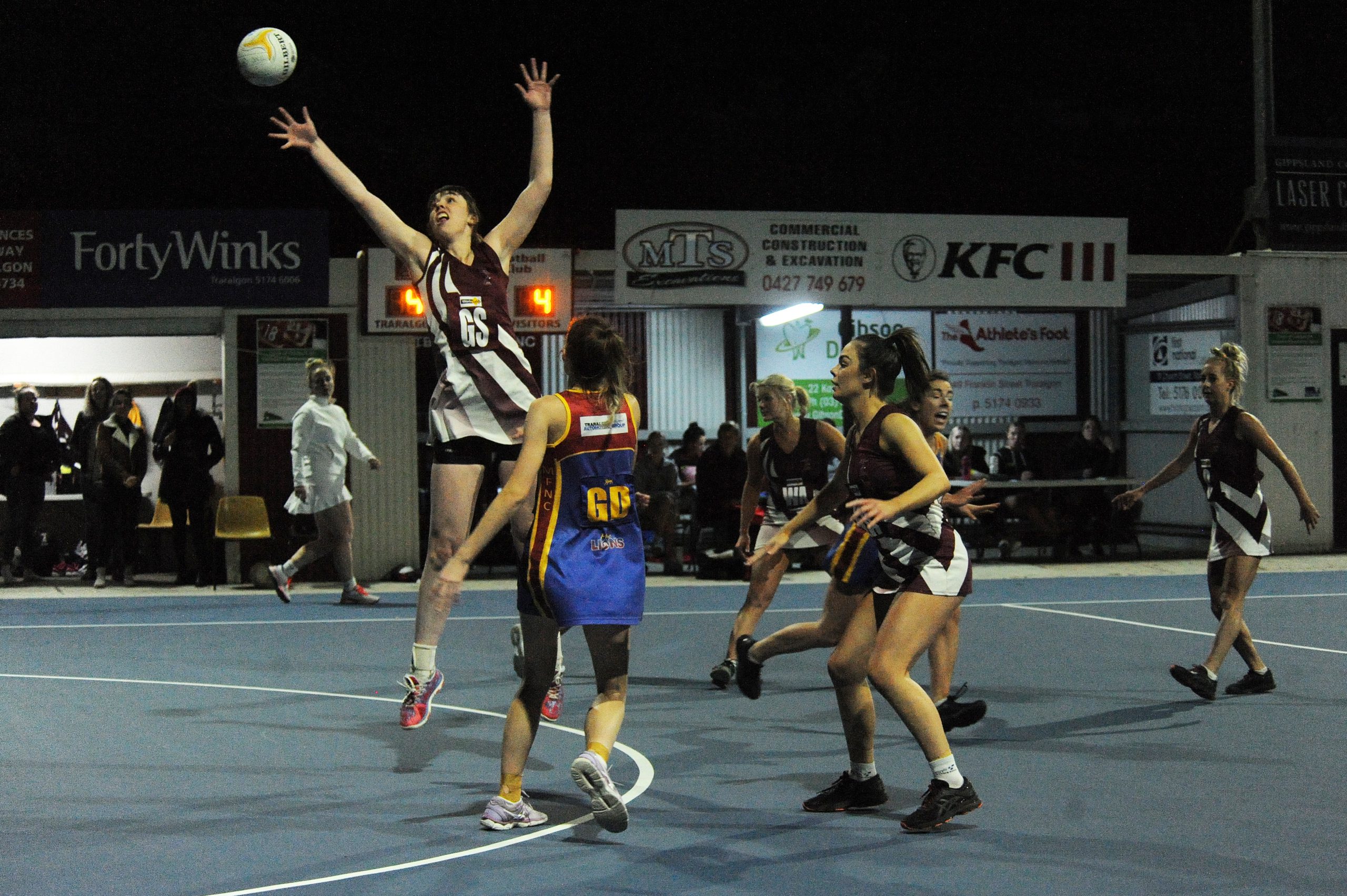 By Kate Withers
NETBALL
GIPPSLAND LEAGUE

Defending premiers Moe will head back home this weekend to face Wonthaggi after a tight loss to Traralgon in the grand final rematch.

The Lions were pipped for premiership points in a thriller on Saturday, 46-43.
Goaler Taylin Gourley again proved a handful to contain and sunk 37 of the Maroons' 43 goals, despite the best efforts of defenders Shannon Freeman and Carly Mullen-Bianconi who were both in Moe's best.
Despite the loss, coach Peter Moody said his young Lions stamped themselves as real contenders and proved their flag win was no fluke.
"It was a sensational game and in my opinion a better standard game that the grand final," he said.
"At three-quarter-time we were up by a goal and played out of our skin in the third quarter but they've still got the big-game experience and they seized the big moments better than what we did.
"I was really pleased about us being able to put ourselves in a position to win, even though they had every one of their guns playing."
Coach and defender Caitlan Ponton and mid-court gun Stacey O'Brien both returned for the Maroons at the weekend after two weeks off, however, it was their accuracy under the ring that proved the "big difference" according to Moody. Regular centre Charlize Bird missed through illness for Moe but will return for this weekend's clash with Wonthaggi.
Moody said his side wasn't concerned with who they played each week and instead focused on ensuring they stuck to their style.
"The challenge is to maintain that intensity, which is always easier when you know who you're up against but the really good teams play that way regardless of who they're up against," he said.
"Wonthaggi haven't had great results so far but … it's about how we improve each week and we think we've still got plenty of improvement left in us."
Moe and Wonthaggi will play at Moe Recreation Reserve on Saturday from 2.15pm.
Sale v Traralgon
Sale face arguably the most daunting task in Gippsland league netball this weekend when they host a bolstered Traralgon side.
The Maroons were back to full strength in time for their grand final rematch with Moe at the weekend with coach Caitlan Ponton and mid-court machine Stacey O'Brien both making valued returns.
Traralgon went some way to avenging their 2018 premiership playoff loss to Moe in round three, getting one back with a three-goal win.
Taylin Gourley was unstoppable under the ring, converting 37 of her side's 43 goals, while Ramayer Gourley was among the best in defence and Stacey O'Brien patrolled the mid-court.
Sale were edged out by 11 goals in their round three clash with Maffra at the weekend despite the best efforts of young gun shooting duo Jenny Wrigglesworth (17 goals) and Hayley Castle (16 goals).
Sale and Traralgon will play on Saturday at Sale Recreation Reserve from 2.15pm.
Morwell v Maffra
Maffra will make a dreaded trip west to take on ladder leaders Morwell in round four action.
The Tigers cemented their standing as a force to be reckoned with in season 2019 at the weekend, continuing on their merry way by accounting for Bairnsdale with ease on the road with a 24-goal victory.
Daisy Hill proved an indomitable force in goals with 41 of her side's 65 goals with able assistance from Claire Allison.
League legend Courtney Garth held up the other of the court as she does every week for the Tigers and was among their best in the landslide win.
Maffra also enjoyed a win in their round four encounter with crosstown rivals Sale, 44-33, led by new recruit Faith Biddle and shooting star Abbey Pleydell who scored 29 goals.
Morwell and Maffra will play at Morwell Recreation Reserve from 2.15pm.
Leongatha v Warragul
Warragul will journey to Leongatha this weekend full of confidence as one of three remaining undefeated sides in the Gippsland league A grade competition.
The Gulls held off Drouin by 10 goals at the weekend, propped up by standout performances from young gun goaler Myah Healey with 33 of her side's 51 goals.
Fellow shooter Jamie Rollinson was among the best for Warragul in the win and together with Healey will provide a test of the highest order for the Leongatha defence this weekend.
The Parrots were 14-goal victors over Wonthaggi on Good Friday in round three.
Leongatha and Warragul will play on Saturday at Leongatha Recreation Reserve from 2.15pm.
Drouin v Bairnsdale
With plenty to play for, Drouin will host Bairnsdale this weekend in a battle of two winless sides.
The Hawks were outplayed to the tune of 10 goals by ladder leaders Warragul at the weekend while Bairnsdale were no match for Morwell, going down by 24 goals.
Drouin and Bairnsdale will play on Saturday at Drouin Recreation Reserve from 2.15pm.