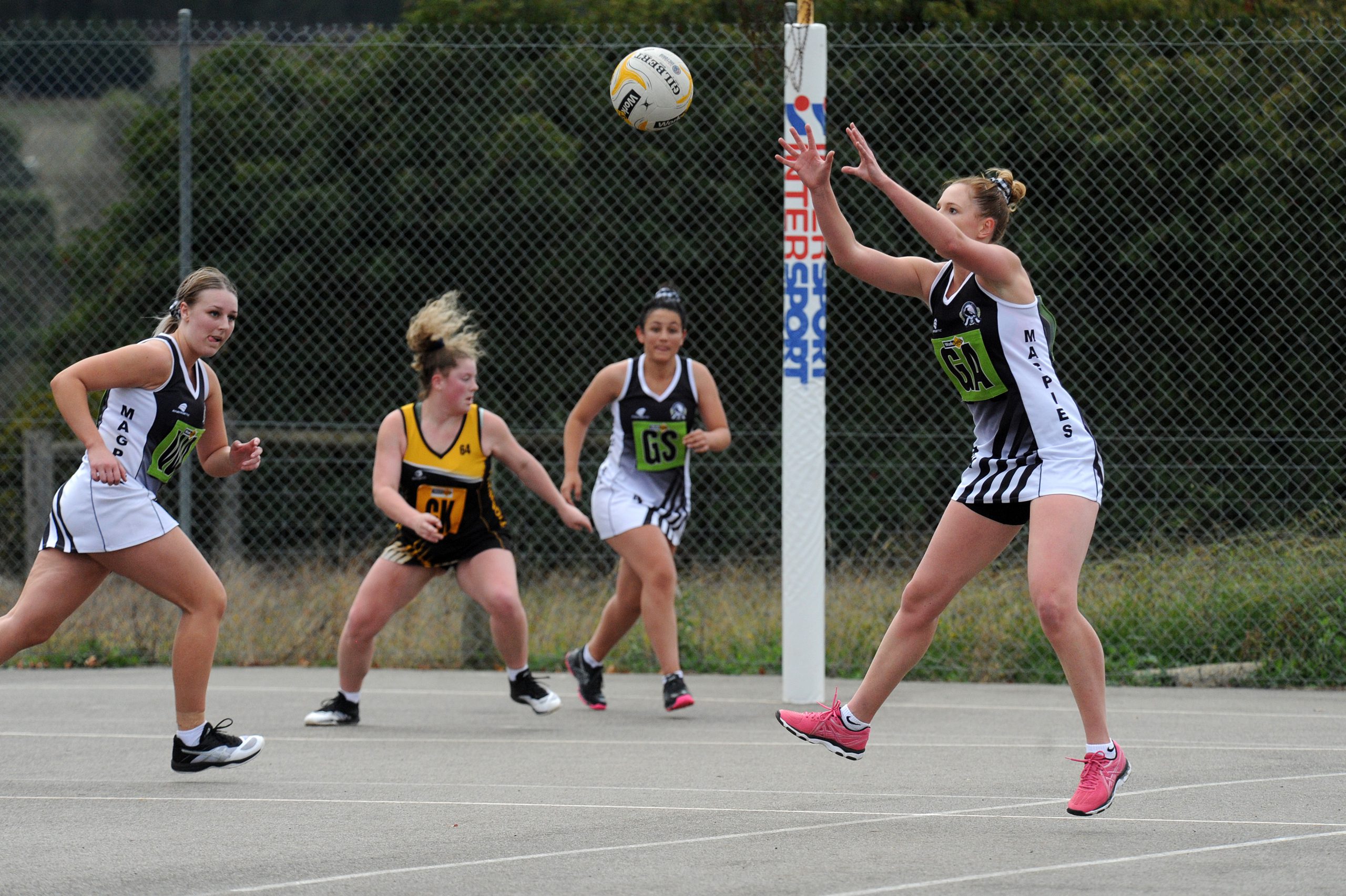 Bryce Eishold
Netball

North Gippsland

Rosedale claimed a 15-goal win against Sale City on Saturday to remain the only undefeated A grade side after three rounds of netball in the North Gippsland league.

The Blues could be the side to beat for the remainder for the season, however, it is only early days and Glengarry, Woodside, Yarram and Heyfield – along with the Bulldogs – make up the remaining top six equal on points.
In round four action, the Blues will host Yarram at Rosedale in a game the Demons hope will go their way following a 10-goal win to Cowwarr.
The absence of A grade coach Stacey Staley for Yarram in round three meant Samantha King was required to step up and lead the young side against a much taller Saints outfit.
With an even first quarter, the Demons and Saints finished the first term on level scores, however, Yarram young gun Hazel Kerrison Male took some critical intercepts in the second to head into half-time with a two-goal lead.
"With the appearance of Tavia Field into wing defence in the third, our side had hands onto every ball forcing Cowwarr into multiple held balls and missed targets," Yarram A grade player Daisy O'loughlin said.
"Defensive pressure in the mid court helped, allowing best on court Chelsea Smith to run rings around the opposition and helping the team through to a 10-goal win."
Meanwhile, Rosedale will be keen to continue their winning streak after a decent start to the season and a promising win over Sale City on the road in round three.
"Despite the difficulties I feel that we played very well as a team moving the ball confidently and efficiently both from centre pass and in transition," Rosedale coach Staci Scott said.
Heyfield v Gormandale

Gormandale coach Bronwyn Joyce is remaining optimistic despite the Tigers failure to register a win this season after a 27-goal touch up by Glengarry at home in round three.
Joyce said blustery conditions proved challenging for the winless Tigers, however, credited 15-year-old Maitland McStay for her "stellar" performance in defence having been crowned the best on court.
"At 15 and playing in the A Grade team is a mighty achievement and she holds her place with ease," Joyce said.
"Kristie Smith worked hard all day in the centre to keep the game together but Glengarry were far more consistent all over the court."
The Tigers will this week head to Heyfield to take on the Roos who claimed a clean sweep across the courts in round three against Churchill.
"We had no expectations going into the game, just the goal of ensuring we maintained our pressure and composure for four quarters," Heyfield A grade coach Amanda Tyquin said.
Gormandale sit last on the North Gippsland ladder while Heyfield sit sixth, but equal on points with the four teams above the Roos.
Cowwarr v TTU

Traralgon Tyers United will be keen to forget round three after a 19-goal loss to Woodside at home as the Bombers this week prepare to take on the Saints at Cowwarr.
A special mention must go to Kellie Arend who celebrated 300 games across B, C and D grades with TTU on Saturday.Arend joined the Bombers in 2003 and played in the D grade grand final against Gormandale in 2013 where TTU won by three goals despite trailing by 13 earlier in the match.
Meanwhile, the Bombers sit ninth on the A grade ladder and are yet to win a game in the North Gippsland competition this season.
Cowwarr A grade coach Herbie Porter said her team would also seek to improve on their performance in round three after a 10-goal loss to Yarram where Innika Hodgson and Sarah Greenwood were named best on court for the Saints.
Glengarry v Sale City

Glengarry A grade coach Emily Whitty has predicted a "cracking game" against Sale City in round four after the Magpies claimed a 27-goal win over Gormandale at the weekend.
Whitty said the whole-team performance allowed Glengarry to take a lead in the early stages of the match which helped the Magpies rise to second on the North Gippsland ladder.
However, the clash against Sale City will be as important this week with both the Bulldogs and Magpies separated only by percentage.
"We were particularly impressed with our attacking end and the defensive pressure they put on to force many turnovers against Gormandale," Whitty said.
Megan Garlick and Elise Sertori were named best on court in the clash for Glengarry. The Magpies this week welcome back star Paxton Farley and will be keen to register their third win for season 2019.
Woodside v Churchill

Churchill will hit the road to Woodside after the Cougars were defeated by seven goals at home by Heyfield in round three.

The Cougars sit seventh on the North Gippsland A grade ladder but only four points behind third placed Woodside. Wildcats coach Carly Foat said her side's 19-goal win to Traralgon Tyers United would place her side in a good position heading into round four.
Club legend Andrea Elliot was named best on court after returning from holidays to play in her 100th game for the club.