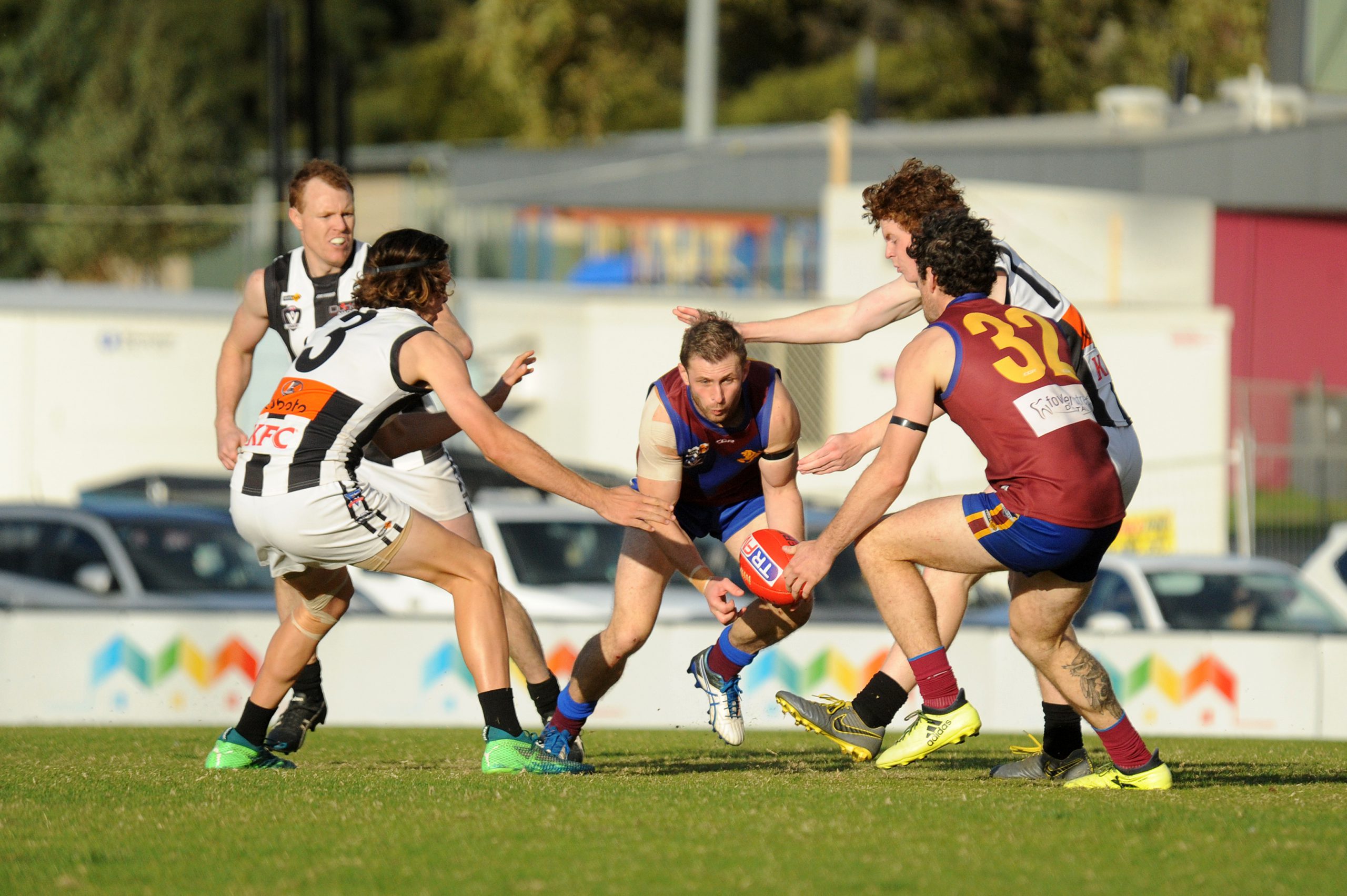 Football

Gippsland League

Moe's loss to Sale, 9.8 (62) to 14.8 (92), in the top of the table clash was costly for the Lions who slipped from first to third, falling below Maffra on percentage.

Moe and Sale both went into round six on four wins and a game clear of the Eagles.

Moe bolted from the gates to race out to a 20-point lead at quarter-time, however, Sale pegged the gap back to one straight goal by the main break.
The Magpies kept up the pressure and had a lead of 15 points at the last break and 30 by the final siren.
Brad Dessent was the difference for Sale, kicking five majors with support from John Gooch (two), Jack McLaren, Mitchell Dowse, Jayden Allison, Jarrod Freeman, Jamie Sweeney, Jack Mclindin and Cooper Whitehill with one apiece.
Best for the Magpies were Jordan Dessent, Gooch, Shane Fyfe, Will Leslie, B Dessent and Jack Lipman.
For the homeside, goals went to Ashleigh Dugan (two), and one each to Jordan Ceppie, Scott Van Syk, Darnell Grech, Peter Ainsworth and Campbell Staff.
Best on ground for the Lions were Ceppi, Harrison Sim, Mitchell Stanlake, Thomas Fleming and Hayden Prestidge.
Bairnsdale v Traralgon

Bairnsdale took out a seesawing match over Traralgon, 9.21 (75) to 10.12 (72).
The home team was down by three points at quarter-time, but turned it around in the second quarter, kicking 4.5, to the Maroons' 1.2 for an 18-point lead at half-time.
Traralgon turned on after the long break and more than doubled their first half score in the third quarter alone, racing from 30 to 63 at the last break with a lead of 10 points, having held their hosts goalless in the third.
Bairnsdale regained their composure and dominated with 12 scoring shots to four in the final quarter and even though those 12 shots resulted in an inaccurate 2.10, it was enough to get them over the line for a three-point win.
Goalkickers for Bairnsdale were Brayden McCarrey (four), Kieran Vickery (four) and one to William Hamilton.
Best for the victors were Joshua Wykes, Liam Giove, Ethan East, McCarrey, Nicholas Bulmer and Shaun Wyatt.
Traralgon spread the goalkicking duties with Cameron Whiteoak and Mark Collison scoring two each, and singles to Dylan Loprese, Mitchell Mustoe, Ryan Loprese, Michael Jacobsen, Lee Stockdale and Wilson Gaudion.
Best for the Maroons were Chris Thuring, Gavin Stevenson, Bailey Cameron, Hayden Hector, Collison and Stockdale.
Wonthaggi v Maffra

Wonthaggi lost home bragging rights, losing their first home match for the season, while the Eagles broke their travelling hoodoo, winning on the road for the first time this year, 3.11 (29) to 11.14 (80).
Maffra backed up their big round five win over Warragul to win every quarter against the Power.
The Eagles led by the narrowest of margins at the first break but found themselves up by 16 points at half-time and 26 points at the last break, before running out to a 51-point victory.
Wonthaggi scored two goals in the first quarter and didn't manage a third until the final quarter while Maffra's efforts were more evenly paced with two goals in each of the first three quarters followed by a five-goal blast in the last.
Goalkickers for the Power were Jordan Staley, Mitchell Beston and Benjamin Eddy with one each while Maffra was led by Daniel Bedggood with three, two each to Andrew Carr and Alexander Petrou, and singles to Ben Brunt, Jack Johnstone, Mitchell Bennett and John Butcher.
Best for the home side were Timothy Knowles, Joshua Bates, Aiden Lindsay, Kye Benson, Staley and Troy Harley.
Best for Maffra were Johnstone, Edward Carr, Danny Butcher, A Carr, Bedggood and Petrou.
Warragul v Morwell

Warragul 8.7 (55) defeated Morwell 7.7 (49).
Warragul's second win for the season lifted them from the bottom of the ladder, a position now held by Traralgon.
The Gulls held Morwell scoreless for the first quarter but only managed to add 2.1 themselves. The second quarter was more of the same for Warragul who doubled their score while the Tigers racked up 2.4 to be just 10 points down at the big break.
Warragul again put a multiple of two, plus one extra point, on their score in the third quarter to give them a handy buffer of 22 points going into the last quarter.
The Tigers finally clipped the Gulls' wings, restricting them to two points in the final stanza while adding three goals straight. It wasn't enough, however, with the visitors going down by one goal.
Ben Hughes kicked three goals for Warragul with two to Thomas Kelly and singles to Mitch Nobelius, Matthew Ross and Kim Drew. For Morwell, it was singles all round to Max Linton, Joshua Hecker, Isaac Abas, Tyler Hillier, Zachary Anderson, Kuiy Jiath and Patrick Charles.
Best for the home side were Matthew Rennie, Kim Drew, Luke Tynan, Nobelius, Kelly and Hughes.
Best for Morwell were Anthony Rosato, Daniel Musil, Daniel Schneider and Joel Soutar.
Drouin v Leongatha

Drouin 9.12 (66) lost to Leongatha 12.15 (87).
Drouin opened strongly, dominating the first quarter to hold a 31-point lead at the break.
Leongatha won the second quarter but were still 23 points down at the main break before working their way to a two-point lead at three quarter time by holding the home team to just one point while kicking 3.8.
Drouin had their opportunities in the final stanza with seven scoring shots to six but the Parrots made the most of their opportunities and their accuracy in front of goal in the last 30 minutes carried them to victory.
Goalkickers for Drouin were Bailey Beck with three, Todd Beck with two, and singles to Edward Morris, Rhys Salter, David Olsen and Tom Barr.
Best on ground were Nathan Guy, Bob McCallum, Joseph Collins, T Beck, Christopher Robinson and B Beck.
Lachlan Wright scored four goals for Leongatha supported by Cameron Olden (two) and one each to Josh Hopkins, Christopher Verboon, Patrick Mcgrath, Jacob Ginnane, Brok Davidson and Christopher Dunne.