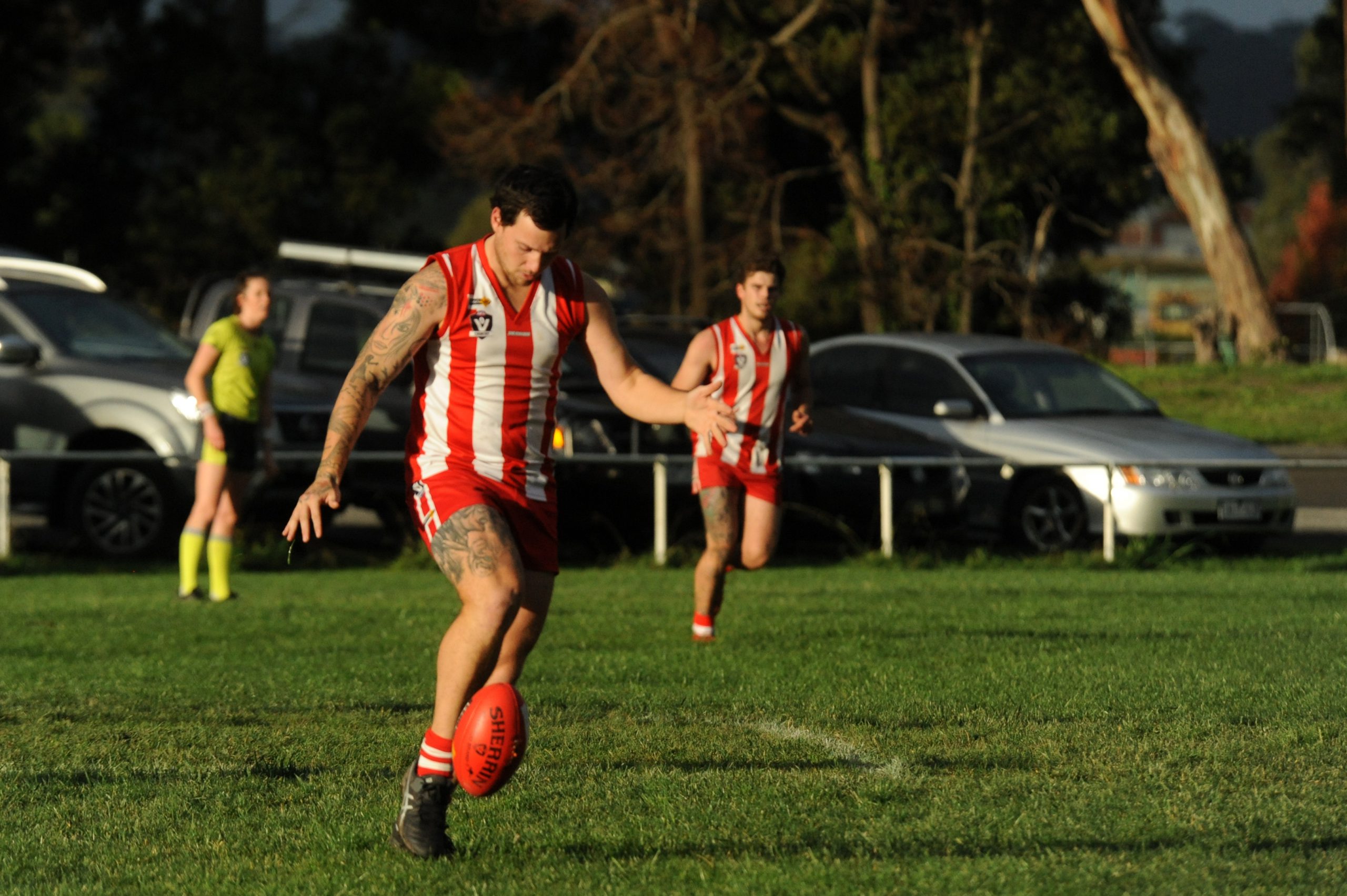 Football

Mid Gippsland
Trafalgar were completely outclassed in their clash with Yallourn-Yallourn North, losing 4.6 (30) to 20.17 (137).

With their season on the line, it was absolutely crucial that the Bloods put up some sort of semblance of their 2018 premiership form if they were to be any chance of overcoming the unbeaten Bombers on their home ground.
Yallourn-Yallourn North had taken all before them in workmanlike-fashion this season and their round eight clash with last year's premiers was a chance for them to send the home side back to a pack of teams fighting for a finals chance.
It may not have been obvious at quarter-time that the Bombers were going to give the Bloods a footballing lesson, given the margin was just three goals but no supporter could have predicted what was to come.
The visitors embarrassed the home side, winning almost every position on the ground and sharing, assisting and contributing as required for the benefit of the team.
Bombers coach Barrie Burnett said "it was really similar to last week, we got the game on our terms and got contributions from everyone. [It was] great team effort which was the most pleasing part".
That team effort resulted in a 42-point lead at half-time which was extended to 75 at the final break, before finishing the match ahead by 107 points.
What is incredible, is that the reigning premiers, who suffered just a single loss in 2018, have fallen to the depths of such a devastating loss in less than 12 months.
The two key Yallourn forwards in Keenan Hughes and Dean MacDonald slotted 11 goals between them, six and five respectively, and were both named as the better players on the day.
What looms now is the mouth-watering clash of Yallourn-Yallourn North and Mirboo North.
Both sides are unbeaten as the halfway mark of the season approaches, and the winner of that game is likely to be a favourite for the 2019 Mid Gippsland premiership.
Morwell East v Newborough

Morwell East bounced back to form with a comfortable 68-point victory against Newborough, 15.18 (108) to 5.10 (40).
The Hawks had suffered two defeats in succession in the past fortnight and their clash with Newborough was to be a good indicator of whether they had learnt and moved on.
And the answer to that was clear early on when the Hawks shot out to a four-goal lead at quarter-time in front of an enthusiastic crowd.
Morwell East coach Devon Soutar said "we were very strong in the first half, all our indicators were positive and the opportunity to display consistency was mentioned at the main break".
"Unfortunately we didn't and all our focus areas went out the door, this has to stop," Soutar said.
The Bulldogs were beaten in almost every position on the field, and adding insult to injury, the visitors had no bench to work with late in the match.
Newborough coach Dean Caldow said "We were beaten by a bigger, stronger, well-drilled and experienced side".
"We displayed some good ball use but I'm looking for more consistency, their players like Barnes, Brown, Michaelides, Francis, and Marks were the ones that hurt us most with their smarts and ball use," he said.
The Bulldogs younger players are continuing to learn each week and Caldow remains confident they will develop and have plenty of opportunities in the weeks ahead, one of those will be against Trafalgar on Saturday.
For Morwell East, each round remains important as a top three position is on offer, but there still appears to be at least five sides looking for one of those three spots.
Boolarra v Yinnar

Yinnar flexed their muscle and accounted for Boolarra comfortably courtesy of a devastating second quarter, winning 19.13 (127) to 6.6 (42).
The Demons had shown they were capable of a fast 30 minutes of football against any side, with coach Tony Giardina slowly conditioning his side to give more for longer.
Coming off their second victory of the season against Newborough, and now performing back on their home ground, it was hoped they could make it two-in-a-row for the first time in a long time and against quality opposition in Yinnar.
Early, the Demons indicated they were up for the fight trailing by two goals at quarter-time but matching it with the visitors in most areas of the game.
Boolarra coach Tony Giardina said "the boys started the game well, matching it with Yinnar [but] in the second quarter our pressure was poor and they made us pay."
"Our second half was better but the game was gone. Our inexperience and lighter-framed bodies is showing," he said.
The eight-goal second quarter highlighted by Giardina did cut deep as the Magpies extended their lead to 56 points
Matt Coutts for Yinnar was at his best with eight goals, as another half-a-dozen players also hit the scoreboard.
Yinnar coach Kane Grinstead-Jones said "we had our most consistent four-quarter effort and feel like our side is starting to gel a bit more as a group and we knew it would take time adding four or five new players, but everyone played their role".
Thorpdale v Hill End

Hill End continued their sparkling 2019 form by showing no mercy to an undermanned Thorpdale team, 22.26 (158) to 8.1 (49).
With a week-long break and the side reasonably well-placed, Hill End arrived at the Blues' home ground confident this would be their fourth win of the season.
It may not have been as easy as expected for the Rovers, the home side doing what they have done for most of the year, throwing all they had at their opponents.
Hill End held a three-goal lead at quarter-time, but it was a lead they had to fight hard for. It was only midway through the second quarter that the visitors started to control the match, and they did it in fine fashion.
Hill End coach Mike Santo said "inaccurate kicking in front of goals was disappointing [but] the way we used ball movement to create those scoring opportunities was incredibly pleasing".
Thorpdale coach Ray Pickering said "we didn't show up, we lacked our pressure and aggression from previous weeks, letting the opposition just stroll through the game".