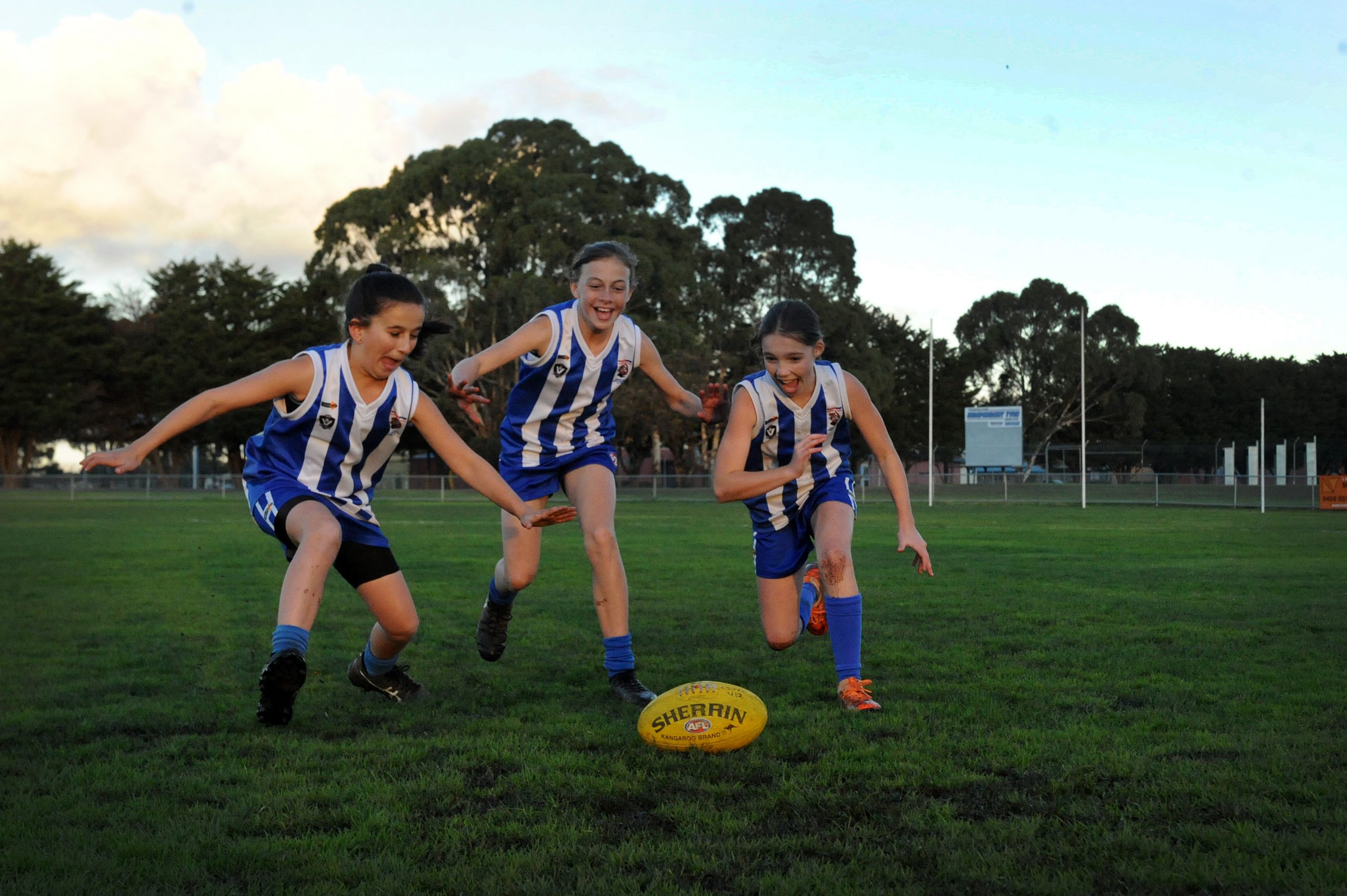 Heidi Kraak
Proving they're more than just 'one of the boys', three junior footy players will reach their 50th game in round seven.

Known for cartwheeling around the field to celebrate goals, Combined Saints Junior Football Club players Ava Campbell, Lucy Riddle and Lily Buckley started playing together in 2016.
While playing in a boys' team had been "interesting", the girls "still get right in there" and aren't afraid to have a go.
Lily said she was a bit nervous before moving up to the under-12 side, however, now she is "good mates" with her team and isn't afraid to show them "who is boss".
All three girls grew up watching their brothers and dads play footy, and wanted to have a go at the game themselves.
"I've got five brothers and they all play footy and my dad coaches," Lucy said.
"I decided I wanted to join in."
Reaching 50 games together was "pretty special", she said.

While sometimes they might feel like they are "the odd ones out" on the team, Lily's mum Nicole said coach Danny Riddle emphasised the important role the girls have on the team.
"He makes sure they know that they're not just there to fill in spaces," she said.

While they might be fierce competitors on the field Ava, Lily and Lucy are always up for laugh – just as ready to make jokes about each other falling over on the field and teaching the boys how the make "fart noises" with their arms as they are to go in for the tackle.
All three girls encouraged other girls to have a go at footy.

Riddle, the team coach, said every child who decided to play footy had to make "a very courageous choice" because of the "physical and aggressive nature" of the game.

"The only difference I will concede between all the girls who choose to play boys' footy is there is an added element of courage required to make the initial choice to participate," he said.
"Once our three made that choice, that is where the difference ended."
He said the girls competed as much as any other player and were treated no differently by the team or any opposition.
"Lily, Lucy and Ava have this magical ability, no matter what the pressures, to make this game brighter and wonderful fun," Riddle said.

"They light the place up with beautiful smiles and infectious laughter and remind me constantly of what children's sport is truly about, all whilst jumping over someone's head or crashing them into a heap with a tackle.
"I am grateful to them all for making me a better coach than I have made them players – they did that themselves with courage and hard work."