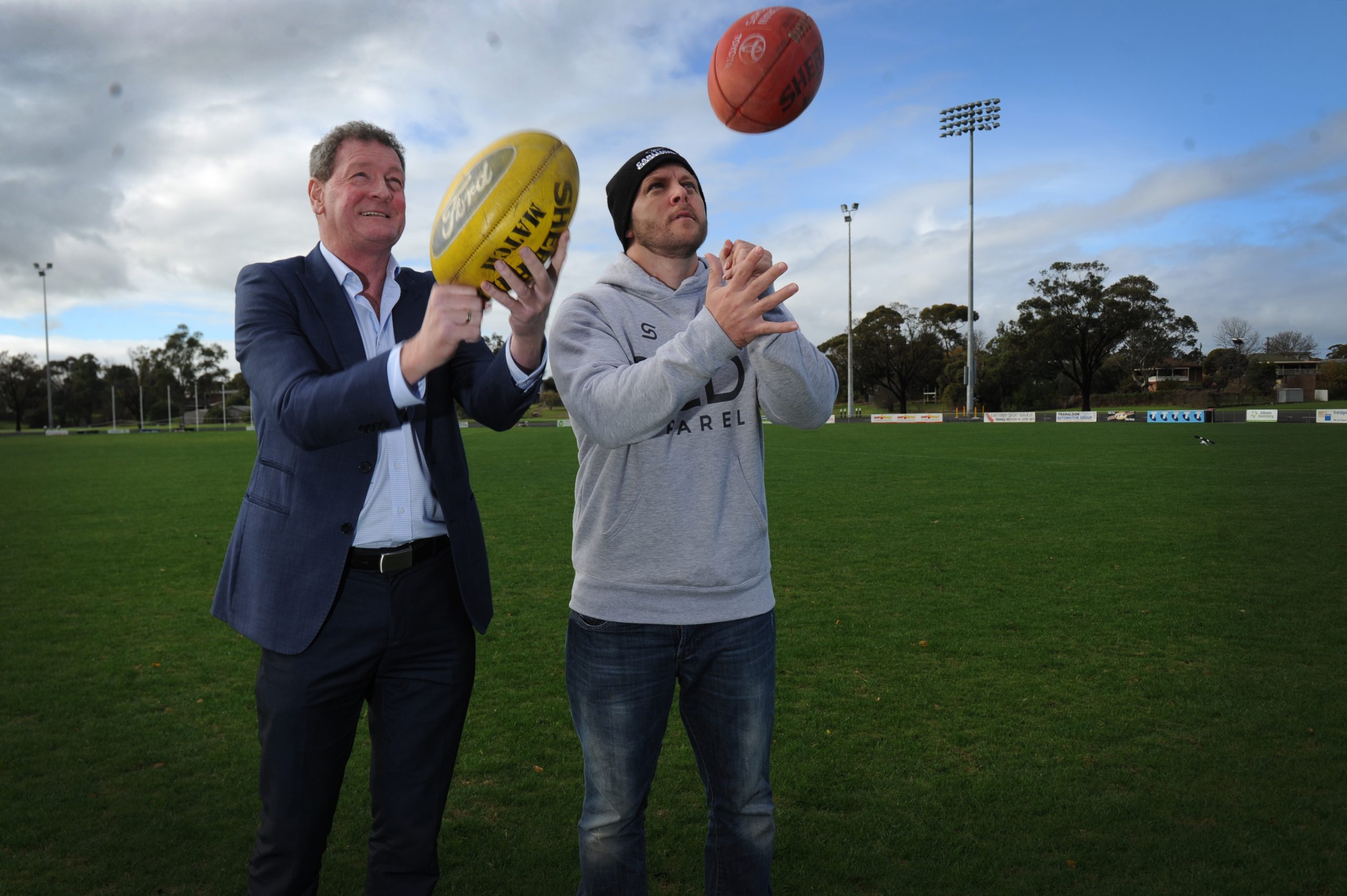 Bryce Eishold
FOOTBALL

Traralgon footballer Justin Palmer was playing footy with his two sons when he felt a niggle in his groin.

Days later he was hospitalised and diagnosed with testicular cancer; requiring two major surgeries and multiple bouts of chemotherapy.
Now in remission, the retired Traralgon Tyers United forward flanker will take to the field next month with former sports agent and AFL footballer Ricky Nixon in a Kicking for Cancer country versus city showdown.
AFL superstars including Brendan Fevola, Barry Hall, Jake King and Spida Everett will be featured in the line up to raise money for My Room – Children's Cancer Charity which supports families with ill kids.
Bus-loads of regional footballers from across the state are expected to descend on Sandringham's Trevor Barker Oval on Saturday, July 7; a fitting venue named after the ex-St Kilda captain who died from cancer 23 years ago aged 39.
"I came up with this idea for a cancer game to inspire the community I suppose," event founder Ricky Nixon, who spent most of his AFL career at St Kilda, said.
"It's about commemorating those we've lost but also there's people playing in the game, like Justin, who I've been meeting with and helping that are recovering from cancer."
"It's about coming along and remembering those affected by cancer; it's not West Coast Eagles versus Collingwood, it's about seeing these superstars mix with the community."
Former Indigenous stars Ronnie Burns and Andrew Krakouer will take to the Beach Road oval, alongside AFLW North Melbourne favourite Sophie Abbatangelo.
"Basically everyone that's representing the country team has come from the country originally. So if it's an ex-AFL player like Ben Dickson, who played at Hawthorn in a premiership, he's a country boy so he's in the country team.
"Whereas someone like Brendan Fevola who was born in the city is in the city team. I'm not too sure what the odds are at the moment, I don't know how the game is going to play out."
The game will be played across four 15-minute quarters with 25 players on each team either recovering from cancer, or representing someone they lost to cancer.
Nixon's oldest son, Lewis, will take to the field in memory of his mother (Lewis' grandmother) who died from bowel cancer, while his youngest son – Mitchell – will watch from afar as the chief executive of Kicking for Cancer.
"One of my mates playing, Greg Williams who won a few Brownlows, hasn't played footy since he finished, so it'll be interesting to see how some of these blokes go," Nixon said.
An AFL legends lunch with the likes of Sam Newman, Des Tuddenham, Peter Bedford and David Cloke will be held on the day, with a women's match curtain raiser between Old Carey and Old Whitefriars scheduled before the main event at 2.30pm.
People who attend the game will have a chance to write a memento on a sticker which will be released into the air on 20 helium balloons later in the day.
Tickets can be purchased online at kickingforcancer.com.au, or at the gate, however, tickets are limited.