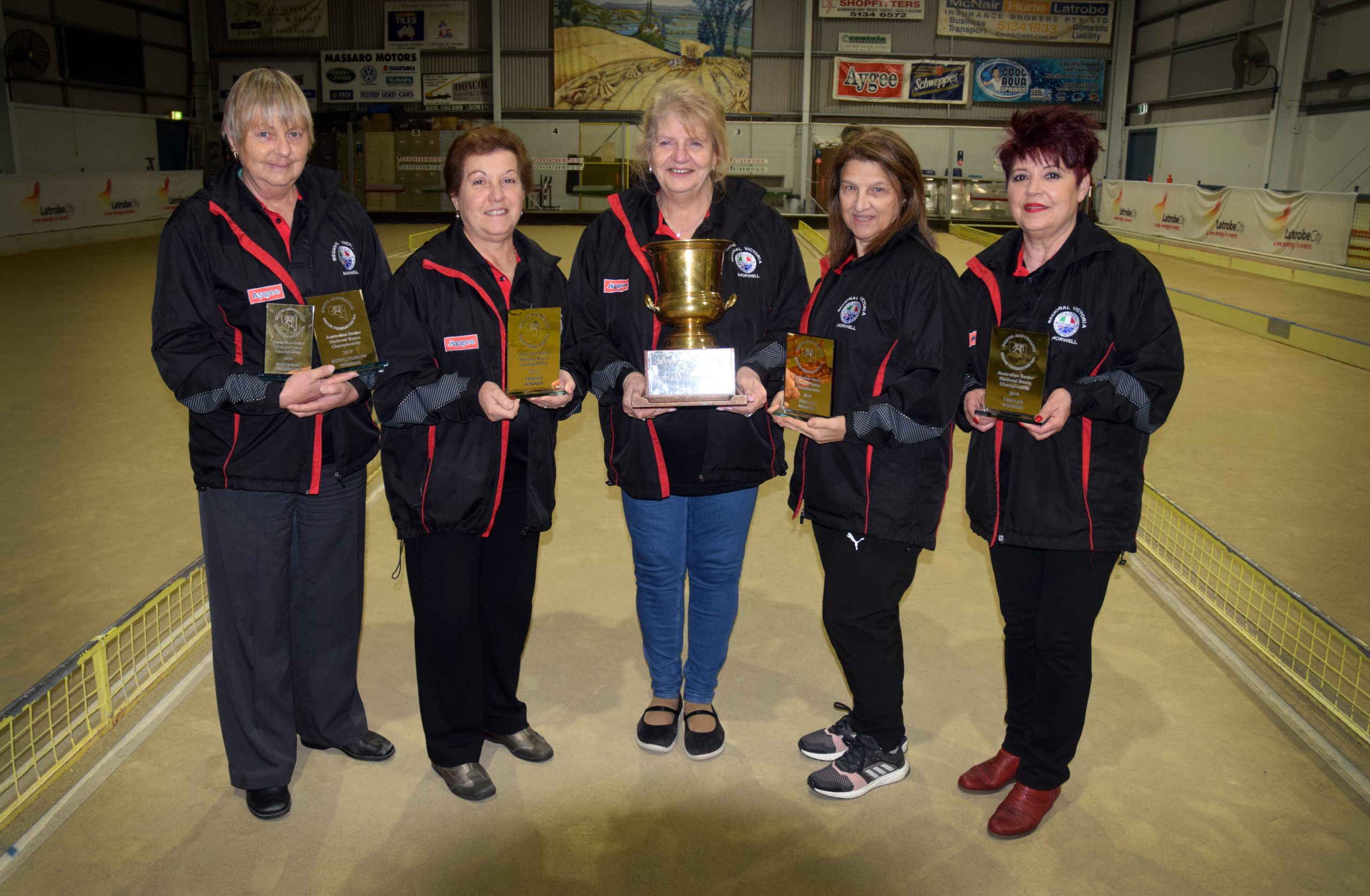 Kate Withers
The Morwell Bocce Club has gone from strength to strength this year and the trophy cabinet at its Italian Australian Club headquarters is at capacity.

Maria Maselli, Anna Prezioso, Christina Finocchiaro, Diane Penney and coach Sally Fava returned from Adelaide after the Queen's Birthday long weekend with yet another piece of silverware to add to the collection – the perpetual cup for the Australian Senior National Bocce Championships triples.
"We've had a pretty good year," Maselli said.
The four-day event was jam-packed with competition, pitting state against state with Morwell flying the flag for regional Victoria alongside the team from the North East Bocce Association (NEBA).
"In our triples we beat South Australia and then we beat New South Wales and the finals was between us and NEBA," Maselli said.
"The difference was only one point so it was very, very close game."
The Victoria-NSW rivalry was alive and well during the championships while a win over in-form South Australia was a highlight for the Morwell side.
"There is always a rivalry between New South Wales and Victoria," Fava said.
"I think South Australia were out to win. They were really, really good.
"They were dominating a lot of events but we seemed to come out on top," Maselli said.
The quartet has played together for about 16 years – a key ingredient in their shared success according to Fava.
"It's probably because we've been playing together for a long time," she said.
"It's a bonus that we get along. We're lucky in that way so I hope it keeps going."
A lot of hard work has also gone in behind the scenes.
"We've been training a lot and coming two or three times a week and it shows," Maselli said.
"At the end you get out what you put in and I think the more [we] have achieved the more we keep going.
"If you enjoy the game then you"ll do well."
Another aspect of the sport that keeps the Morwell club ticking is the camaraderie.
"We enjoy seeing the other players every year because of all the different states, you a make a lot of friendships," Finocchiaro said.
"We don't tend to mingle that much during the game but afterwards we really like to socialise."
Diane Penney also came home with some extra silverware as winner of the bowls throw title and runner-up in the precision.
The Morwell Bocce Club will now prepare for its next event, the Latrobe City Classic on July 1.