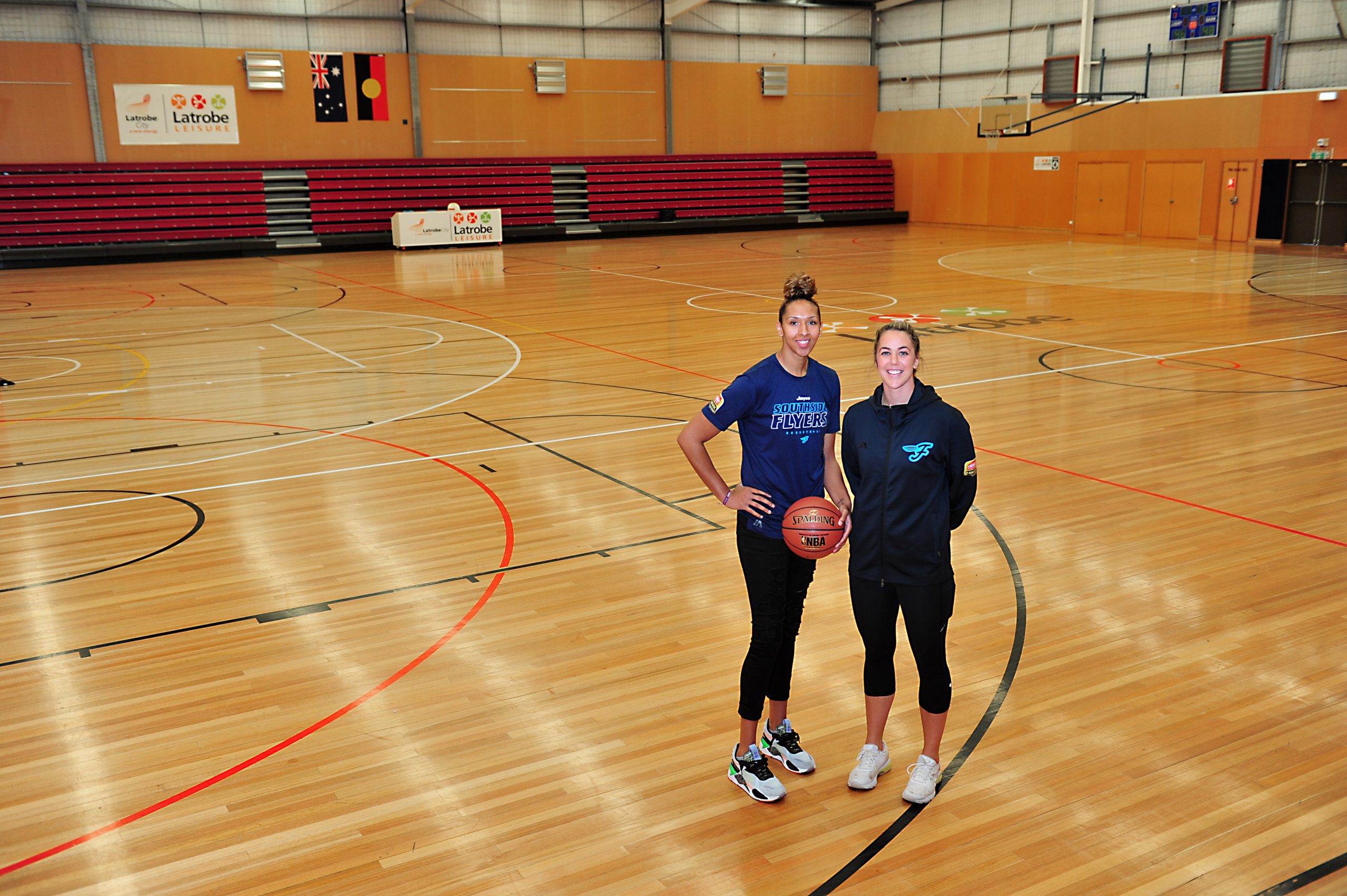 Dylan Arvela
Some of the country's very best basketballers will be in Traralgon on Saturday night with new WNBL franchise Southside Flyers taking on Victorian rivals Bendigo Spirit at the Sports Stadium.

Southside, who are based in Dandenong, have got off to a flying start in the national league season with three wins from three games headlined by an overtime victory against Perth Lynx.
The fine form comes as a bit of a surprise with the squad coming together late in preseason with three players including Traralgon's Jenna O'Hea and coach Cheryl Chambers arriving back late from Opals duties.
O'Hea, who captains the Flyers, said she is buzzing to be back in the region and was impressed by the new facility currently under construction that dwarfs the current stadium.
"Being back here brings back a lot of memories," O'Hea said.
"I played my first game here when I was five-years-old and to bring a WNBL game here and play in front of my family who all still live in Gippsland is pretty special.
"It has changed a lot since I was here, the new stadium is looking awesome and I just heard it is going to hold 3000 people, which is amazing, so I am looking forward to that being finished off and hopefully we can continue to play more games down here."
The 186cm guard/forward is one of a long list of players who have come out of the region to perform on the national and international stage.
Other Traralgon stars include Chelsea D'Angelo, Jade Melbourne and Desiree Glaubitz and O'Hea put the success down to the work of the local basketball association.
"[The success of Traralgon players] must be because of the good program down here," she said.
"I won a championship with Desiree Glaubitz at the Bulleen Boomers so it was nice to walk into court one and see her name up on the backboard.
"There has just been a lot of players who have come out of here, so Traralgon are doing something right down here."
While O'Hea is stoked to get a chance to place on her old stomping ground, it won't be a truly happy homecoming unless she can lead her side to two points against the sixth-placed Spirit.
The national team captain said she is content with the start to the season but is looking for the Flyers to push on.
"We have been happy with our start, you can't complain about winning three in a row and to win a close one in overtime I think is important for a new side that is still coming together," she explained.
"We came together quite late, our preseason was interrupted with three of us away with the Opals at the Asia Cup and (American import) Mercedes Russell coming in a bit late after the WNBA season but we are getting better and better with every game.
"We have been working a lot on our defence this week, once we get those stops in defence with the way we fly down court, that is when we play at our best.
"We play and exciting, offensive brand of basketball and hopefully everyone in Gippsland comes out and enjoys it on Saturday night.
Russell, who stands at nearly two metres tall, said she is enjoying her time Down Under, adding she has been impressed by the standard of the competition.
"It is a little different out here but basketball is pretty universal when it comes to sport so it's been pretty good," Russell said.
"[The standard] is pretty high with it being the top league in Australia, it's pretty close to the WNBA [standard].
"It's been fun, obviously it is a new franchise [the Southside Flyers], but the transition has been amazing.
"We have only been together as a team for a few short weeks with me coming in and girls coming back from the Opals but so far so good and every day we are getting better at working together."
Latrobe City deputy mayor Darren Howe said having national league matches in the region provided a massive boost.
"To have a competition game in Latrobe City is fantastic," Howe said.
"We have a got a great relationship with this new team and hopefully it will continue for the next three or four years.
"Having these games [in Latrobe City] has created a lot of interest in our juniors so kids come along to watch their idols or new ones come along and watch the higher levels and in turn they want to play basketball so we have seen a great increase in the sport over the last four or five years."
The Round 3 contest at Traralgon Sports Stadium tips off at 5pm.