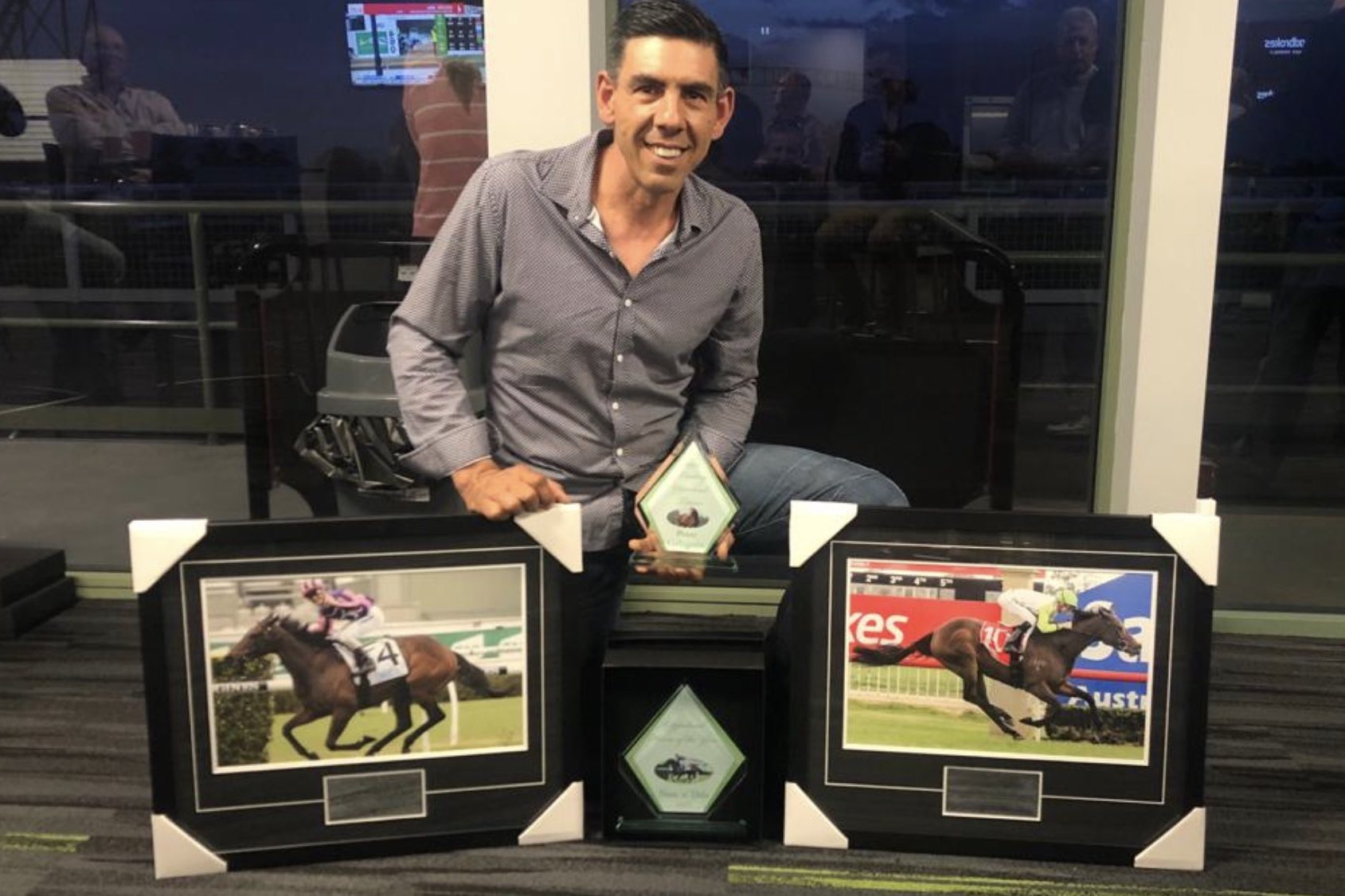 Dylan Arvela
Moe trainer Peter Gelagotis claimed the triple crown at the Gippsland Racing Awards held in Sale on Friday night.

The Group 1-winning trainer secured his 14th straight Gippsland training premiership while star thoroughbreds Moss 'n' Dale and Thoughtful Harmony were named Gippsland Horse of the Year and Gippsland Horse of the Year on Gippsland tracks respectively.
Gelagotis is two decades into his training career.
He was proud to take out the region's top gong but admitted his success has depended on the support of others as well as fortune falling in his favour.
"It's an absolute honour," he said.
"To stay on the top of your game for that many years in a row is testament to the ownership group I have and a majority have been with me from day dot.
"They have kept funding me, giving us the privilege to go to sales and buy the right horses, and with a bit of luck, to keep winning races."
Gelagotis is closing in on 300 career wins and explained how entering the game alongside a number of experienced Gippsland trainers helped spur him on.
"When I started training, I looked up to other trainers in the district and envied their achievements," he said.
"Locals like Barry Bennett and Ronnie Crawford, I made my business to watch these guys and go about my business to gain experience, challenge myself and achieve those levels of success.
"It has to be said, there are several outstanding trainers in this region that haven't had the opportunity with really good horses.
"I have had some exceptional horses which has given me the ability to experience the top, I am fortunate to have achieved what I have."
New Zealand gelding Moss 'n' Dale, has 14 wins over his career, having pulled in more than $1,000,000 in prizemoney.
His marquee win during the past 12 months came at Randwick in the Group 3 DMG Craven Plate (2000m).
"The award is great for his CV and good for the owners – it was well-received by the syndicate," Gelagotis said.
"He has done an amazing job and whatever he gives us going forward is a bonus.
"Not many horses who have not won a Group 1 or 2 race have won the sort of prizemoney he has. He has also run in four states, winning in three."
Thoughtful Harmony, a five-year-old mare, has built a promising record of four wins (two at Moe, one at Sale, one at Pakenham) from nine starts.
"It is exciting to have her voted as the best Gippsland horse on Gippsland tracks," Gelagotis said.
"All the nominations had won three races each but she won the highest rated race.
"She's a lightly raced mare, well-bred out of Group 1 winner Special Harmony.
"She managed to win four in a row and there's a bit more to come from her."
Gelagotis is preparing for another Spring Carnival with a number of runners expected to feature.

He said it was the best time of year to be involved in the racing industry.
"It's a huge week – the pinnacle of our sport and our calendar," he said.
"It is a pleasure to be involved and I still turn the clock back three years ago to when Illustrious Lad won on Derby Day and seven days later Malaguerra won the Darley Classic – I'll never forget that week."
November is Pancreatic Cancer Awareness Month and over the month, jockeys riding horses out of the Gelagotis stable will be wearing purple racing silks in support of the Pancare Foundation.
"We pay our respects to all the families that have been affected by pancreatic cancer, in particular, our racing people like Phil Sly and also recently Barry Dunn," Gelagotis said.