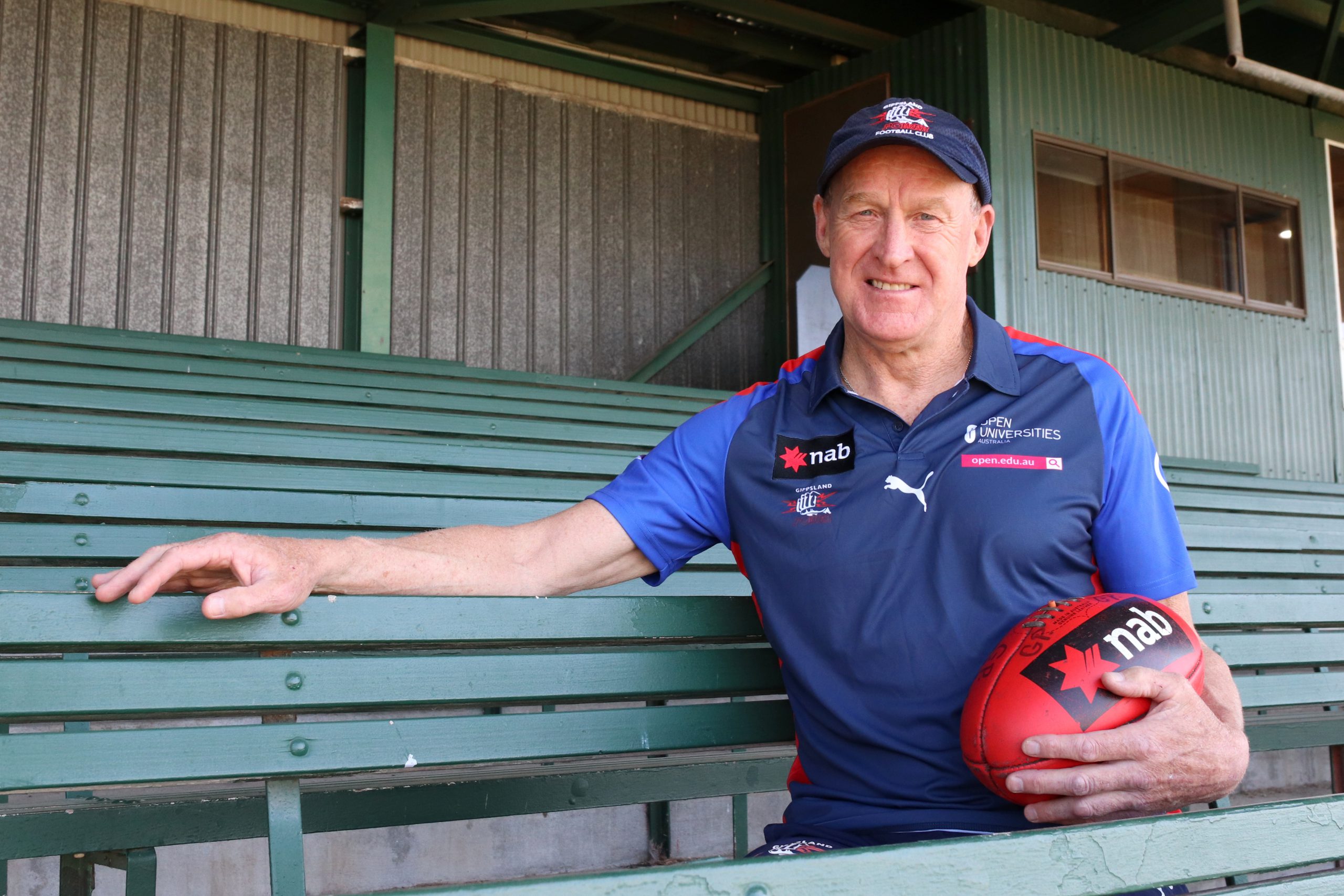 Dylan Arvela
A doyen of Gippsland football has left his post with Peter Francis, the talent manager of Gippsland Power, retiring after 25 years with the club.

When he walked out the doors of the Power's Centre of Excellence last Thursday afternoon, he had left the club in a vastly different situation to the one he came to in October 1994 when he began working from Ray Byrne's bar bench in Warragul.
The former wingman has been the figurehead in driving the club from a small set-up to an elite organisation which has promoted more than 100 players to AFL lists including the likes of modern-day greats Robert Murphy, Brendon Goddard and Scott Pendlebury to name just a few.
Francis started kicking a footy on a farm in central Victoria where he used two gumtrees for goals before rising through the ranks at Heathcote Football Club.
From the Saints in the Heathcote District Football League, he was recruited by Carlton in 1978 where he won a premiership the following year in a match which Francis believes defined his career.
He would go on to play 158 VFL games across the Blues, Fitzroy, Richmond and Essendon.
After finishing with the Bombers in 1988, Francis took up a coaching role at Box Hill in the VFA.
He stayed at the City Oval for two seasons before joining St Kilda as an assistant to Ken Sheldon.
A change in head coach at the Saints saw Francis shown the door after four years which is when the opportunity to coach Gippsland in the fledgling TAC Cup arose.
"I had no aspiration of becoming a coach but I found out [at Box Hill] I loved it," he said.
"Ray Byrne was the talent manager at Gippsland Power and he got me down here after they hadn't had too much success in the two years previous.
"I had never been to Gippsland, I hadn't even driven through it but I came down here to have a look. The AFL also rang me and said coaches were going full-time and they would like me to pick either Ballarat or Gippsland so I had the choice.
"I was always going to pick Gippsland, it's too cold in Ballarat and it's been the best move I've ever made."
Francis coached the side for six seasons and led the club to the 1999 grand final.
The following season, Byrne opted to move to Bendigo Pioneers opening up the talent manager position, a role Francis would accept and hold for the next 19 years.
"I felt I was just starting to coach well after 12 years of coaching," Francis said.
"I had always wanted to be in football administration and I wanted to stay in Gippsland so I was fortunate to get it.
"Ever since it has been a wonderful ride and I have been really fortunate to work with some fantastic players and wonderful staff.
"When I started we had eight or so staff and now we have over 80."
The Power, and the TAC Cup competition, was implemented to produce AFL-standard footballers and Francis said this has been one of his driving motivations over his tenure.
"Our main goal is to get players drafted – that's our core business and we have been able to average about four a year which is a mighty effort," he said.
"At one stage, there were five AFL captains on AFL lists.
"In the 2010 grand final we had 11 players out on the ground – six for premiers Collingwood and five for St Kilda – which is a record for a regional or city team and that is something we should really be proud of.
"I am also proud of the 11 players who were drafted out of the 2005 premiership side who went onto AFL lists either that year or the following year due to their age."
Francis believes Power's success has been, in large part, due to the club's ability to produce better people as well as players.
"On the field, it is not about winning at all costs but it is about winning because the reality of it is winning helps get people drafted," he said.
"Developing players to their maximum and getting them drafted is our goal.
"Off the field, we have a culture of respect and when someone walks through the doors of Gippsland Power they leave their attitude outside.
"Some players go on to have great AFL careers but many others have still gone on and had a great impact on society and that is a sign of a good club and good culture."
The Centre of Excellence at Morwell Recreation Reserve is the physical form of the legacy Francis leaves.
The state-of-the-art facility has been Mecca for Gippsland youngsters pursuing their dreams of playing in the AFL and AFLW for the last decade.
The facility, which spawned from a draft Francis drew on a piece of scrap paper, has played a key role in helping local talent overcome the distance disadvantages they face compared to their metropolitan rivals.
Francis believes the footballing hub which acts as a training base, medical centre and meeting point has not only benefited the Power but also Gippsland football as a whole.
"I really felt building our own facility was an important step in bridging the gap between city and country," he explained.
"It is a facility which has been recognised as the best in Australia by the AFL outside of the AFL – a lot of hard work went into this.
"[Players] come here with their dreams, thousands have come through those doors and not all of them will make it to the top level of our game, but a lot will have wonderful VFL careers and others will go back and have a massive impact on local football which is really important from our point of view."
The dogged determination of countless aspiring local footballers is an aspect which will stick with Francis into retirement.
"We might not be the biggest or the strongest but the players are tough and I think that is because they play in the wet weather," he said.
"I am in awe of them. Other teams know they are going to have a hard game when they play Gippsland Power.
"The boys and girls do such a marvellous job. We have the smallest population and the largest area [to cover] and everyone involved is fighting out of their weight division."
Francis wished to thank all the clubs across Gippsland for supporting the venture. He also wished to recognise the efforts of Power stalwart, the late Laurie Plunkett.
"We have really had a great relationship with the clubs around Gippsland, there needs to be due credit to them for working with us," he said.
"We have kept going back to the well to get footballers and hopefully they have gone back to their respective clubs as improved players and people.
"I really want to thank a chap called Laurie Plunkett who was the football manager here. He was integral in assisting me make Gippsland Power the powerful club you see today."
Leigh Brown is another star Power alumni, drafted to Fremantle as pick number five in the 1999 AFL Draft.
Brown, who played 246 AFL games before coaching Gippsland for five seasons until 2018, said the region would be forever indebted to Francis.
"He has been Gippsland Power for 25 years," Brown said.
"His experience is first class and his compassion and empathy for players has made him a father figure for not only me but all the players coming through the system.
"He has given a lot of people the opportunity to achieve their dreams. Personally, he guided me to becoming a draftable player.
"Peter is so passionate about the club and his legacy will last for a long time with the building and the culture he has instilled, making it a professional, first-class organisation."
Coincidentally, Francis departed the Power on his 39th wedding anniversary and now he wants to give back to his family, including wife Robyn, who have sacrificed so much for him over the last four decades.
"I have been an absent father for quite some time," Francis explained.
"I have been working six or seven days a week for 40-odd years and now I have four little grandsons. I need to give back to my wife and children and those little boys because they deserve it.
"I am ready to retire, I have a place down in Rosebud so I will take a few months off before looking for something to do two or three days a week. It probably won't be in football, maybe something on a farm, helping out in some way – I am looking forward to the next stage of my life."