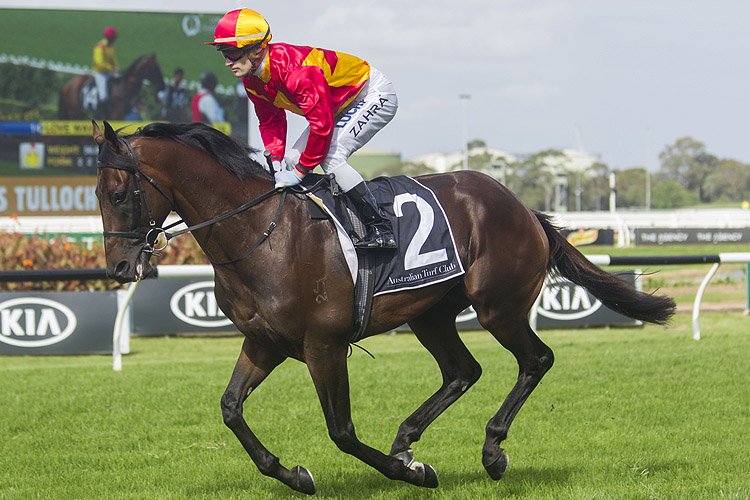 Moe galloper Levendi experienced a difficult return to the races at Sandown on Saturday.

The 2018 ATC Derby winner finished last in his first appearance back after a 588-day injury-enforced spell in the Group 3 Kevin Heffernan Stakes (1300m).
Starting a $41 chance, Levendi did his best work late at an unsuitable trip to finish 4.7 lengths off winner Teleplay.
But his return was far from a low-profile one.
Stewards interviewed trainer Peter Gelagotis in regards to a conversation with Racing Victoria vet Jamie Wearn.
The Moe horseman was frustrated by RV's vet team's request for Levendi to trot up 45 minutes before the race which led to the horse becoming agitated, so much so that vets could not take a pre-race blood sample.
Gelagotis conveyed those thoughts to RV's head of integrity Jamie Stier after the race.
This led to the stewards' inquiry which heard Dr Wearn state Levendi 'seemed unfazed' by the pre-race trot up.
However, he felt the unhappy nature of Gelagotis played a part in riling up the horse.
"In my 15 years' experience, it was one of the most unpleasant experiences I've had," Wearn told stewards.
Gelagotis hit back at this accusation, saying he was emotional.
"I was not aggressive, I was concerned at the protocol of vetting a horse 45 minutes before a race – all it was doing was upsetting the horse," Gelagotis said to media on course.
Levendi's part-owner Peter Stevens also said he was dissatisfied with the vetting protocol, especially considering Levendi had already been vetted last Tuesday.
"There's been a lot said recently about horse welfare and to me vetting a horse 45 minutes before the start of a race is not good management," Dr Stevens told stewards.
Brother and racing manager Manny Gelagotis described the five-year-old as being "as quiet as a lamb" before the vetting procedure and it made no sense to vet a horse so close to the start of a race when there was plenty of other times to do so.
"He'd been out for 18 months, if there was any concern there was ample time to check the horse," he told media at Sandown.
"Ultimately, you've got to understand the effort to get the horse here today, the emotional attachment and work from the vet team and then this happens."

On Monday afternoon, RV stewards closed the inquiry.

The RV stewards' statement read:
"Having reviewed the evidence, Racing Victoria stewards have today advised that no further action will be taken against trainer Peter Gelagotis with respect to his conduct towards RV raceday veterinarian Dr J Wearn, who was attempting to obtain a pre-race blood sample from Levendi prior to that horse running in race six at Ladbrokes Park Hillside last Saturday.
"Mr Gelagotis has been advised of the stewards' decision and the matter is now closed."