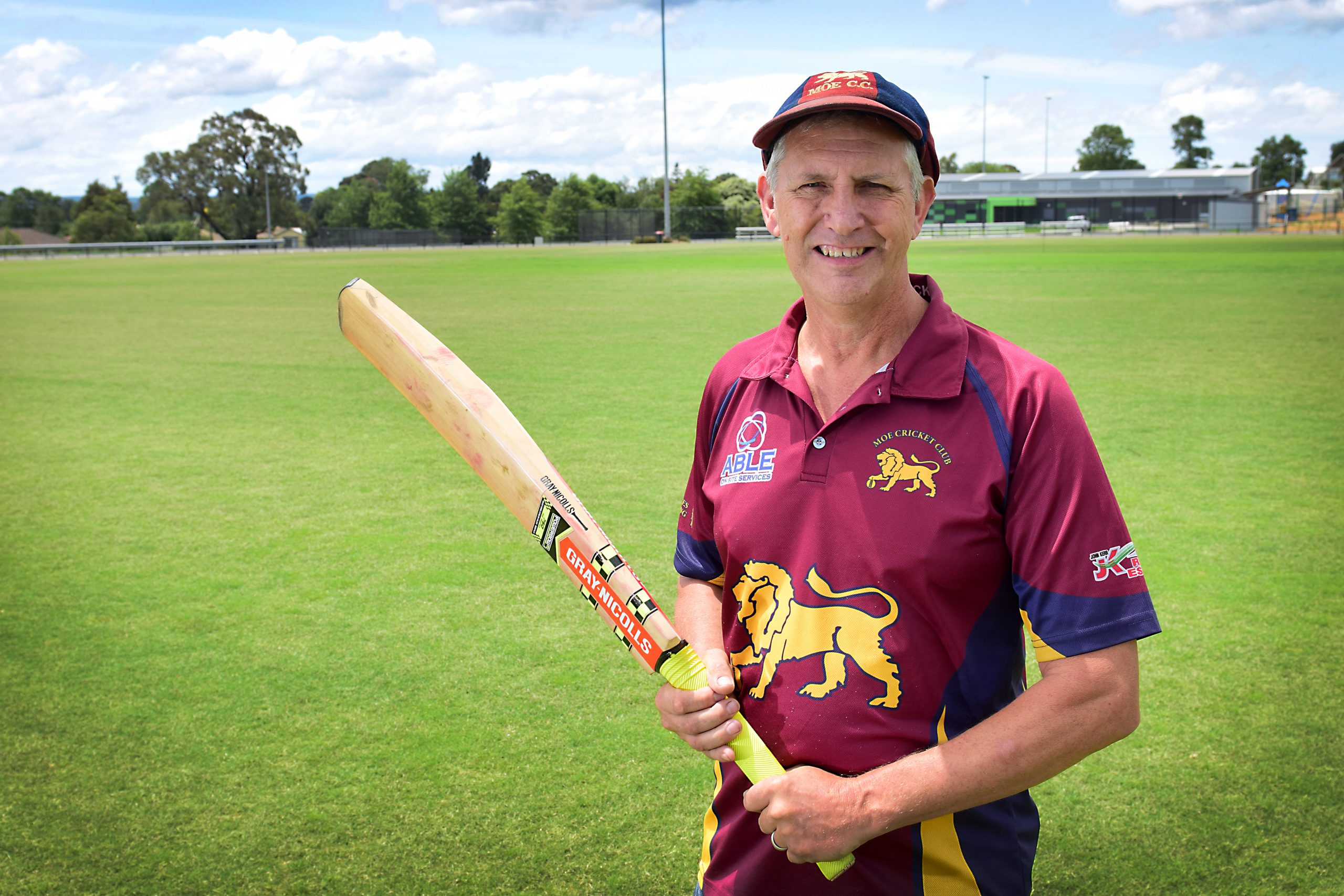 Dylan Arvela
Chris de Vent will mark a tremendous milestone in February with the Moe lower-grade cricketer reaching 50 years of playing the game he loves.

One of 12 children, including eight boys, De Vent first donned the whites for Erica Cricket Club as a junior in 1970 and has since gone on to make a lifetime of memories.
De Vent, 57, went on to play for Trafalgar, Jindivick, Centrals and Moe, where he has batted, bowled and kept wicket for a majority of his career.
"I haven't missed a season for the past 50 years," De Vent said.
"Some seasons I have only played a handful of games because of having a young family and other things, but otherwise I've always been involved with cricket since then."
"I just love the game, the camaraderie with the players on the field. You have your good and bad times, sometimes you don't get on with everyone, but for the most part, all the clubs I have been to have been very good and friendly."

De Vent has been involved in six grand finals with a 50 per cent win ratio with two premierships at Jindivick and one with Moe.
"I suppose one of my highlights is my first hundred which was at Jindivick," he said.
"It was the first year the club had a new cricket ground and we made the finals.
"I was averaging 52 for the season and my first century came in the grand final where I made 129 and I also took two catches and four wickets.
"I won two premierships with Jindivick, D Grade in 1983/84 and then six of us moved up to B Grade the next season."
During his career, De Vent has seen plenty of weird and wacky things take place on the pitch from fortunate fifties to nonsensical no balls.
"There have been a lot of funny situations where I have got the good rub of the decision," De Vent said.
"I have also got plenty where I have been given out when I shouldn't have been given out. It's all about luck, but some weird things do happen.
"Once I got bowled off a full toss which took the top of off (stump) and smashed the bail in half.
"The bowler was about to lynch the umpire because he gave me not out, I don't know whether you can consider it too high when he bowled you.
"One game I made 50 and for my 50th run he bowled me, the stumps didn't come off and the ball went for four and the umpire gave it as runs off the bat."
"I was talking to one of my brothers about our first game and he asked if I remembered it.
"I said 'yeah it was a really low scoring game,' we made two and I top scored with one so I tell everyone I made half the score in my first ever innings."
De Vent only spent a season at Centrals where his exploits with the ball limited his chances with the bat.
"At Centrals I said I could bat, bowl or wicketkeep," De Vent explained.
"In the first game (the captain) said, 'We are bowling first, here's the ball,' and I ended up taking four wickets and he said, 'You're a bowler,' and I batted at number eleven for the rest of the season.
"I said that's enough of that so I came to Moe where I said I am an opening batter and I made 42 in the first match and they said, 'Yeah, you're an opening batter."
De Vent said he had to thank his parents, Henry and Betty, as well as his first-ever coach Lindsay George for fostering his love of the sport.
"My first coach at Erica, Lindsay George, helped me a lot and inspired me to continue playing cricket," he said.
"My folks also deserve a mention for bothering to take me to cricket for all those years.
De Vent remains confident there is still plenty of cricket to be played in his career.
"I'll probably play here at Moe till I am 65 at least. I have thought about Vets cricket for after that and I will probably end up playing until I can't walk," he said.
"50 years only seems like five years, when you enjoy something time flies.
"The game speaks for itself, who wouldn't like to be out playing on a lovely day with their friends."