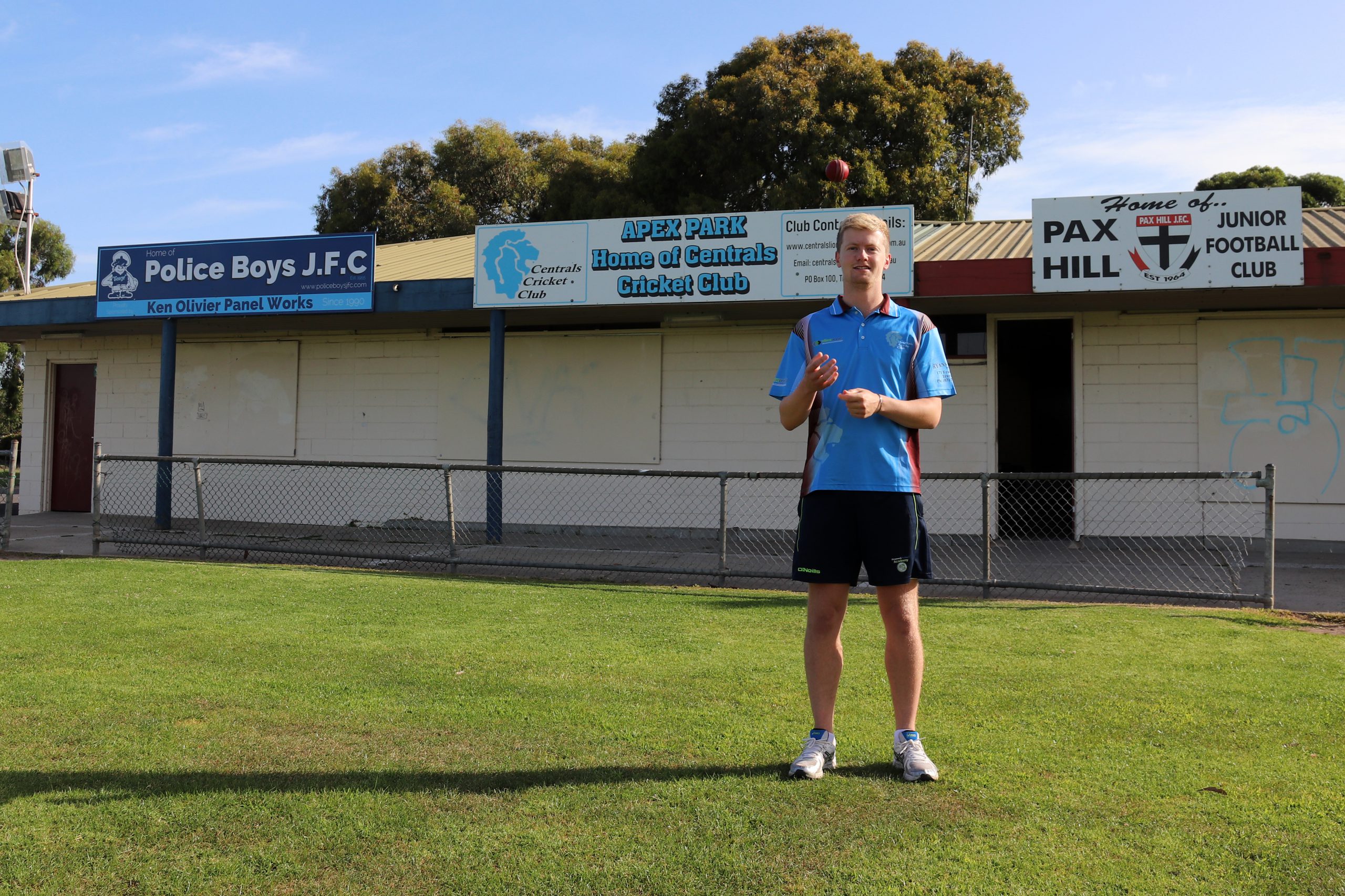 Dylan Arvela
The beauty of cricket is you can tell a lot about a player by their numbers.

While it doesn't paint the full picture, 35 wickets at the miserly average of 5.6 is a fair indication of a more than handy cricketer.
These are the figures of Centrals spinner Ross Allen, who has torn through LVDCL A Grade batting line-ups this season.
The left-arm orthodox tweaker is yet to miss out with the ball this campaign with his standout effort coming against Moe in Round 8 where he finished with 8/23 in the first innings.
Allen took nine wickets that match at Apex Park, which was preceded by back-to-back six-fors, including 6/5 against Jeeralang-Boolarra.
The 23-year-old from the Northern Irish town of Limavady hasn't let his stellar season to go his head, instead staying focused on chasing premiership success with the Lions.
"It's been a good season so far with the ball," Allen told The Express in his Irish burr.
"I think to be fair that's for the whole bowling unit not just myself, I have been backed up well.
"We've got a good mixture of experience and youth coming through so it's been good and hopefully we can hit our straps coming into the finals.
"It would have been nicer if we won (the match against Moe when I took nine wickets) but it's obviously nice to know that you are contributing to the side."
Allen, who plays for the North West Warriors in the Irish Inter-Provincial Championship, said the key to his success was his ability to assess the match at hand.
He said playing in the Latrobe Valley provided a different sort of challenge compared to back home where he lines up alongside and against seasoned internationals such as William Porterfield and Andrew Balbirnie.
"You get wickets which spin and others which don't spin as much," Allen said.
"I think for me it's just about adapting to the situation as quickly as possible.
"The conditions and the pitches are a bit different so it's hard to compare the two leagues.
"Obviously back home it's a good standard because you're going up against and playing with international cricketers, but still there are some really good players about this league as well."
Far from a one-season wonder, Allen finished his debut season Down Under (2018/19) with 38 scalps.
During his time in the LVDCL A Grade competition, he has collected 73 wickets at 6.2 and snared eight wickets at 21 for Latrobe Valley in the Gippsland Cricket League.
An example of the numbers not telling you the full story is in the batting column with Allen justifiably classed as an allrounder touting a first-class average of 22.23 with the bat.
The left-hander showed some of that ability last season, averaging 21.2 with a top score of 56, however, 104 runs this season at 13, means Allen has the potential to terrorise opposition to an even greater extent during the run home.
"I haven't really hit my straps with the bat this season," Allen admitted.
"Hopefully at this time of the year my fortunes will change and I'll score a few runs as well."
Ireland is not renowned for its cricketing exploits, despite England's current short-form captain, Eoin Morgan, hailing from Dublin.
However, Allen said cricket was huge in his upbringing where he looked to emulate the likes of Graeme Swann and Daniel Vettori while working his way through the Irish youth ranks before earning selection for the 'A' squad.
"Ireland is obviously not known for its cricket," Allen said.
"Back home our schools play rugby union in the winter and cricket in the summer and (cricket has) been bred into me as all my family played cricket so it's a real family thing.
"I came through all the underage systems, playing in all the Irish underage sides and now I am in the Ireland A's as well. I am trying to stay in that system and keep on progressing back home as well."
Ireland's international prospects have gone from strength to strength since the turn of the century.
They debuted in one-day international cricket in 2006, losing by 38 runs to England in Belfast.
Since then, Ireland have played over 250 short-form internationals including a famous three-wicket win over England in the 2011 World Cup where Irish star Kevin O'Brien scored 113.
In 2017, Ireland were granted full ICC membership, thus becoming the eleventh Test cricket team.
Ireland have played three Tests to date, against Pakistan, Afghanistan and England, and the prospect of playing the most storied form of the game is something which drives Centrals' spin king.
"I 100 per cent have aspirations (to play Test cricket) at some stage," Allen said.
"Whether it be down the line in five years, two years, whatever it may be, that is definitely an aspiration of mine.
"It's been good for me to come over here and keep developing my game, instead of just being in the nets (in Ireland) over winter, and actually being out playing on the cricket pitch for 12 months of the year."
Centrals skipper Dylan Freitag said Allen has had a tremendous impact on the club beyond his wicket-taking prowess.
"Having someone with first-class experience is great," he said.
"His cricket smarts are through the roof compared to what you normally get at the local level.
"(As a bowler) he knows how to use his pace, he varies it up and he varies his lengths and when we do get on a turning wicket he can get the ball going sideways.
"Last season he coached our women's side which was a good experience for them and they got a fair bit out of it and even here at training on a Tuesday or Thursday night he just takes over, he's not afraid to help out and put his hand up."
COME IN SPINNER Ross Allen's 2019/20 season

Matches: 12

Innings bowled: 13

Overs: 114.3
Maidens: 42
Wickets: 35
Best: 8/23 (v Moe)
Average: 5.6
Strike rate: 19.6
Economy rate: 1.7