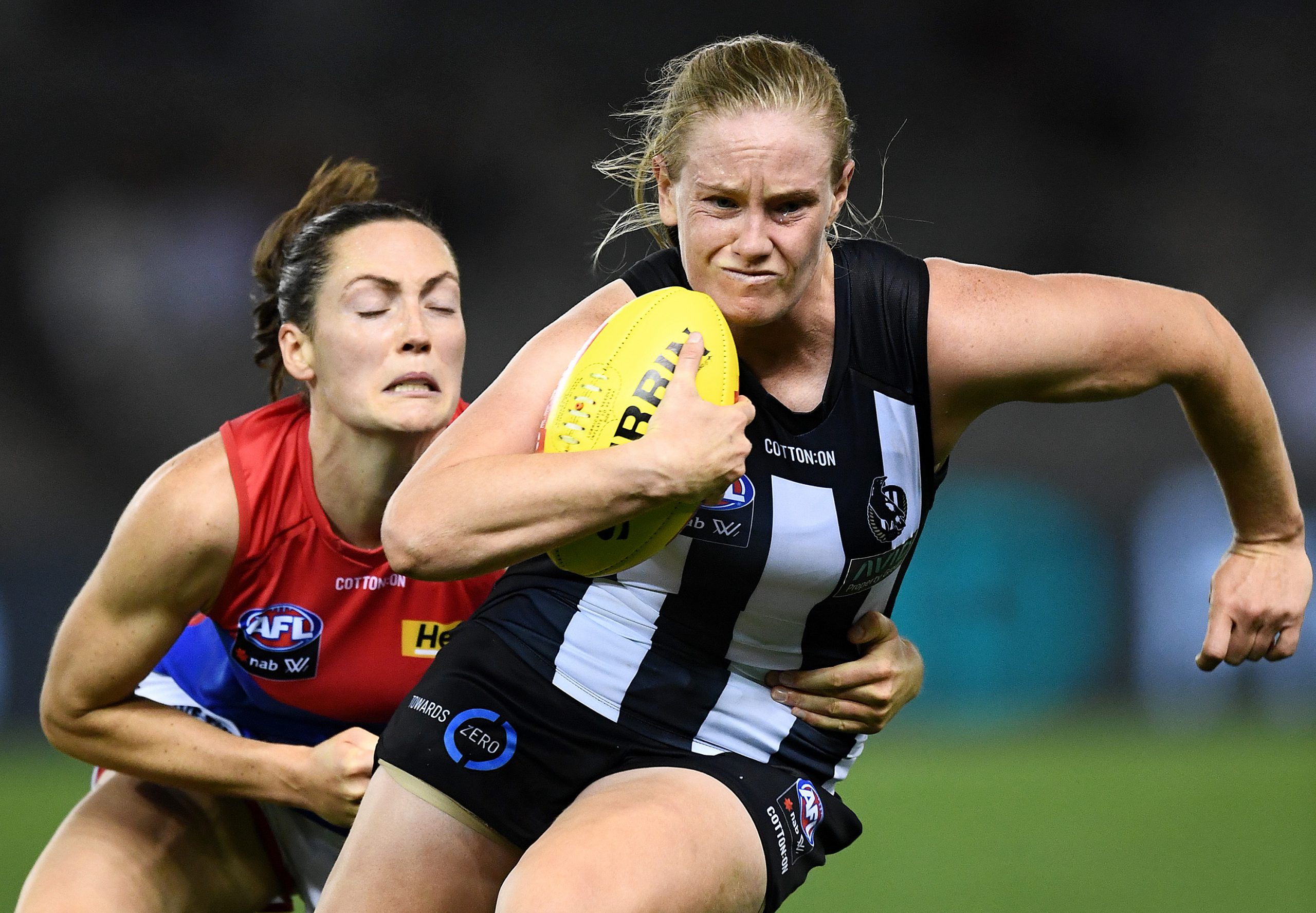 Kate Withers
Collingwood will lock horns with traditional rivals the Western Bulldogs in Morwell this weekend in an AFLW clash that playmaker Sarah D'Arcy hopes will come with a reversal of fortunes for the Pies.

After kick-starting their season with impressive back-to-back wins, the Magpies dropped out of the Conference B top-three with a pair of disappointing losses to Fremantle and Melbourne.
D'Arcy said her charges had "dropped off" with "a little bit of communication and pressure" – two facets of their game they'll look to remedy against a "very young" Dogs side come Sunday.
"I think the Bulldogs are in kind of a building process and they've lost quite a few players over the last couple of years, but from what I've seen we're not underestimating them at all," D'Arcy said.
"As long as we keep our chat and pressure up and let each know where we are – if we nail that then it'll make a big difference."
D'Arcy, a foundation player and influential forward with two goals to her name in season 2020, has taken on a role as a mentor for the young Pies forward-line.
"I've had different players around me every season and I've been really the only one that's been here since the start, but it's our second year with a lot of the forwards this year so I've loved it," she said.
"I find it's really helped my game as well, understanding the players around me and trying to provide a level head, not panic … it's helping me understand where I need to be too.
"We're really starting to connect and understand each other and it's coming together really nicely."
A season-ending ACL rupture for duel code star Ash Brazill during Friday night's defeat to the Dees came as a blow for Collingwood, but D'Arcy maintained the Pies had the depth needed to cover the loss.
The engine room, led by AFLW coaches award front-runner Jaimee Lambert, prolific ball-winner Brianna Davey and utility Brittany Bonnici, is backed by a promising contingent of young talent.
"We've found this year it was hard to predict what team we put out there because anyone can play their role and it's quite exciting the depth we've got with the younger ones as well," D'Arcy said.
"We have our skills focus session every week with training, and our training has been really high intensity, so practicing those skills under fatigue has been really helpful for all of us."
With four rounds to go in the season proper, the Pies – currently a game outside the three – face a relatively easy run home to a prospective finals berth, having already played all top three sides in Conference B.
"Once teams start to gel towards the end of the season and build on what they've been working on, it's really hard to tell who's going to finish where … seasons are just so short," D'Arcy said.
Ahead of Sunday's visit to the Valley, Collingwood dropped by Drouin Secondary College on Tuesday to rub shoulders with some AFLW stars of the future.
"I really enjoyed my visit down there and I think every year I've come down to the the Latrobe Valley the kids have just been great," D'Arcy said.
"The Latrobe Valley is a key community partner for Collingwood and we want to promote the game and get as many people down on Sunday as possible – it's more important than ever to pump the game up."
Collingwood and the Western Bulldogs will go head-to-head in Round 5 of the AFLW on Sunday at Morwell Recreation Reserve from 1.10pm.
The game will be followed by an AFL Marsh Community Series clash between Collingwood and St Kilda at 3.50pm.