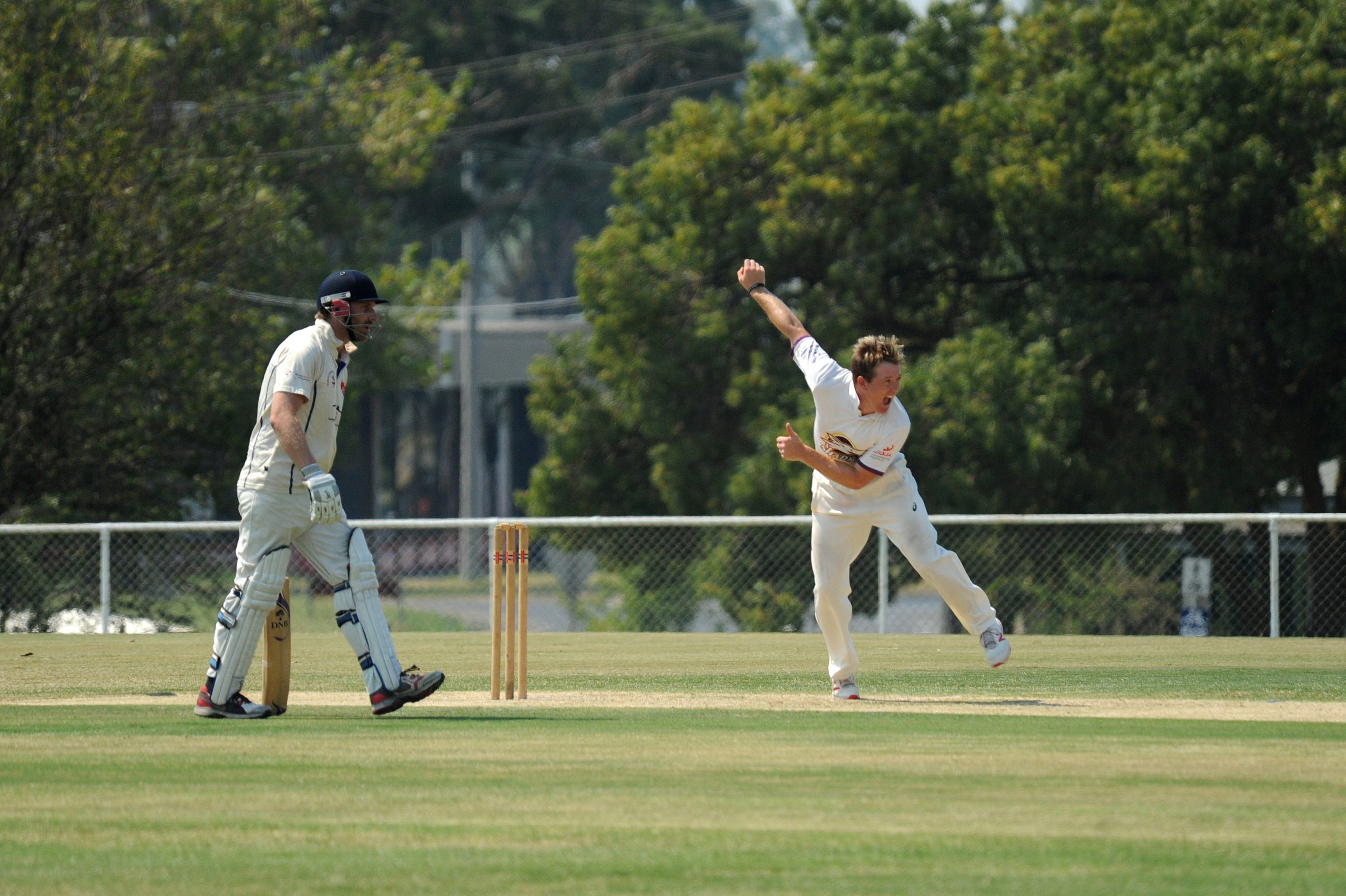 A RAIN-affected season will come to a close this weekend with Ex Students and Toongabbie facing off in what will be an almighty grand final rematch.
Ex Students lost one match to find themselves comfortably atop of the ladder after the regular season was played.
They also had a tie, which was against Toongabbie so it makes this game all the more exciting as it shows the teams are evenly matched.
The Sharks are an almighty team with the best batting depth in the competition and they certainly fear no bowling attack
Ex Students will be driven by the fact that Toongabbie rocked them in last season's grand final.
So there will be plenty of preparation for facing the likes of Keenan and Connor Hughes this weekend on a Stoddart Oval wicket which will provide plenty for both bat and ball.
The Sharks were very reliant on Lee Stockdale last season who had an unbelievable individual campaign, which hid the fact that he was carrying the team a bit.
That has certainly changed.
Ex Students have had a lot more consistent contributors with the bat this season as five of the Sharks top-order have scored more than 300 runs in 2019/20, spreading the load and easing the pressure on Stockdale.
Ex Students bowlers have also worked brilliantly as a unit as all five of their frontline bowlers are averaging under 15 and have economy rates under 2.5.
What this allows is for Ex Students to build pressure on the opposition batsmen and create wickets where other clubs can't.
Toongabbie were the second best team all season dropping only three matches and tying once to find themselves sitting second on the ladder.
The Rams were the only team to register an outright victory as well this season on the back of devastating spells from the Hughes brothers.
Toongabbie's batting runs deep like Ex Students but doesn't quite have the polish like the Sharks do, instead the Rams boast tough and determined batsmen right down to number 11.

Six batsmen for Toongabbie have all made over 200 runs for the year which shows that they do bat well as a unit and have the capabilities to get big scores on the board such as the 289 they made in the semi-final against Imperials last weekend.

The Rams major weapon is certainly their bowling with Keenan Hughes leading the charge as the most talked about and feared bowler in the TDCA.

Backed up by brother Connor, Tom Shippen, Anthony Scott and Aaron Lynch, the potent pace attack will enjoy the carry that Stoddart will offer.
But 100 overs is a long time to be in the field though and at some stage Rob Wheildon or Jason Veneman will need to bowl some spin.
Saying that, they only have five wickets between them this season, so it could prove to be a weakness which the Sharks will look to exploit.
The big call for the decider will be if Country Week leg-spinner Sam Moran comes back into the side after taking the fourth most A Grade wickets for Toongabbie this season.
There will be a tough call at selection, but there are always headaches come selection time for a grand final.
THE MATCH-UP

It was the shock of last season's grand final when Keenan Hughes dismissed Jordan Gilmore for a golden duck with an absolute peach of a delivery, so this contest will be what everyone is waiting to see.
Gilmore bats with incredible timing and pace doesn't worry him in the slightest, but Hughes has more tricks in his bag than just bowling rockets so this match-up could very well determine the fate of both teams.

PREDICTION

The Rams have done everything the same as last season coming into finals.
They've had a few tough games and had to lift in their semi-final which they did very well.
The Sharks have had a few easy wins leading into the grand final which can make a team complacent in their preparation however there is no doubt they will be ready for the fight this weekend.
A grand final winner is always hard to pick, but Ex Students should win it after being driven by redemption this season.

PLAYER PROFILES

EX STUDENTS

Lee Stockdale (captain): 466 runs @ 38.83 & 24 wickets @ 11.42. The Victorian Country vice-captain has had another superb season and is rated as the best captain in the TDCA by the length of the straight. Stockdale will be spurred on by the fact he got a first innings duck in last season's grand final, so expect big things from the champion Shark.

Matt Dyke: 383 runs @ 34.82. Has found his feet nicely at Ex Students this season after jumping across from Morwell Tigers-Yinnar Raiders. Dyke is a tough opening batsman, who will be needed to not only blunt the new ball impact, but also get a big score at the top of the innings and give the Sharks a great starting platform.

James Pryde: 83 runs @ 7.55 & 19 wickets @ 13.42. Mr March is made for finals, Pryde is a strong character and will lead the charge for his beloved Ex Students team when it's time to turn the screws. No doubt he will have a huge impact on the match.

Jordan Gilmore: 441 runs @ 36.75. Two seasons ago Gilmore made one of the most well compiled hundreds the TDCA has ever seen in a grand final, but then last season was blasted out first ball by a Keenan Hughes rocket. Regarded as one of the best batsmen in the TDCA, he will certainly enjoy the short square boundaries if he gets going.

Jackson McMahon: 510 runs @ 34.00 & 3 wickets @ 22.33. The league's leading runscorer this season McMahon is a great young batsman in fantastic form. The best fielder in the TDCA as well at some stage he will do something amazing in the field, it's a guarantee.

Michael Stockdale: 200 runs @ 18.18 & 2 wickets @ 21.00. A very gritty batsman who will also bowl a few overs when required. Stockdale is a smart batsman who runs very hard between wickets and if things go wrong in the top-order he's certain to dig the team out of trouble.

Rick Battista: 310 runs @ 31.00. The best number 7 in the TDCA and Ex Students insurance policy.Battista is suited for when things are tough and in a 100-over match he's the perfect player to come in and get a big score late in the day.

Matt Robertson: 179 runs @ 17.90. A very underrated batsman, Robertson is more than capable of getting big scores himself. Provides excellent support for the top order but also bats incredibly well with the tail as well.

Michael Warne: 79 runs @ 26.33 & 22 wickets @ 14.09. Out of retirement for another crack at a grand final, he may very well be the difference this season.Warne will enjoy the bounce that Stoddart offers as his spin and guile will certainly work over the Rams batting list.

Robert Voss: 15 runs @ 15.00 & 10 wickets @12.11. Quick and mean, it takes only the very best batsmen in the competition to be able to score heavily against him. Will suit Stoddart Oval's pitch perfectly with steep bounce he will worry the top order of Toongabbie without question.

Andy Matthews: 30 runs @ 6.00 & 18 wickets @ 12.11. Still one of the best new ball bowlers in the TDCA, Matthews is able to extract steep bounce out of any wicket and still bowls a heavy ball. Can be used as a strike bowler up front but will also do some of the grunt work in the middle overs if the Rams batsmen settle in.

TOONGABBIE

Rob Wheildon (captain): 276 runs @ 30.7 & 3 wickets @ 18. A very reserved type of top order batsman Wheildon is a great leader and one of Toongabbie's favourite sons. The determined left hand bat will want to do better than his one run in the semi-final so expect big things.

Zak Russell: 247 runs @ 17.6. Still under 18 Russell won't back down from the likes of Voss or Matthews when he opens the batting. Has a great temperament for someone so young. If he can get a good score and occupy the crease the Rams will be in a good position.

Michael Dunn: 249 runs @ 35.6. Came agonizingly close to his maiden A Grade century in the semi-final, Dunn is in great touch heading into the decider. Enjoys the ball coming on and will like the pace of the wicket.

Connor Hughes: 223 runs @ 17.2 & 28 wickets at 16.1. Aggressive and intimidating Hughes is one of the best all-rounders the TDCA has. Has been in good touch with the bat after Christmas whatever Hughes does in this match will surely be entertaining.

Anthony Scott: 237 @ 26.3 & 8 wickets @ 11.8. Another aggressive batsman Scott can hit a big ball. So make sure if you are at the ground watching, you get out of your car to protect it when he comes in. Scott's medium/quicks are also very good and if he can get some swing he will cause lots of issues for Ex Students.

Tim Dunn: 58 runs @ 6.4. Has moved down the order this season. Dunn has the capabilities of either scoring quickly or holding up an end if needed. A tough batsman he will enjoy the challenge and absorb any pressure applied to him.

Jason Veneman: 132 runs @ 13.2 & 2 wickets @70.5. Hasn't had his best season but is an experienced cricketer and stands up in big games.Veneman will play a big role with both bat and ball this match and is a sneaky chance for the Laurie Blake Medal.

Tom Shippen: 341 runs @48.7 & 14 wickets @ 9.3. Back issues have hampered his bowling output, but where one door closes another has opened as Shippen has been a star with the bat this season. The league average winner is tailor made for batting in the latter overs and if he isn't required until around the 70th over then he'll be set for a big score.

Keenan Hughes: 133 runs @ 13.3 & 31 wickets @ 12.4. The type of player people come to watch Hughes is an exciting quick who boasts tremendous control and skill. Won the man-of-the-match award in last season's premiership. The athletic quick will need to play a huge role for the Rams if they are to win.

Aaron Lynch: 12 runs @ 12 & 5 wickets @ 11.7. Has only played the three A Grade matches this season, but experience counts when it comes to Lynch as he made a massive impact in the semi-final. Lynch is no mug with the bat but his control with the ball will be needed at some stage this weekend.

Richard Hughes: 57 runs @ 11.4 & 17 catches/1 stumping. The veteran wicketkeeper loves the battle and still has a few tricks up his sleeve. Hughes won't shy away from a little bit of chirp and is still more than capable of getting handy runs in the lower order.

Sam Moran: 44 runs @ 44.0 & 13 wickets @ 15. Toongabbie's most successful spinner this season it will be a tough call to drop someone for him after a great showing in the semi-final last weekend. If he's picked he will certainly add another element to the quality bowling attack the Rams have and would suit the Stoddart pitch nicely.