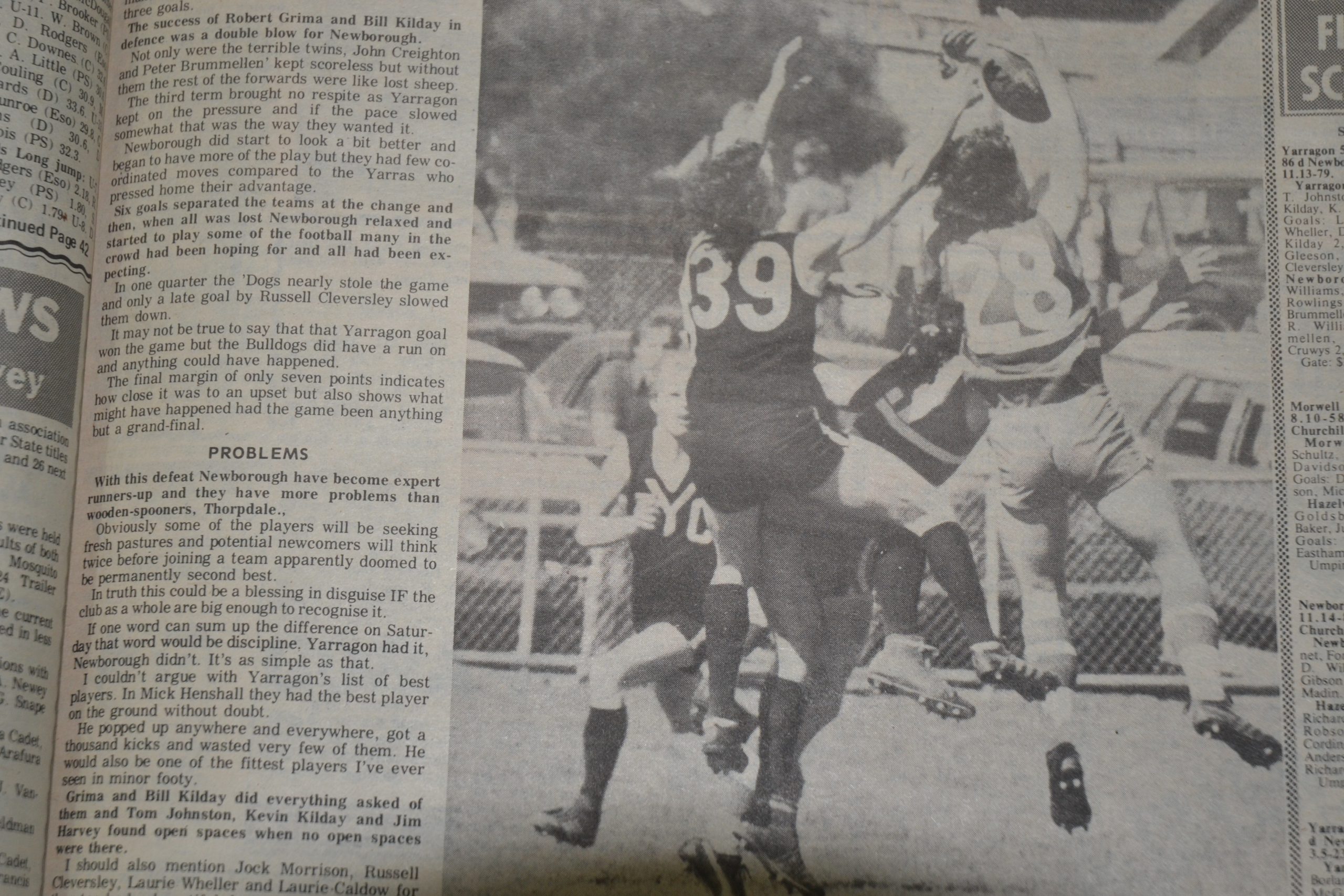 Gregor Mactaggart
Yarragon made a stunning introduction on the Mid Gippsland Football League scene in 1977. In this first instalment of Glory Days, Express editor Gregor Mactaggart delves into the archives to reflect on a fairytale season that even Cinderella would envy.

The year was 1977.

Malcolm Fraser was the Prime Minister, a box of Corn Flakes cost 55c and the Village Drive-In at Moe was doing a roaring trade.
Even Ugly Dave Gray performed shows in consecutive nights at the Golden Hill.
It was also the year the Mid Gippsland Football League welcomed Yarragon.
The club won a VCFL appeal to transfer to the MGFL following 16 seasons in the West Gippsland Football League.

Yarragon were no strangers to league changes, having been part of the Latrobe Valley Football League (1954-1960) and various guises of Central Gippsland football competitions.
Mick Henshall would guide Yarragon's first season in the new competition.
In The Express on April 1, 1977, a story on the coaches in charge of their respective sides, including Mick Henshall at Yarragon, referenced the league newcomers.

Yarragon residents are very enthusiastic about their prospects in the MGFL and the club should prove an acquisition to the league.

Those words would prove prophetic six months later.
Yarragon opened their season against neighbours and former LVFL rivals Trafalgar.
The Bloods won the match 15.10 (100) to 11.17 (83), but the new boys earned a mention in the April 13 edition of The Express.

Played before a record crowd, Trafalgar defeated Yarragon who for three quarters looked every inch a finals prospect.

Yarragon will improve on this and their keenness to do well is commendable.

The first game out of the way has got rid of the initial nerves and if they can find a genuine ruckman, they could go places.

The gate was $426, described by Clem Pitt as 'close to an MGFL home gate record'.
Express columnist Ruckman referred to Yarragon as the 'Yarras' as he heard Yarragon will be stopped officially from calling themselves the Magpies.

Yarragon would not have to wait long for a first win, defeating Boolarra in Round 2 by 75 points.

The Yarras proved that was no fluke by winning a tense struggle against Newborough by 12 points, 13.10 (88) to 10.16 (76).
Ruckman led his April 27 report with the result.
They've had plenty of headlines without doing too much to deserve any, but now they have finally earned a pat on the back.

Yarragon suffered a setback in Round 4, beaten to the tune of 61 points by Hazelwood-Churchill.
But a four-match unbeaten run, including narrow wins against Morwell East (eight points) and Yinnar (six points) saw the Yarras climb to third spot.
A bye in Round 9 was followed by a surprise seven-point loss to Hill End in a low-scoring struggle before wins against Maryvale, Morwell East and Thorpdale.
Trafalgar again proved Yarragon's nemesis, with a 26-point loss leaving their record at 9-4, trailing Newborough and the Bloods on the ladder.
Yarragon won a tense struggle against Boolarra in Round 15 before a four-goal loss to Newborough left the new boys in a tricky spot.
Yarragon's grip on third was now tenuous with 44 points as Maryvale (42) and Hazelwood-Churchill (40) closed in.
Three teams and two spots proved the equation in what was an extended home and away season.
Disaster struck when Hazelwood-Churchill bounced to a 51-point win in Round 17, relegating Yarragon from third to fifth.
But with the campaign seemingly in freefall, Yarragon responded.
A gritty 19-point win against Mirboo North put the Yarras back in the four after Maryvale lost to Newborough by 88 points.
Wins against Yinnar, Hill End sealed finals football before Yarragon defeated Maryvale by nine points in a cracking Round 22 contest.
Newborough claimed the minor premiership on percentage after the Bulldogs and Trafalgar finished level on 76 points.
Hazelwood-Churchill shaded Yarragon on percentage for third, with both clubs locked on 64 points and fifth-placed Maryvale 10 points adrift.
Mid Gippsland had a final four at that time.
The sudden-death contest was played at Yinnar and there were no nerves for Yarragon, who burst out of the blocks, booting 8.2 to 1.2 in the opening term against a shellshocked Hazelwood-Churchill.
Greg Follett controlled the skies and Kevin Kilday starred as the Yarras scored their first finals success in 56 years with the 21.13 (139) to 9.15 (69) triumph.
Yarragon would book a spot with Trafalgar in the preliminary final after Newborough defeated the Bloods by 40 points in a high-scoring second semi-final, notable for a nine-goal haul from Peter Brummellen.
So how did the preliminary final go, here's Ruckman from The Express on Wednesday, September 28, 1977.

For those who did not attend Yinnar for the preliminary final, Yarragon and Trafalgar turned on a better than average games, but I don't think there was much doubt as to the likely winners after just one quarter.

Yinnar was proving a happy hunting ground for Yarragon, who prevailed 17.13 (115) to 13.14 (92) with Bernie Noy (four goals) and Mick Gleeson among the stars.

The Yarras faithful chaired their heroes off and all eyes turned expectantly to a mouthwatering decider at Churchill.
On the eve of the big one, Clem Pitt set the scene in The Express, dated September 30, 1977.

Yarragon, shock aspirant for the MGFL flag tomorrow, has not won a premiership since 1921.

The former WGFL and LVFL club had not even won a semi-final since 1921 until beating Hazelwood-Churchill in this year's first semi-final.
Former Warragul utility player Mick Henshall will be the toast of Yarragon if he can break the 56-year premiership drought.

He is a first season coach, but has been well tutored by Warragul premiership coaches Graeme Gahan and Ken Robinson.
They had shown Gull spirit by giving Henshall a hand at training and also addressing players on tactics.
No one really gave Yarragon much chance of getting past the first semi on form.
They shocked critics by trouncing Hazelwood-Churchill and caused an even bigger surprise by eliminating Trafalgar last Saturday.
Can they complete a shock grand slam by toppling the favourites Newborough tomorrow?
It would be an amazing triumph for a first season club and a first season coach to land the MGFL pennant.
And not all the emotional interest is centred on Yarragon.
What of Newborough, three times runner-up and desperately keen for a change of luck?
Or can Kevin Fisher end a losing run that has almost driven the club to distraction?
My tip is Newborough, but Yarragon are firming rapidly.
And his footnote was especially prescient – Yarragon beat Warragul in the 1921 grand final at Trafalgar. Date for the match is October 1 and it's October 1 tomorrow.

Due to the longer season, the MGFL decider clashed with the opening round of cricket, the Moe races and VFL grand final replay between Collingwood and North Melbourne.
October 1, 1977 did prove a history-making day for Yarragon, who broke the hearts of Newborough, winning 13.8 (86) to 11.13 (79).
Here's Ruckman.
Mid Gippy didn't have someone singing the impossible dream at their grand final on Saturday, but the words would not have been out of place.

For newcomers Yarragon, Saturday was the fulfilment of an impossible dream and for Newborough it was a nightmare.
The grand final was not quite up to the standard expected of thiss year's top game, but enough excitement was generated to keep the customers happy and send them home with plenty to talk about.
First use of the wind gave the Yarras to get off to a good start and within seconds full-forward Brian Rankin had them seven points up.
Then stupidity emerged with three straight goals from 'incidents' that should never have happened and by the first change the Black and Whites had a 27-point lead.
Clearly, this was not a big lead, but the Yarras refused to be overawed.
The success of Robert Grima and Bill Kilday in defence was a double blow for Newborough, keeping John Creighton and Peter Brummelen scoreless but without them the rest of the forwards were like lost little sheep.

The third term brought no respite as Yarragon kept on the pressure.
Newborough did start to look a bit better and began to have more of the play, but they had few co-ordinated moves compared to the Yarras, who pressed home their advantage.
Six goals separated the teams at the change and then, when all was lost Newborough relaxed and started to play some of the football many in the crowd had been hoping for.
In one quarter, the Dogs nearly stole the game and only a late goal by Russell Cleversley slowed them down.
The final margin of only seven points indicates how close it was to an upset, but also shows what might have happened had the game been anything but a grand final.
Anyway it's congratulations to Yarragon without doubt the champion team of the year and ready to show Cinderella a thing or two.
Coach Mick Henshall was named best, popping up everywhere to get what Ruckman described as 'a thousand kicks and wasted very few of them'.
Grima and Kilday did everything asked of them, while Tom Johnston, Kevin Kilday, Jim Harvey, Jock Morrison, Cleversley, Laurie Wheller and Laurie Caldow (three goals) also impressed.
Bill Rilen, Chris Brown and Doc Rowlings were among Ruckman's best for Newborough.
We'll leave the final words with Clem Pitt, who shared the reaction to Yarragon capping a remarkable first year in the Mid Gippy with the flag.
Even now there are still a few sore heads as celebrations simmer after a great premiership win.

The Yarragon town really whooped it up after waiting 56 years for a senior pennant.
Beaten Newborough coach Kevin Fisher and many of his players sportingly joined in the celebrations at Yarragon.
Demand is so keen for tables at Yarragon's premiership ball next Friday night that the venue has been switched from Darnum Hall to Trafalgar.

SCOREBOARD

Yarragon 5.4 8.4 12.8 13.8 (86)
Newborough 1.1 3.6 6.9 11.13 (79)
GOALS

Yarragon: L Caldow 3, L Wheller 2, D McGuinness 2, K Kilday 2, B Rankin, M Gleeson, J Morrison, R Cleversley.
Newborough: R Williams 4, P Brummelen 2, J Creighton 2, B Cruwys 2, B Rowlings.

BEST

Yarragon: M Henshall, T Johnston, R Grima, W Kilday, K Kilday, J Harvey.
Newborough: R Williams, V Salienko, W Rilen, P Brummelen, J Clegg.

Gate: $2475.

Umpire: Algar.