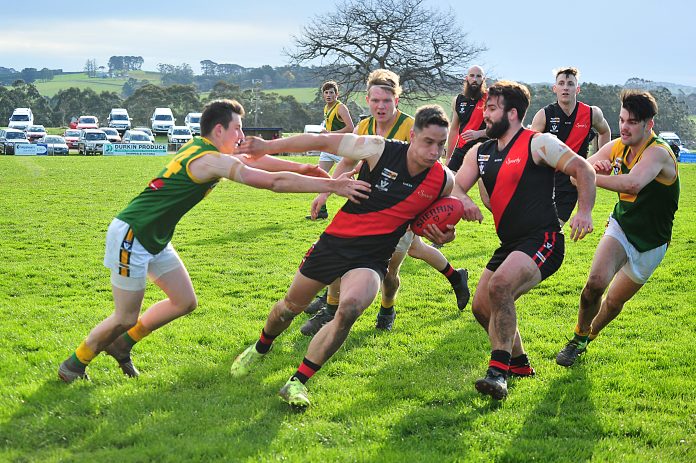 Kate Withers
FOOTBALL

A new era in Gippsland football is on the horizon.

A highly publicised and controversial plan to combine the Mid Gippsland and Alberton leagues has come to fruition with the two set to become one in time for the 2021 season.

The motion was passed at a special general meeting last night, where The Express understands seven MGFNL clubs voted to accept all six Alberton league clubs while one voted against and one abstained.

But the new-fledged 15-team competition won't undergo a rebranding.

Instead, the Alberton Football Netball League will cease to exist and be absorbed into the Mid Gippsland Football Netball League.

"I would think that this would make us one of the biggest leagues in regional Australia," MGFNL publicity officer Rob Popplestone said.
"On a positive note, 15 teams makes us a strong, viable and exciting competition.
"The very fact we know almost exactly what 2021 will look like means we're planning with confidence and there's a lot more positivity around getting back to playing football and netball."
The finer operational details will be ironed out in coming months, with due consideration to be given to junior structures, including the possible abolition of under-16s and under-18s in favour of a single under-17s competition.
"Discussions continue within Mid Gippsland and are expected to continue with our six new clubs to determine just where we stand as to the best outcome for our juniors," Popplestone said.
"They're (new clubs) wanting everything to be tied up within the next 30 days, so the idea is to have some clarity around what season 2021 looks like in the next 30 days."
The preservation of Alberton league history under the Mid Gippsland banner is "an issue worth considering", according to Popplestone, as are the jumper clashes between new and existing clubs.
"As much as this is a merger, the invitation was from us to apply to join our competition," he said.

"The issue of history is definitely something we will look at and there may well be a round dedicated to the Alberton league, but that is something we will work on."

A merger of the two competitions was initially proposed by AFL Gippsland at the tail-end of the 2018 season and was met with vehement opposition by nine of the MGFNL's then-10 clubs.
Shortly thereafter, on the recommendation of AFL Gippsland, Yarragon departed to join the neighbouring Ellinbank league.
In March, a highly anticipated AFL Victoria-commissioned report into the state of football across the region was unveiled and reiterated AFL Gippsland's recommendation to amalgamate the two leagues.

In the months since, Trafalgar and Yallourn Yallourn North have both signalled their intent to breakaway from Mid Gippsland.

But the Bloods' move was thwarted last night and their application to leave the league rejected, 7-2. It is expected the club will appeal the decision with AFL Victoria.

The Bombers are yet to lodge an official application to leave the league but have indicated they will vote on a motion to join North Gippsland.

A 2021 draw is some way off and hedges on the outcome of both applications.

"We are hopeful Trafalgar will stay – they are very much a part of the competition for 2021 and we are hopeful Yallourn Yallourn North don't get to a stage where they apply to leave the competition," Popplestone said.
"The G25 recommends that 15 teams is sustainable and AFL has endorsed that, and we believe this is the best thing for football in Gippsland."

MORE IN THURSDAY'S PRINT EDITION OF THE EXPRESS