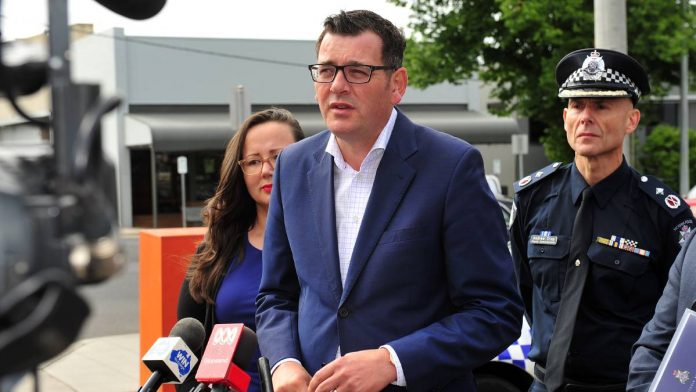 Kate Withers
Premier Daniel Andrews yesterday outlined plans to extend the State of Emergency, which is due to expire on September 13, by an extra 12 months.

Mr Andrews appealed to the Victorian Parliament to support legislative changes which would grant the government the power to continue to enforce coronavirus public health directions.

Importantly, this does not mean current lockdown restrictions will remain in place for an extra 12 months, but gives the government extraordinary legal powers to enforce other protections.
Some of these protections – such as mandated face masks and COVIDSafe Plans in workplaces – are only available when a State of Emergency exists.
It also ensures public health risk powers can be exercised, such as requiring positive cases of coronavirus to isolate.
Since first being introduced in March, the State of Emergency has been extended six times, but under current legislation it can only remain in place for a total of six months.
"Without a vaccine, this pandemic is far from over. These legislative changes will mean we continue to have the right protections in place until it is," Mr Andrews said.
"From face coverings to density limits – these measures are fundamentally about keeping every single Victorian safe."
The state government is expected to introduce the new bill into parliament next week, where it will need to attract a majority vote to pass.
Labor has a majority in the Lower House but holds just 17 of 40 seats in the Upper House.
The push to extend the State of Emergency has attracted strong criticism from the opposition and crossbenchers.
Opposition Leader Michael O'Brien labelled the proposed bill a "power grab", while Member for Morwell Russell Northe claimed the state government was wielding "unfettered powers".
"In my strong opinion, the outcomes of these current measures at the current State of Emergency need to be held up to scrutiny," Mr Northe told The Express.

"My major concern is the length of time and lack of accountability that comes with this legislation.
"This legislation really doesn't give regard to the impacts of the restrictions imposed upon communities, and my position is that I won't support the legislation on the basis of the 12 months the government is seeking.
"To be fair, that doesn't mean that Victorians will be living with significant restrictions for the next 12 months.
"But it does give the government pretty enormous powers for an extended period of time, which is of major concern for many individuals, families and businesses."
Sitting of the legislative assembly is set to resume next month, but Mr Northe said he was still in the dark as to whether regional MPs will be able to attend.
"The chief health officer has indicated that regional MPs should stay away from parliament, so it will be interesting to see how this plays out," he said