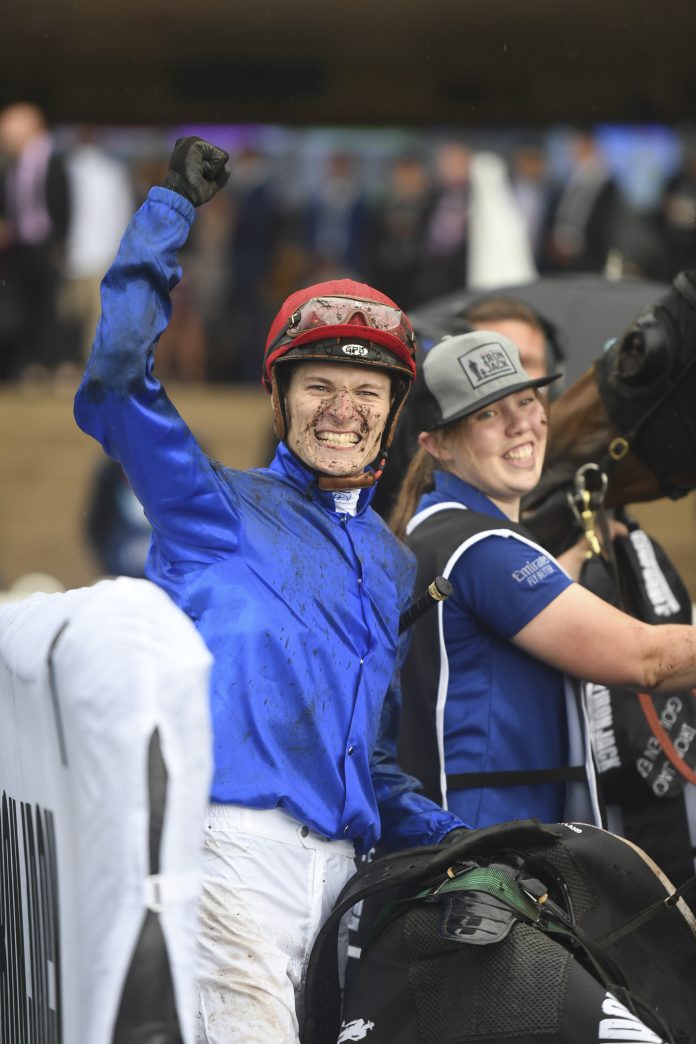 Gregor Mactaggart
Traralgon jockey Koby Jennings soared to the top of the Sydney horse racing scene last weekend.

Jennings, 25, landed his greatest career success to date when he partnered Colette to a thrilling victory in the $7.5 million Golden Eagle (1500m) at Rosehill.

"I think it's still sinking in that I've won it," Jennings told The Express.

The Golden Eagle is Australia's third richest race after The Everest and the Melbourne Cup.
Jennings got the call during the week from Godolphin trainer James Cummings to ride Colette and the young gun justified the faith.
He produced a gem of a ride to get the four-year-old mare home by a short-head from Icebath, with Dawn Passage third.
"On the line I was probably 95 per cent that I got it, but it can be a tricky angle at Rosehill," he said.
"We were cantering back to the mounting yard and (fellow jockey) Jay Ford saw the number go up on the board before I did, he turned to me and said 'you've won it'.
"It was an incredible feeling."
A delighted Cummings praised Jennings' temperament both on and off the track.
"I rang Koby during the week and had to laugh," he said.
"He was so relaxed I asked him if he was out fishing? He said 'no I'm not, but as a matter of fact I'm watching a fishing show.
"I knew I had a pretty relaxed customer on this horse.
"Koby kept his head and she (Colette) savaged the line, she looked like (her sire) Hallowed Crown in the last 100m."
Colette earned $4.1 million for her win, with connections nominating the Team Tye Foundation for a $410,000 donation.
The foundation was set up by former jockey Tye Angland, a great mate of Jennings, who suffered a career-ending spinal cord injury in Hong Kong in 2018.
Jennings said that was the icing on the cake and post-race gave a shout out to his family and friends watching in Traralgon.
"I've had a few messages from school friends and family friends, and talked to mum (Carol) on the phone," he said.
"On Saturday night I kicked on with my manager (Josh Barrett) and on the Sunday was able to go out for lunch with James and the Godolphin team to celebrate."
A proud Carol shared the emotions she felt watching her son on the nationally-televised coverage at her Traralgon home, with her husband Troy, Koby's uncle Ricky and Koby's nan Lorraine.
"I was nervous for him in the lead-up," she said.
"He was meant to have four rides on the day, but two were scratched, so his first ride was in the Golden Eagle.
"I was right on the edge of my couch and once I found him in the run, was just focused on Koby.
"When he hit the line, I cried because I thought he was pipped at the post, his dad (Troy) said 'he got it, he got it', but we weren't sure.
"Once the number came up, we were all screaming and crying, and the phone started ringing off the hook. It was surreal.
"Koby did so well."
Jennings studied at Traralgon College before embarking on a career in the saddle.
He started his jockey apprenticeship under grandfather John Kilgower before enjoying successful stints in Darwin and then Canberra.
Jennings made the move to Sydney six years ago and spoke of the challenges he faced on the way to making this breakthrough at the top level.
"It was hard as a new person coming into Sydney racing because the big stables have their usual riders and there weren't that many opportunities," he said.
"I only really started to get somewhere after I'd been here three years, I never thought of moving anywhere else, I just stuck at it.
"I've spent six years to become an overnight success.
Jennings has ridden 303 winners, including a Group 3 win aboard Luvaluva in the 2019 Summer Cup, which was his biggest career success before Saturday.
Life in the Harbour City is certainly agreeing with the Latrobe Valley export, having recently become engaged to partner Nerissa, who coincidentally works for trainer Brad Widdup, who prepared the Golden Eagle runner-up Icebath.
"Even before Saturday I felt like I've got my mark and am entrenched in Sydney now," he said.
"I have my trainers that I ride for and they give me great support which makes my job easier."